---
When some hot piece of new technology arrives, everyone is quick to either sing its praises or tear it down. That's the nature of technology and culture. If we aren't collectively enhancing its mythos, we're collective pointing out its flaws. Sometimes we do both at the same time. By the time we get a device like the Surface Pro 4, it's usually the praise that dominates the landscape.
The Surface Pro 4 isn't a big departure from that device, at least in many of the ways that matter. That's led to a lot of people singing its praises.
Frankly, I understand all the praise from reviewers; the Surface Pro created a new form factor that no one considered viable before it came along. Anyone describing these devices as "perfect" is out of their mind, though. There are improvements galore. There are compromises too – some of them so severe that I can't understand how someone begins to describe this device as the best there is.
Microsoft Surface Pro 4 Core M3 Review – The New Normal
The New Normal
The Surface experiment is a success. Three years ago Microsoft showed up on its hardware maker's home turf and made them look like chumps. The Surface Pro was thick, black, loud and could cost any college kid their meager savings. The Surface Pro 4 is silver, slim and elegant. Also, it's quiet, which is a virtue any normal user can appreciate. The model I've had for the last month is a Surface Pro 4 with Intel Core M3 processor. This model is the lightest, most affordable Surface Pro 4 there is.
The cost bit isn't saying much though, this model costs $899 before purchasing a Surface Pro 4 Type Cover. Microsoft doesn't include this cover still, but does give you a new Pen with removable tips and a tiny power adapter that they've removed the extra USB charging port from.
Microsoft Surface Pro 4 Core M3 Review – As A Notebook
As a Notebook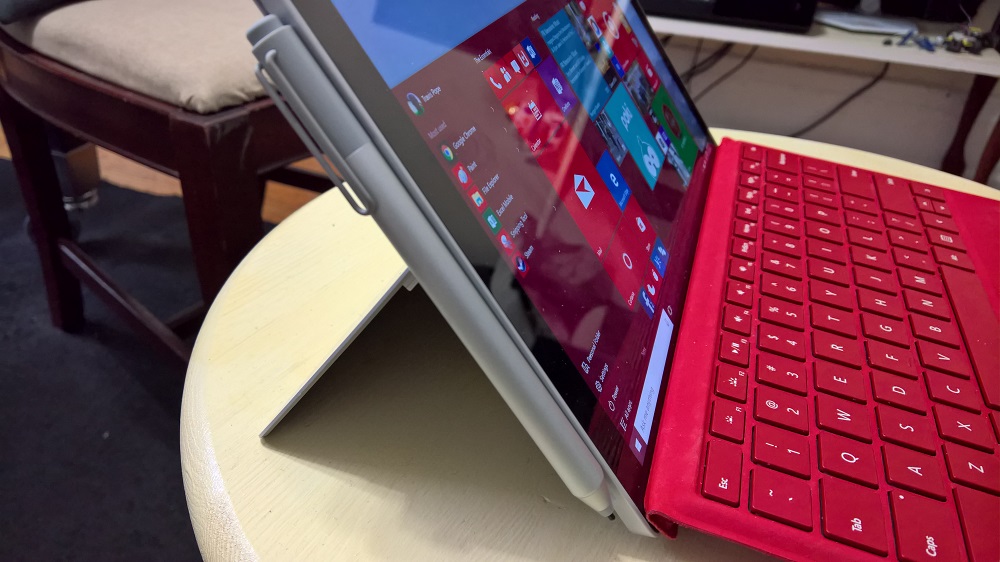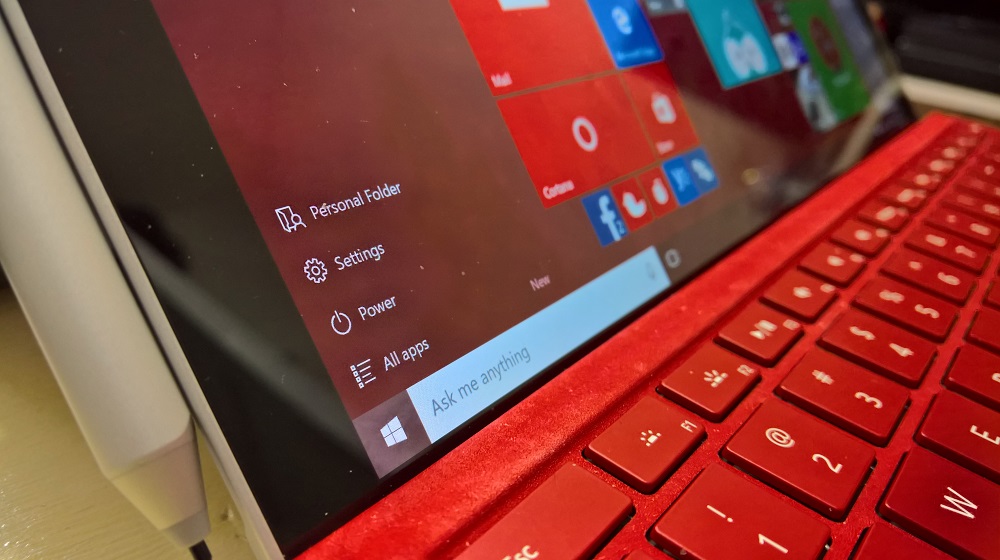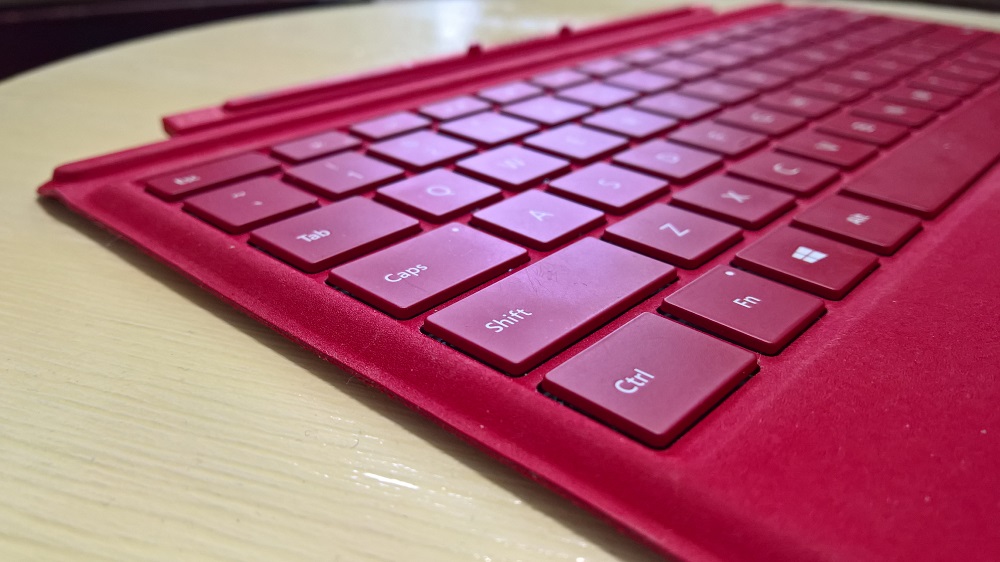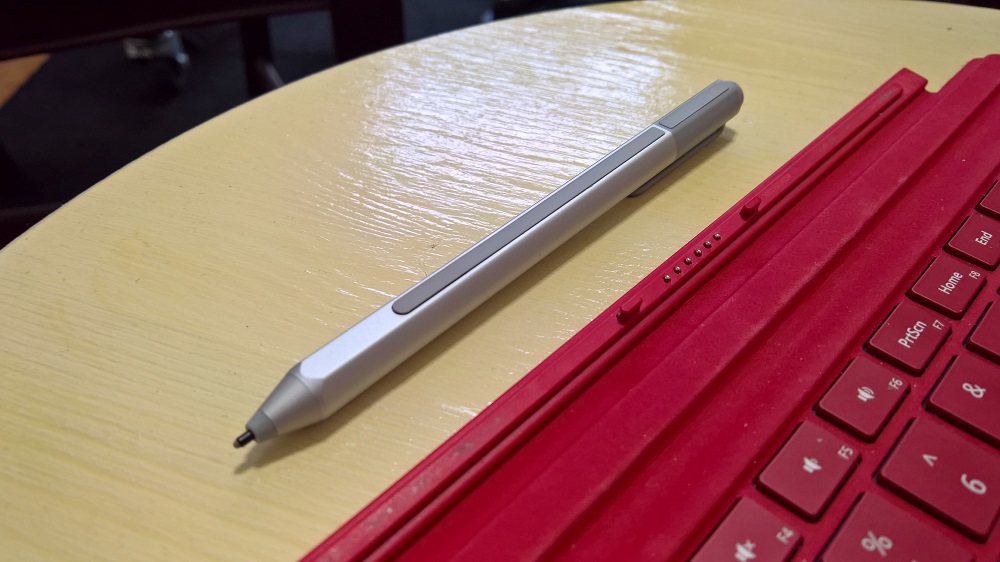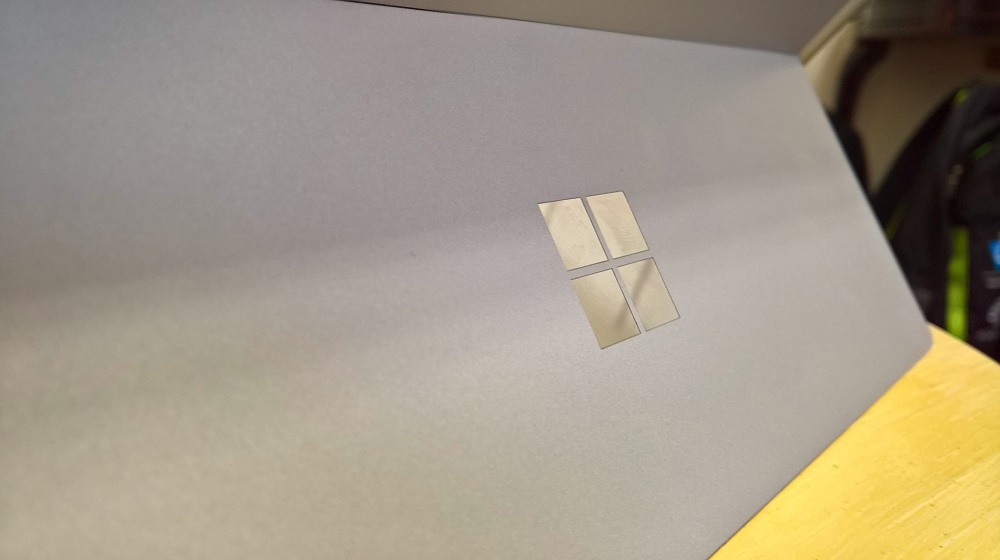 Speedy fast and quiet.
The Surface Pro 4 isn't a notebook. It's a tablet with notebook in internals. To pull off its notebook experience, the Surface has always used a few tricks. The Surface Pro 4 improves on a few of these tricks and leaves others alone.
The kickstand is still adjustable, and a new reflective Microsoft logo lets everyone else know who made the device you are carrying. A hardened plastic ridge now adorns the edge though, replacing the glued piece of metal that provides friction for the Surface Pro 3. Within a year that metal insert had begun to warp on my Surface Pro 3. That shouldn't be a problem here.
Ports remain in the same place, with a single USB 3.0 port and Mini DisplayPort adorning the right side of the Surface Pro 4. The left side of the device has just a single port, a headset jack. Leaving port placement alone hands the Surface Pro 4 its only design failure. The port is at the top of the display in notebook mode and just plain awkward when you have a headset plugged in. The cord tends to dangle over the keyboard. Microsoft has to move this to the bottom edge, it just has to.
The Surface Pro 4 doesn't come with, but is compatible with an all new keyboard that Microsoft says it has redesigned. The Surface Pro 3 was pretty close to great, but it's keyboard attachment just wasn't.
This new $129 version has smaller keys with more space in between them and more key travel. Key travel adds more space for each key press. The old cover's key were mushy because of less travel and the design of the mechanism underneath.
Each press is quiet and feels more substantial. Microsoft has added volume control keys to the keyboard, which is a smart move considering the button changes they've made. The Surface Pro 4's ports are all in the same place, but the volume button sits on the top of the device. The larger trackpad on the Surface Pro 4 Type Cover is a dream, an absolute dream. You can shelve your Bluetooth or USB mouse for this thing.
The 5 megapixel front-facing HD camera on the Surface Pro 4 is great at capturing selfies and video conferencing. It's no longer set at an angle in the bezel, so you don't have to reposition the kickstand to get a good angle. It has auto focus too, which is great. Sit down in front of the Surface Pro 4 and a red light takes in your features, letting you login without a password. Microsoft calls this feature Windows Hello, it's available on notebooks, tablets and phones too, but it's most convenient here in the way the Surface team implemented it. You don't have to get too close to the camera, which is great.
An amazing 12.3-inch display dominates the front of the Surface Pro 4. I shudder at throwing out numbers like this, but it has a resolution of 2736 x 1824 pixels. I shudder because statistics like this don't convey what the more technology-inclined will instantly gleam from these specifications. You can't see individual pixels, which is terrific for watching Spectre when it arrives in the Movies & TV Store, but just as great for apps downloaded from the Windows Store. The Surface Pro 4 runs Windows 10, which lets users window their apps in the Desktop or use them in fullscreen. Programs look great too, but it depends on whether the company that create that app supports high-definition. Some games need resolution adjustments to get it right. Other programs look absolutely horrible since they don't support displays with this much detail correctly. Electronic Art's Origin store front and software is a perfect example of this.
There's 4GB of RAM inside the Surface Pro 4 with Core M3 processor. Different configurations get you more than that if you need it. The Intel Core M3 processor and new cooling features inside makes the Surface Pro 4 the first device in the line that doesn't have a fan built-in. It adapts better to the demands that users have, scaling when needed. Some people classify web browsing and Microsoft Word as things that normal people do on the daily. I lean more towards online shopping, scrolling through Facebook, using iTunes and streaming Netflix as daily tasks of the average user.
This processor is great for that, plus more. I filled half of the 128GB of storage loaded into the Surface Pro 4 with my favorite games. Playing Star Trek Online, Sim City 2013 and Civilization: Beyond Earth with medium settings was great. Extreme gaming machine this isn't though. I draw the line at action games like The Witcher 3 and even recent simulation games like Cities: Skylines which would bring this model to its knees. Having no fan really limits the whimsical gaming you can do with this thing. It also makes app development with Microsoft's Visual Studio tools a bit tedious, something I tested for a friend to cover basic usage scenarios for a notebook. (How you doing Andrew?)
Microsoft Surface Pro 4 Core M3 Review – As a Tablet
As a Tablet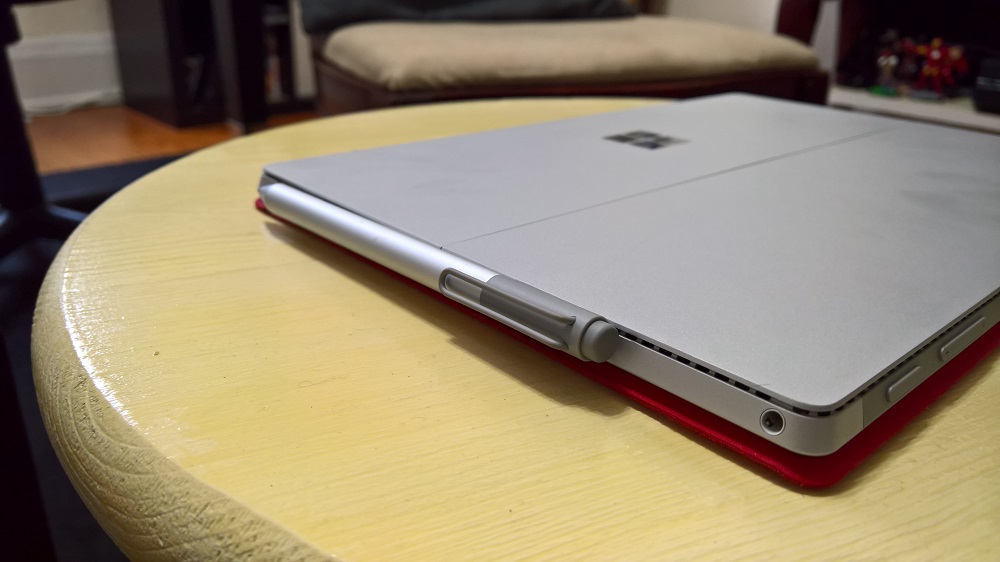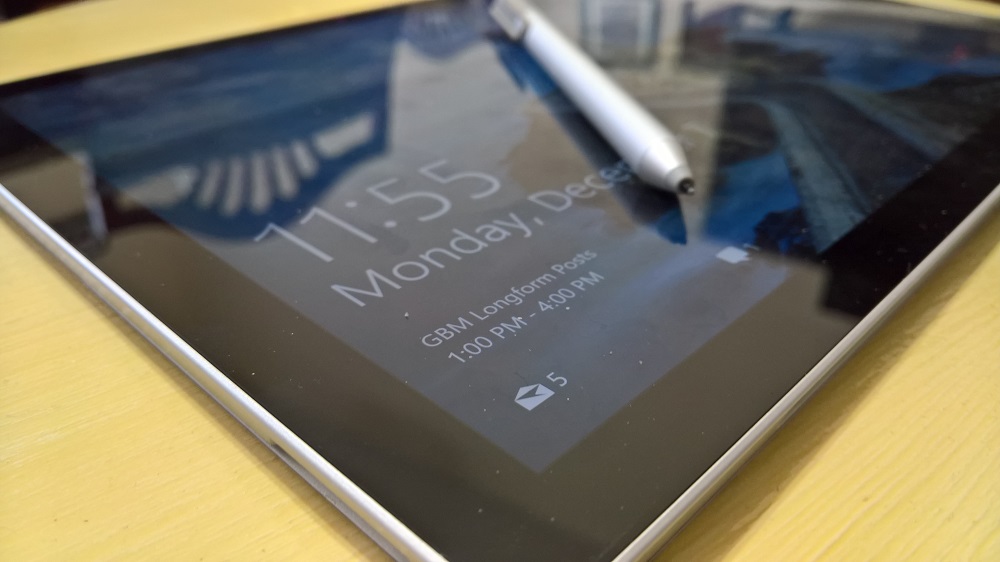 Yes, the Intel Core M3 processor kind of ruins the gaming notebook angle. Upgrade to the Intel Core i5 or Intel Core i7 models and you have something. So why make the compromise to ditch the fan? To improve the Tablet experience. The Surface Pro 3 with Intel Core i3 processor had three issues when it came to being a tablet. The fan, heat and thickness. Also, a pesky touch-sensitive Windows button that drove tablet users crazy.
I read on the Surface Pro 3 a lot. In fact, I used the device for everything, having ditched the Surface Pro and Surface RT for it last October. In tablet mode, you're taking pictures, watching video and snuggling up on the couch to consume the latest J.K. Rowling novel. In none of these situations do you want to hear a fan or feel hot magnesium in your palm. The Surface Pro 4 runs quiet and doesn't warm in tasks that tablet users do most often. Windows 10 has an always visible Start button on the Taskbar. This allowed Microsoft kill that touch-sensitive button.
Microsoft includes a Surface Pen with a magnetic spine that's perfect for Tablet Mode users. It's more comfortable to write with than previous devices and more convenient to store. It clips on to the side of the Surface, giving you a perfectly movable package that feels like a legal pad. It has an eraser cap and removable tips too, something older models didn't. Some have said that storing the pen this way could lead to it falling off in a bag and getting lost. Respectfully, those assumptions are bunk. I've put the Pen + Surface combo in may bag hundreds of times this month. It's never gotten lost except when I've listened to these people and put it somewhere else for safe keeping. Microsoft seems to have settled on users more commonly using the Surface Pro in portrait orientation unless watching video or web browsing, which would explain the volume placement. In portrait, both buttons are very convenient.
Conventional wisdom tells us that people use their tablets as cameras. Why that is remains illusive in the same way we know Area 51 exists, but don't know what the government is truly doing there. An 8 megapixel rear-facing camera at least brings the Surface Pro 4 into the modern age. That's huge, because the camera in last year's model was absolutely atrocious.
Microsoft Surface Pro 4 Core M3 Review – Lessons Learned
Lessons Learned
Microsoft clearely learned a lot of lessons where the Surface Pro 4 is concerned. I don't want to take anything away from the company. Tiny changes like volume button placement, better pen storage and the kickstand ridge prove that.
The company squanders this advantage with the software though. Windows 10 is fine, great even. Unfortunately, the Surface Pro 4 shipped with the worst firmware drivers I've ever seen on any Windows PC. Random freezing requires resetting, Microsoft Edge often locks the tablet momentarily before coming back to life and informing you that the display driver has failed. The Type Cover suddenly stops working. More than a month after release, these issues are still happening.
I believe that Microsoft will soon have fixed all of these with firmware updates; the company has released a number of fixes since October. I don't care though, it's unacceptable for any device to have these issues, no matter how some will justify it.
What can't be fixed with software updates is the average battery life. Microsoft teases about 9 hours for video, I received closer to 7 hours. Turning on Power Saver does get you closer to that benchmark that Microsoft set, so there's that.
Microsoft Surface Pro 4 Core M3 Review – The Verdict
The Verdict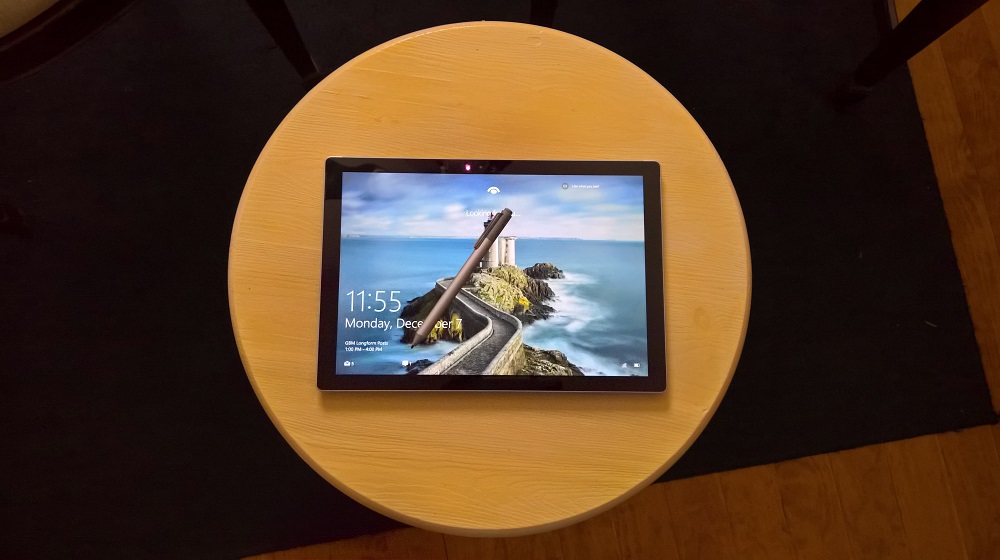 Aside from bad headphone port placement, there's a lot to love here. Better cameras, a slimmer profile, actual pen storage make this the pest Pro device Microsoft has ever made. Windows Hello is very convenient, working pretty flawlessly as long as you start at the camera for a few moments.
If you weren't convinced on the viability of a notebook that requires a kickstand, this isn't the device to convince you. There are no new developments in that area. That's ok though, this doesn't seem to be a concern for a growing number of users. If Microsoft could get these software issues under control I'd recommend this device without hesitation to those that are okay with paying a bit more than the average Windows 2-in-1.
I purchased a Surface Pro 4. I think anyone looking for a Windows 2-in-1 should also purchase a Surface Pro 4. It's too bad that Microsoft still hasn't managed to fix the rampant software bugs plaguing the device. In December I said that Microsoft should have these issues fixed in quick order. February is here, and they still haven't been addressed. The cover sometimes keeps the Surface Pro 4 from starting up. Freezes still happen in Microsoft Edge, for example. Word arbitrarily forgets to acknowledge space bars in some cases. This is a problem I've not managed to replicate on any other machine.
I've decided to take the unorthodox step of lowering the Surface Pro 4's Unique Services and Software score from 8 to 4.
---
| Microsoft Surface Pro 4 with Intel Core M3 review
With the Surface Pro 4, Microsoft comes dangerously close to achieving perfection. If you didn't like the form factor before, there's no reason here to start now. No worries, Microsoft has perfected the tablet that can be a PC for those that do want that.
Learn more about The en policy on affiliate links.