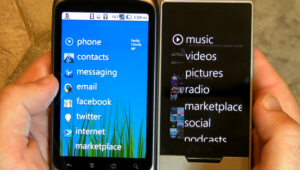 Are you a Android user? Are you tired of other mobile platforms having a interface light years ahead of your own? Well how about adding a little Zune flair.
"I'd be lying if I said I wasn't intrigued by what Windows Phone 7 will be bringing to the proverbial smartphone table in a few short months. And so when we ran across the Zune Home launcher replacement [via FrAndroid], I had to give it a shot. It's a 99-cent launcher replacement that roughly mimics the UI of the Zune and (even more roughly) Windows Phone 7. It's definitely not the same experience, though it has potential. Check out the video and download links after the break."
Now, 99 cents is a bit much to pay for a UI derived from another company but what do I know? Thanks to AndroidCentral, as well as Twitter users RichoRich, and Christo27.