Last year I was awarded as a Microsoft Most Valuable Professional for my work here at ZuneSpring. It meant a great deal to me that and it still does now. It's now 2011 which means I thought I would have turned back into a pumpkin.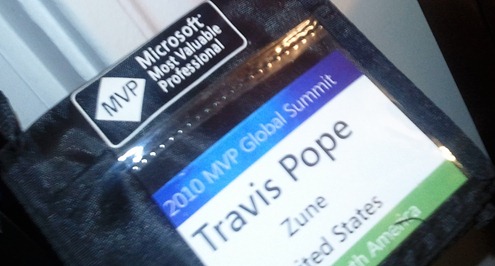 Luckily I was wrong! I've been awarded again this year and I'd like to thank each and everyone one of you for your support in what Team ZuneSpring and I am trying to build here. I'd also like to say thanks to Microsoft for a great year of interactions.
Lastly this is also a win for you guys. Rest assured during the MVP Summit on the Microsoft campus and throughout the year it helps get your message to the folks who design and build your favorite media ecosystem. The ZuneSpring 4th birthday, you know the one where we gave away three months of Zune Pass, two cases, a boat load of stickers and random Zune goodies, and a 32gb Zune HD, where thanks to the great folks of Michael Yeager, PJ Forgione, Mike Fosmire, and the Zune Team. Here's to the good, the great, and another year of Zune!