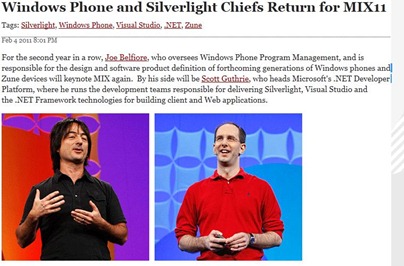 We don't file news stories much in our 'speculation' hats so forgive us if we're a little rusty but here it goes. According to the description of Microsoft's topics during the MIX conference, we may be mere months away from some kind of announcement on "forthcoming generations of Windows phones and Zune devices". Yep, we thought that would get your attention.
Source: Clubdirthill via Twitter
Here's the context in full:
"For the second year in a row, Joe Belfiore, who oversees Windows Phone Program Management, and is responsible for the design and software product definition of forthcoming generations of Windows phones and Zune devices will keynote MIX again.  By his side will be Scott Guthrie, who heads Microsoft's .NET Developer Platform, where he runs the development teams responsible for delivering Silverlight, Visual Studio and the .NET Framework technologies for building client and Web applications." MIX Webportal
Of course this could entirely be a a PR mishap on the part of whoever wrote the description; but we are already too busy highlighting the keynote date on our calendars.