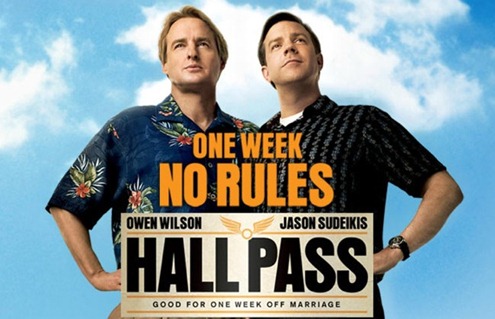 If you're looking for the latest in digital video goodness, the Zune Video Marketplace has you covered this week with everything from police offers who dress up as women, to a conman who gets all the women.
Movies
The Enlarged Edition features over 6 minutes of never before seen laughs, plus deleted scenes and a gag reel! Best buddies Rick and Fred (Owen Wilson and Jason Sudeikis) have both been married for a long time. They love their wives, but, like some guys, just can't help checking out every other woman who crosses their paths.  Comedy
Because too much is never enough! The boys of Jackass are at it again with an all-new UNRATED movie loaded with outrageous, idiotic stunts you shouldn't try at home. You won't want to miss this big time batch of pranks, stupidity and mayhem from your favorite jackasses including Steve-O's up-close and personal encounter with a snapping turtle, Chris Pontius' wood pecker, Preston Lacy as a human bowling ball, and stun gun limbo with the whole gang. Plus go behind-the-scenes with the Jackass crew and get an inside view of the paranoid life on set, an assortment of ideas that may not have panned out as planned but took on a ridiculous life all their own, and the successful behind-the-scenes prank that was finally pulled on Johnny Knoxville. Comedy
"Make room for more laughs, more fun…more Momma! Martin Lawrence returns in his biggest — and most outrageous — comedy role as Big Momma, a wisecracking Southern granny with tons of hilarious tricks up her sleeve. After witnessing a murder, FBI agent Malcolm Turner (Lawrence) and his stepson (Brandon T. Jackson) go deep undercover at an all-girl performing arts school. Now Malcolm must catch the bad guys while fending off the amorous advances of the school's goofball janitor, who's about to find out that Big Momma is more than he can handle!" Comedy
"Valerie (Amanda Seyfried) is in love with a brooding outsider Peter (Shiloh Fernandez), but her parents have arranged for her to marry the wealthy Henry (Max Irons). Unwilling to lose each other, Valerie and Peter are planning to run away together when they learn that Valerie's older sister has been killed by the werewolf that prowls the dark forest surrounding their village. For years, the people have maintained an uneasy truce with the beast, but the wolf has upped the stakes by taking a human life. Hungry for revenge, the people call on famed werewolf hunter, Father Solomon (Gary Oldman), to help them kill the wolf. But Solomon's arrival brings unintended consequences as he warns that the wolf, who takes human form by day, could be any one of them. Panic grips the town as Valerie discovers that she has a unique connection to the beast — one that inexorably draws them together, making her both suspect…and bait. " Drama
Television Shows
"White Collar"

"White Collar is a drama about the unlikely partnership between a con artist and an FBI agent. The world's most creative con man escapes a maximum-security prison by walking out the front door; the FBI tracks him down, but instead of returning him to jail, they decide to use his criminal expertise to catch other notorious criminals." Drama

"Through the Wormhole with Morgan Freeman"

"Hosted by Morgan Freeman, Through the Wormhole explores the greatest mysteries of the universe. From the latest work at NASA and private enterprise facilities to the latest theories from academics and researchers, this series looks at black holes, colonizing the planets, string theory and more. " Documentary

"Wilfred"

"Wilfred is a live-action comedy about Ryan, a young man struggling unsuccessfully to make his way in the world until he forms a unique friendship with Wilfred, his neighbor's canine pet." Comedy
"Teen Wolf"

"As an outsider often unnoticed, Scott McCall yearns to be recognized. When his friend convinces him to go into the woods one night, Scott encounters a creature in the dark. A bite in his side brings strange surprises for Scott. Will he ever be the same?" Drama
That's the stuff that caught our eye. While we're usually sick at the thought of MTV revamping our favorite movies "Teen Wolf" may turn out to be pretty good. Did we miss anything that your excited for?