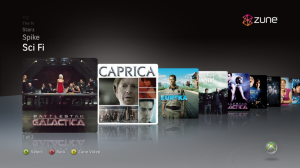 When Microsoft announced that it would be combining the Zune Video and Xbox Live Video Marketplace last year we heralded it as a way for Microsoft to communicate just how serious it was about getting into the digital video market. Early on the service saw modest gains at the expense of iTunes which commands the number one position, a year later things aren't as rosy.
According to research from IHS Screen Digest, the Zune Video Marketplace fell from a high of 18.5%  in 2010 to 16.2% of all Video on Demand, with only iTunes and the Walmart owned Vudu which jumped from 1% to 5.4% year over year.
Here's to hoping that Microsoft has some plans to give Zune Video a little jolt this fall and put in back in the spotlight, heck even if they don't the situation could be worse. Sony's PlayStation Store taking a dive with just 4.4% of the market down from last years 8.2%. Those poor guys cant catch a break.
Source Variety