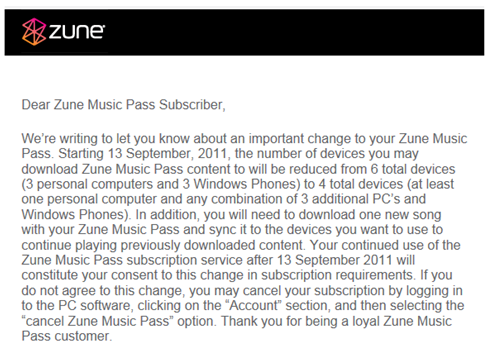 Not for nothing but we're hearing reports of Zune Pass subscribers recieving email alerts from Microsoft about changes they're making to our beloved subscription music service. What kinda changes? Well lets just say we don't like it, we don't like it at all.
According to a screen caption from the email alert:
"Starting September 13, the number of devices you may download Zune Music Pass content to will be reduced from 6 total devices (3 computers and 3 mobile devices), to 4 devices (at least one computer and any combination of 3 additional computers and mobile devices)."
The email then goes on to invite you to cancel your substrion ifyou don't like the changes. As a person who's used my Zune Music Pass on 3 computers and 3 mobile devices, I'm not at all thrilled by this. That being said i'm willing to Are you guys using your 6 devices, how will this effect the way you use Zune Pass?
Update Matt Faraca @airmattdog on Twitter, who works for the Zune Video Marketplace team has confirmed what we'd been suspecting since we hadn't gotten the email ourselves: It's Europe only.
Update We've also got official word from official sources inside Microsoft confirming that in fact only the United Kingdom, Spain, Italy, and France will be seeing the changes to their Terms of Service.
Original Source MyMicrosoftLife