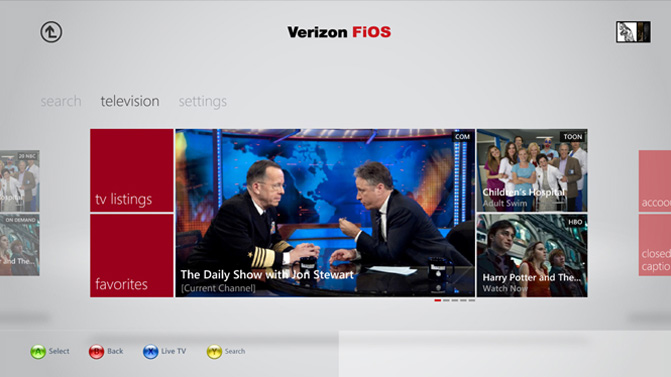 Have you started to get a little bored with that new fangled Xbox Dashboard Update everyone recieved last week? Well cheer up! Starting right now users in the United States can have their way with a handful of new applications for Microsoft's platform of choice in the living room.
From MajorNelson.com
blinkbox (UK): blinkbox gives access to a wide range of movies online. With more than 10,000 movies titles movie fans can watch their favorite films immediately with no additional subscription required.
iHeartRadio (U.S.): Listen to more than 800 of the nation's most popular live broadcast radio stations from 150 U.S. cities with iHeartRadio.
MSN Video (Australia, Canada, Germany, Italy, Mexico and UK): MSN brings you the latest breaking news, sports, celebrity gossip and more from around the globe.
MSNBC.com (U.S.): MSNBC.com bring you the best of NBC News, MSNBC, Fox Sports, Access Hollywood, original programming and more, on-demand and up-to-date 24/7/365.
MUZU.TV (Belgium, Denmark, Finland, France, Germany, Ireland, Italy, Netherlands, Norway, Spain, Sweden and UK): MUZU.TV the music video site, offers nearly 80,000 music videos at your command. Brand new releases from the world's biggest artists, great music videos from every decade, up and coming bands and the latest music news and interviews.
Rogers On Demand (Canada): Rogers On Demand provides select TV shows and movies to everyone for FREE. Rogers customers can also catch up on their favorite premium programming anytime, from anywhere in Canada.
SBS ON DEMAND (Australia): SBS ON DEMAND is a catch up TV service that lets you watch full episodes, of your favorite SBS television programs.
TMZ (Canada, U.S.): Your all-access pass to the latest TMZ entertainment stories and breaking news videos everyone is talking about!
RTVE (Spain): Complete episodes from series, news programs, documentaries and the best Spanish audiovisual content from RTVE.
Verizon FiOS TV (U.S.): Get Verizon FiOS TV with 26 live channels like MTV, Spike, Food Network, Comedy Central, HBO, CNN and Nickelodeon – with more to come. Plus with Kinect, change channels with your voice.
YouTube (Available in 24 countries globally**): From your favorite web original video to gaming tips, a universe of compelling content is available through YouTube on Xbox LIVE.
As is customary each app is available for free in the new 'Apps' area on your Xbox's dashboard. We're still busy trying to download them all but you can expect reviews of all the latest Xbox apps available in the US on the site sometime this week.