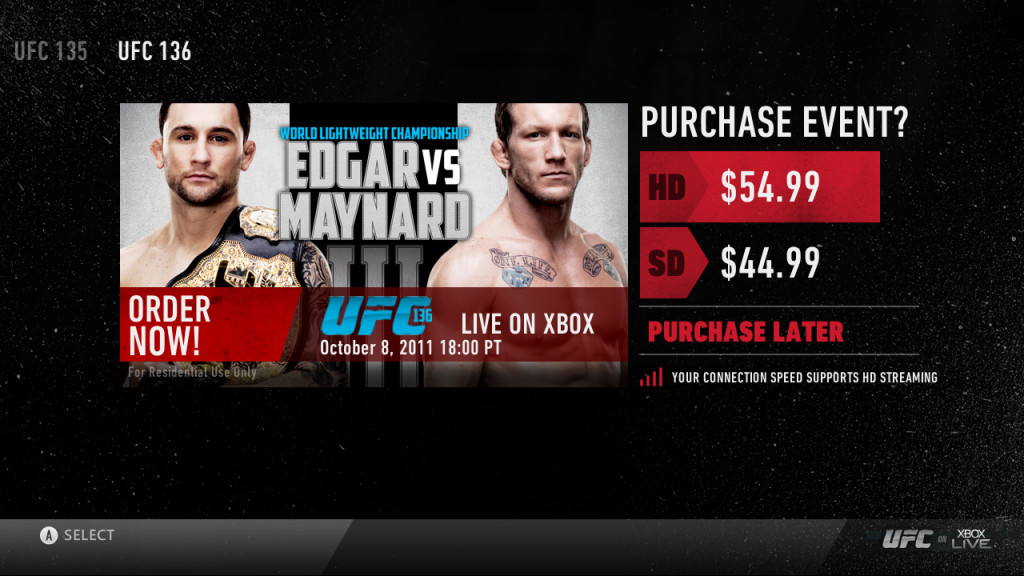 If you are trying to catch tonight's UFC fight for free on your Xbox chances are, you are either very angry or on your way to the nearest sports bar. Shortly before tonight's event Xbox users began reporting issues with not being able to use the UFC on Xbox application that just launched as part of this year's Xbox Dashboard Update.
"Before you go off the handle in a MMA roid rage, hear me out. Right now as we speak it is failing to give out free spots before it goes to pay only. Yes a lot of people are trying for this, but they should have expected it. They announced last week that they would give away some more free spots in the app to watch it. What were they thinking that only a few who missed the last chanced, because they opened it up while everyone was at work, would only take them up on their offer? They should have known that there is going to be thousands of us waiting in line for it like it was a Black Friday special. Since so many people are trying for this app, it does not work. Let me say that again." XBLVault
While technical problems were bound to crop up with the new platform, we get the sense that more Xbox users aren't as bothered by the application not working as they are that Microsoft billed tonight's event as free for Xbox LIVE Gold users however that actually meant, free for the first 5000 users who logged in. We'll keep you updated on the story and provide any support updates on the situation as we encounter them. If you're not that patient type you can keep refreshing your browser on Support.Xbox.com to get up to the minute status updates on the app.
Update
We've got some not so great news from the UFC on Xbox LIVE Twitter account, and to those of you who were counting on watching it over Xbox LIVE we'll cut it to the quick.
"Please make alternative plans to watch UFC141 through your PC or your cable provider." @UFConXboxLIVE
They are apparently still trying to get to the root cause of the issues, but like the gentleman said that's all there is to that.