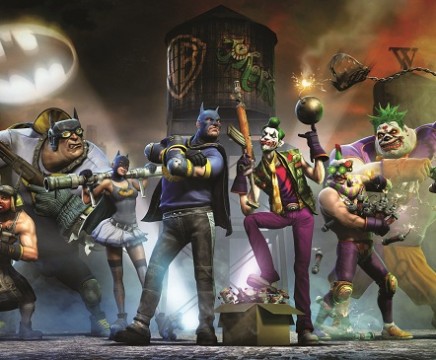 So we'll level with you. To say that the releases for Xbox LIVE have been a little light this year would be an understatement. Don't get us wrong, we're sure someone couldn't wait to get their hands on Final Fantasy 13 Part 2,  but we've been holding out for something with a little more finesse.  This week we've got little something, something: The Darkness 2, Kingdoms of Amalur: Reckoning, and Gotham City Impostors.
Full Titles
Kingdoms of Amaular: Reckoning releasing February 7th
The minds of New York Times bestselling author R.A. Salvatore, Spawn creator Todd McFarlane, and Elder Scrolls IV: Oblivion lead designer Ken Rolston have combined to create Kingdoms of Amalur: Reckoning, a new role-playing game set in a world worth saving.  Build the character you've always wanted and continuously evolve it to your style of play with the revolutionary Destiny system. Choose your path and battle through a master-crafted universe featuring some of the most intense, responsive, and customizable RPG combat ever. Genre: Role-Playing
The Darkness 2 releasing February 7th
The Darkness II is an intense first person shooter that puts you in the role of Jackie Estacado, don of a NY crime family and wielder of an ancient supernatural force of chaos known as The Darkness. Genre: First-Person Shooters
Fallout: New Vegas – Ultimate Edition releasing February 7th
Fallout: New Vegas – Ultimate Edition comes complete with all of the game add-on content for Fallout: New Vegas – Dead Money, Honest Hearts, Old World Blues, Lonesome Road, Courier's Stash, and Gun Runners Arsenal. Genre: Role Playing
Xbox LIVE Arcade
Gotham City Imposters releasing February 8th
A 6 vs. 6 first person shooter, Gotham City Impostors is a multiplayer game unlike any other, giving players the opportunity to rebel against conformity as they customize their own characters. Posing as amateur vigilantes or villains, gamers create their own Bats and The Jokerz characters using unprecedented customization options including insane costumes, homebrewed gadgets and a wide range of traditional and imagined weapons. Genre: First-Person Shooters
Shank 2 releasing February 8th
Shank 2 returns with a story of redemption as Shank, a former mob hit man with a dark and vengeful past, is thrust back into action when the lives of those close to him are endangered. Genre: Action
DLC
Forza Motorsport 4: February Ameran Le Mans Series Pack Releasing February 7th

Gotham City Impostors sounds like just the thing to get us back in front of that Xbox we've been neglecting since early December. What about you guys? Anything looking particularly ripe for playing on your ends?