If you love a good basketball game, you're already looking for NBA 2K19 release details. It's June now, so the NBA 2K19 release is coming up quick.
2K Sports and Visual Concepts haven't shown NBA 2K19 yet, but I'm willing to bet all the games in my collection that they will soon. The franchise has gotten an overhaul every year since it launched in 2000. We can say with some certainty that this year's new game will have a new soundtrack, updated rosters, new features and fixes for broken mechanics that were in NBA 2K18.
Here's everything we know and think we know about the NBA 2K19 release that's coming to Xbox One, PlayStation 4 and Nintendo Switch later this year. Prepare your Virtual Currency stash now.
When the NBA 2K19 Release Date Could Be
The first thing everyone wants to know is the NBA 2K19 release date is September 11th. Buy the game early and you can play on September 7th. That's four days before release thanks to Early Tip-Off Weekend.
NBA 2K19 launches this September.
Just like every other recent game in the series, there's an NBA 2K19 Prelude launch. Everyone will get to try the game's new features for free using this download on August 31st.
Who is the NBA 2K19 Cover Athlete?
The same picture posted to Reddit that revealed the game's release date also confirmed the game's cover athlete. If that picture is authentic, Lebron James will appear on the game and all the promotional items included with Legends Edition will feature his number.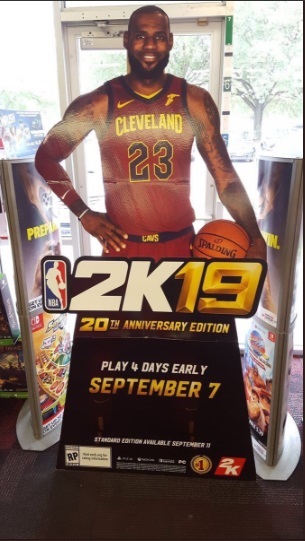 A picture of the promotional cutout inside a retail store taken by a member of Reddit.This is Lebron's second time appearing on an NBA 2K game. Hopefully, the curse that dooms athletes to losing the finals the year that they appear on the cover of the franchise won't claim Lebron's hopes and dreams.
NBA 2K19 Features & What It Might Include
We can speculate about what's coming in NBA 2K19 by looking at what we've gotten in previous games.
Because The Neighborhood is so new, it's safe to assume NBA 2K19 will include some tweaks and new features for it. The Neighborhood was NBA 2K18's biggest feature. The Neighborhood effectively turned MyCareer into an online role-playing game. You can see other players in it, buy your character new clothes by just visiting different stores and explore all the game's modes.
It's also safe to assume that NBA 2K19 will include more tweaks to My GM. NBA 2K18 gave this mode a complete redesign and introduced a story system that matches the narrative-driven gameplay of MyCareer.
Finally, you can bet the final NBA 2K19 features list will include updates to mainstays of the franchise. It will have an updated roster of players that match the league's real roster, new MyTeam Packs, rule changes to give players a more realistic simulation and upgrades to graphics. Every recent NBA 2K game has offered these things.
I don't expect to have a detailed list of NBA 2K19 features coming in the new game until late August or early September. 2K Sports and Visual Concepts do tease some exciting updates over the summer. However, they use news of the biggest changes to build hype heading into each game's Prelude demo and Early Tip-Off Weekend in September.
My NBA 2K19 Wishlist
At this point, my NBA 2K19 wishlist is rather short. Mostly, I want to see features that already exist get some updates.
For starters, I think that Visual Concepts needs to rethink how hard they're using The Neighborhood to sell Virtual Currency. They're certainly making money off the Footlocker and other blatant advertisements that populate it. If someone could convince a business manager or two to use that ad cash as an opportunity to lean less on Virtual Currency, that would be great. I'm fine with spending VC on a haircut once. Having to spend it again to get a haircut I already had is a step too far.
Also, I'd like to interact with other players in The Neighborhood. I'd be cool if I could hear other people in this area instead of just see them. With this, The Neighborhood would feel like a real community of basketball fans. Folks are already trash talking each other through messages. 2K might as well complete the experience.
Finally, I'm hoping Visual Concepts delivers a better story for MyCareer. Last year's random guy who became a DJ and then stumbled back into the NBA felt uninspired after the great story Aaron Covington delivered in NBA 2K17. I'd even take another Spike Lee inspired MyCareer after that debacle.
When You Can Expect NBA 2K19 Pre-Orders
Make sure you leave some extra funds in your bank account over the next month. NBA 2K19 pre-orders could start very, very soon.
Typically, pre-orders for each game in the series arrive after the standard edition cover athlete and legend edition cover athlete are revealed during the NBA Playoffs. This is when we get details about the different versions of the game and the DLC that comes free if you buy it early. It's also the moment we learn the exact date Tip-Off Weekend starts.
Again, this happens in June, usually.
What Consoles Are Getting NBA 2K19?
NBA 2K19 is coming to Xbox One, PlayStation 4, Nintendo Switch and Windows PCs.