As the entertainment ecosystems we know and love expand and grow so do the collection of gadgets we use to get our video and gaming in. In this series we'll take a look at what gets the job done for our staff. We'd love to see your setups as well, post your pictures in details in enConnected Social.
Let's get one thing out in the open right now, this is my first place and I suspect that cheap Walmart-esque furniture is a dead giveaway of that fact. Forget form and function, I went for cheap and easy to assemble. At some point, I'll get around to getting some nicer looking things but that's in the very distant future.
Video + Audio
[one_third]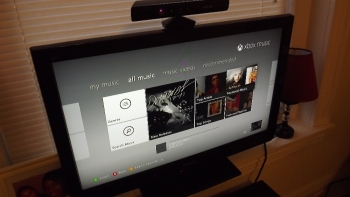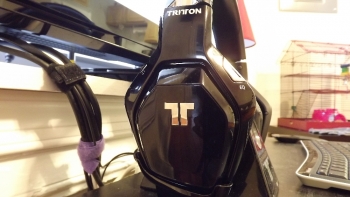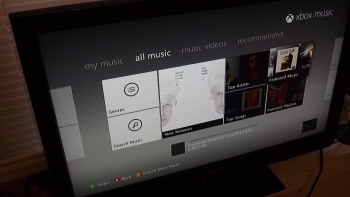 [/one_third] [two_third_last]
This bad boy is my pride and joy, you see this 32" Panasonic Vera LCD unit is the first television I've ever owned. For the last five years I actually used LCD monitors both here and in my bedroom since I have no need for anything with a tuner in it (Those who watch our video reviews we'll remember what I'm talking about). Don't get it twisted there's nothing particularly special about it except that I never knew what playing games on anything other than a 19" screen felt like until I got it. As far as televisions go, I just don't have high standards as long as it isn't too awful to look at.
You'll have probably noticed that there are no external speakers or sound bars, though that doesn't stem from me having low audio standards so much as I have this crazy obsession with getting rid of clutter.  When I am ready for listening to music that doesn't sound like it's emanating out of a tin can (the speakers in my television stink), I whip out those Tritton Warheads. Instead of hooking them in directly from my Xbox, I've got them connected to the television itself so that I can use them for watching television (via traditional antenna broadcasting). I don't like to disturb the neighbors at 3 a.m. if I can help it. I absolutely adore them and usually spend Saturday with them cranked and listening to music in my office which is just next door.
[/two_third_last]
Xbox 360 + Kinect
[one_third]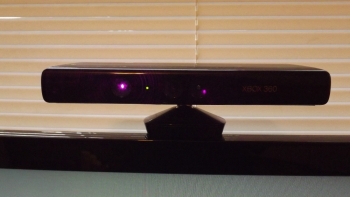 [/one_third] [two_third_last]
I'm often asked what Xbox I have at home for some odd reason. I still use the Xbox 360 Pro from way back in 2008 as my only source of digital entertainment other than my personal laptop and I've got no plans to upgrade to the Xbox 360 S in the near future. As long as it doesn't die on me at least.
In my opinion, you can't own an Xbox without having a Kinect to complete the experience. I use mine daily to control my Xbox and before you ask in the comments yes, I do use it to play Kinect Sports often. I have seen a decline in my using it for navigating the Xbox Dashboard but that's only because Xbox SmartGlass came along.
[/two_third_last]
Other
[one_third]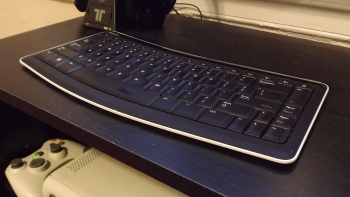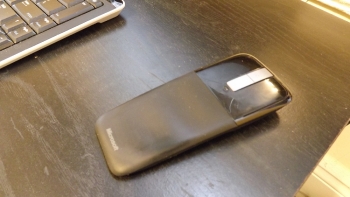 [/one_third] [two_third_last]
The above setup also doubles as my place for PC gaming as well which explains why there's a keyboard and mouse there. While I find the typing and gaming experience on the Microsoft Bluetooth Keyboard 5000 or whatever they're calling it today to be just "ok", I absolutely am in love with the company's Arc mouse series. I've own both generations and literally can't be bothered to even look at anything else. The Arc Touch Mouse you see here has been by my side every day since I received as a birthday gift two years ago after its forbearer was smashed by someone sitting on it. Gaming, productivity, -it covers it all.
You can just barely see my Linksys Wireless Router in the wide shot just beside my humble collection of titles on the bottom shelf. As with the television, I'm simply not that demanding when it comes to routers so I settled for a bottom of the totem pole unit. It gets the job done.
[/two_third_last]
Mobile
[one_third]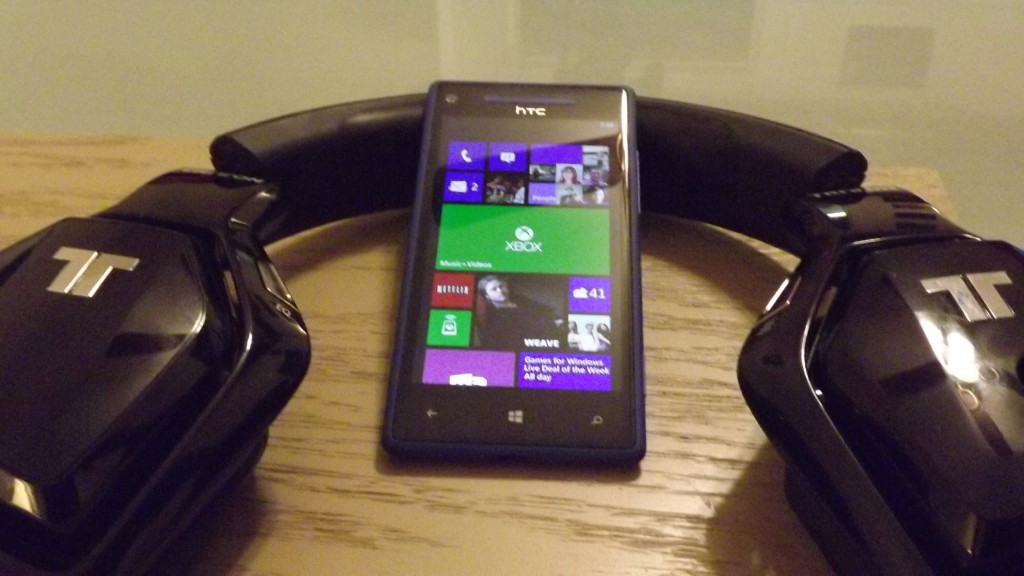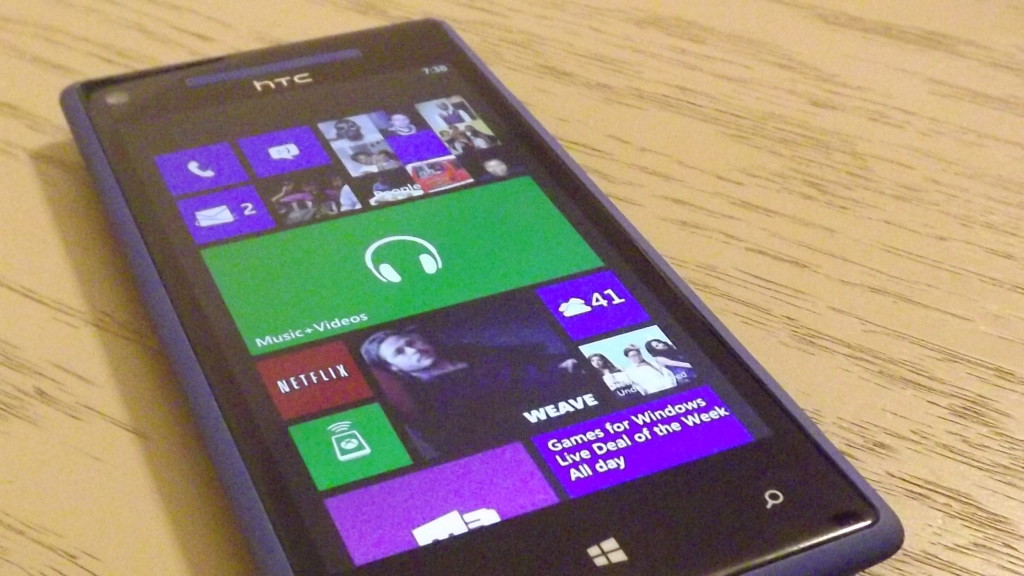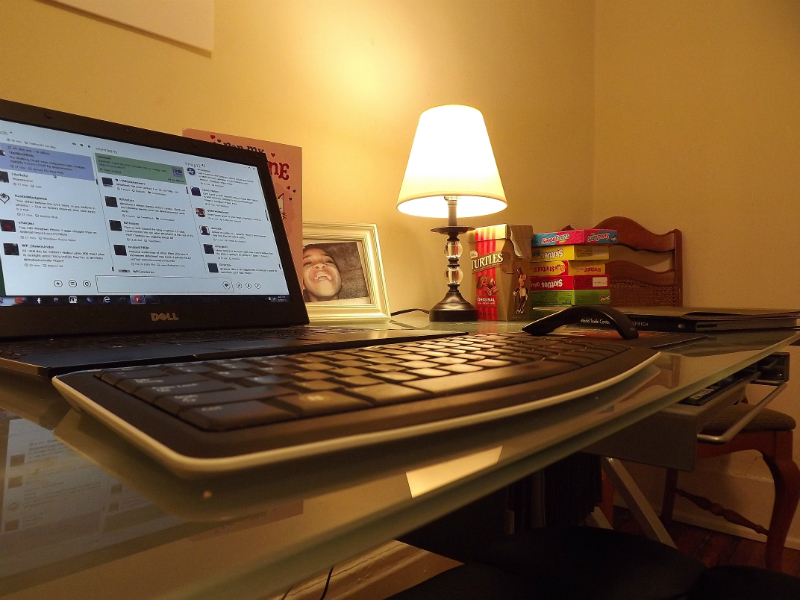 [/one_third] [two_third_last]
One place I do have particularly high standards is when it comes to phones. I now exclusively use the Windows Phone 8X by HTC as my smartphone of choice and happen to love it. Don't get me wrong –Windows Phone 8 itself is going to push me into a temper tantrum or four one of these days but HTC literally hit the device out of the park.
I've never understood the larger consumer community's infatuation with getting the latest and greatest in personal computing hardware when what I've got something that works just fine. If I don't use it, I don't need it. My only personal computer is a Dell Vostro V13 that I purchased two years ago and added an SSD and more RAM to. Since March I've been running Windows 8 on it and have no complaints -about the hardware itself. (Windows 8, not so much.)  The Vostro is attractive and gets the job done.
All of that isn't to say that I'm not keeping an eye out for what comes next. I came damn close to purchasing a Microsoft Surface at least three times since it's October launch but failed to rationalize that $500 price tag for just the device and no keyboard. Yes, I could go for the $600 bundle but for my needs and budget that's pushing it a bit
[/two_third_last] [imagebrowser id=91]
Whelp that's really my entertainment setup. In the future I hope to add a next generation Xbox to the mix here but that'll probably be the extent to which I'll upgrade anything here –my needs just don't demand anything more. Maybe I'll upgrade the television in another four years. Thanks for touring!