So you've just ponied up the cash to procure one of those fancy new devices running Windows 8. Before you get too comfortable with those fabulous built in applications here's a lightening round of our favorite Windows 8 applications from developers.
[divider]Media [/divider]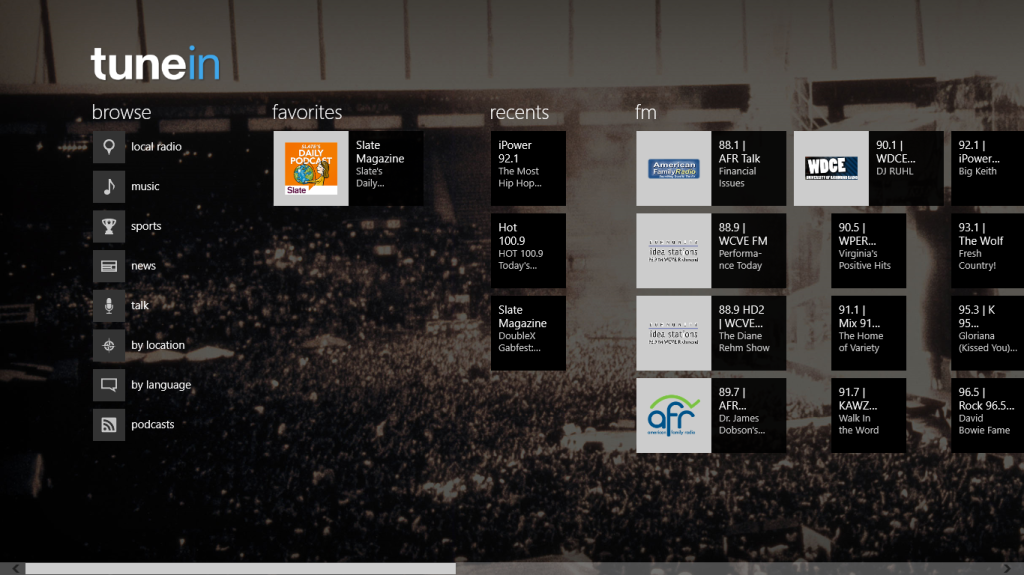 Chances are, if you've had an iPhone, Windows Phone, or anything running Android you have heard of TuneIn Radio. In Addition to providing the world's largest collection of free radio streams the Windows 8 application adds support for localization and podcasts. However as far as we can tell, there's no ability to add podcasts feeds yourself, thereby limiting their selection to just what's available in their catalog.
Price Free          Supports x86, x64, and Windows RT
Where Microsoft's Xbox Music falls short Multimedia 8 excels delivering the most fully featured media experience. We're talking streaming for your media server, playlist creation, and the ability to search your media library from the Charms bar.
Price Free          Supports x86, x64, and Windows RT
While its one of the most well implemented radio streaming services we've seen, and its custom station ability is great iHeartRadio's relatively paltry station selection makes the app a must use –but only for stations that aren't available with TuneIn Radio.
Price Free          Supports Windows 8 and Windows RT

Nothing says talk radio in the digital age like a good old fashioned podcast. With SlapDash you'll get nearly everything you've ever wanted in an podcasting app including bookmarking, the ability to add podcast feeds, live tiles that display the latest podcasts you've subscribed to, and support for backing up your subscriptions online and syncing them to other Windows 8 devices and Windows Phones.
Price $1.99 (ad-free) or Free      Supports Windows 8, and Windows RT
[divider]Tools[/divider]
The ability to track your packages with every possible courier? Check. A live tile that displays your parcel's status in realtime? Got that too. Package Tracker delivers the goods –complete with a bow on top.
Price $2.99          Supports Windows 8 and Windows RT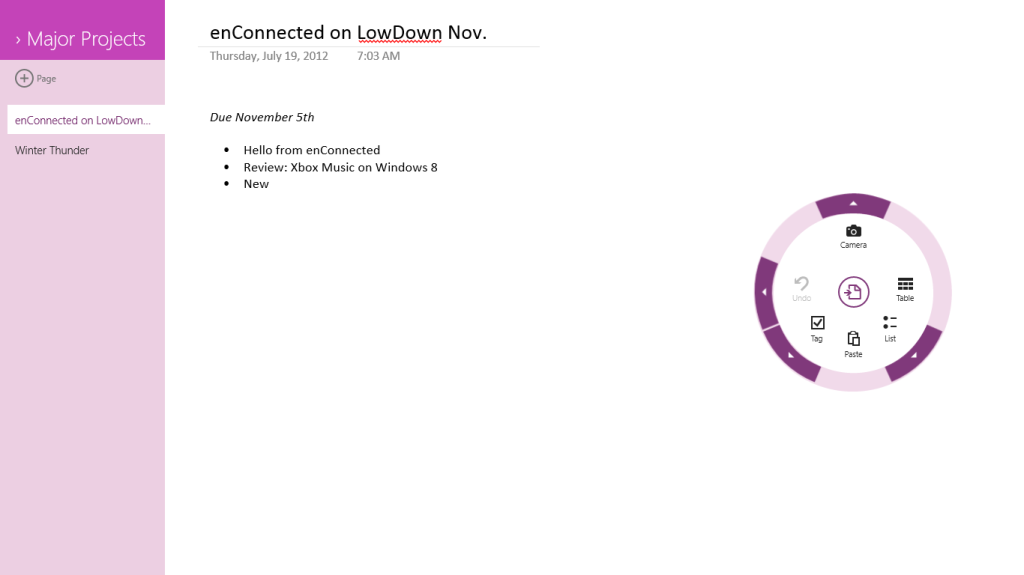 We're incredibly disappointed that Microsoft didn't choose to include OneNote MX in their line-up of pre-installed apps –that's how good it is. With a unique user-interface, built in SkyDrive integration the app already had us at hello. Throw in its ability to be miniaturized on while you look at other things makes this one a no brainer. Period.
Price Free            Supports Windows 8 and Windows RT
Pearl Apps' Craiglist absolutely leaves no ground uncovered. In fact the only thing we wished the application did have was an ad free version. Thankfully before we went to print the developer did just that. Browsing categories is fast and easy, built in support for filers and Bing Maps is seamless. Oh and multi-city search support is the stuff genius is made off.
Price $1.99            Supports Windows 8 and Windows RT
[divider]Food[/divider]
We consider ourselves very adept at a large amount of things but cooking isn't and never will be one of them. We actually managed to turn one of Sweet'N'Spicy's hundreds of videos to create a few delectable dishes. Impressed? You should be. The ability to customize the app's selection by what you have "in your kitchen" is brilliant.
Price Free            Supports Windows 8 and Windows RT
If you've had any experience with Microsoft's other Metro platform, Cocktail Flow is the very definition and inspiration of Windows 8 applications.  It's not just that a humongous catalog of various alcoholic beverages isn't enough to make us get excited, the look and feel of this app puts it over the top. Period.
Price Free            Supports Windows 8 and Windows RT
[divider]Reading[/divider]
Readiculous allows you to easily import your Google Reader feeds into a very unique interface that's comfortable to use on any type of the device. We'd like to see the ability to hit some sort of panic button and mark all of our feeds as read. Still, with Live Tile support and an easy to learn user interface, you can't beat it.
Price Free            Supports Windows 8 and Windows RT
We've always had a love/hate relationship with Kindle. Don't get us wrong –the Amazon Kindle eBook store is a gem. Amazon's Kindle apps however all suffer from the same absolutely unacceptable flaw: you can't purchase anything from their store without leaving the application. Thankfully once you've purchased something WhisperSync and Amazon Cloud downloading both work.
Price Free            Supports Windows 8 and Windows RT
These apps won't necessarily be best in class by the time you read this, the Windows 8 Store is constantly getting newer, better, more creative apps 24 hours a day. For right now though, they're the best at what they do, and a pretty solid starting point for new users wanting to get their feet wet with a new tablet, upgrading a previous computer, or just demoing Microsoft's new platform to friends and family. We'll continue to update you with our favorites, and you are welcome to list yours in the comments.