Ok, this is going to be a bit therapeutic for me, so let's go through thoughts on this week.
First, let's start with the Xbox update preview that went out. Frankly, I love the features in this particular preview especially being able to purchase content while you're away and have that content downloaded and ready when you get home. This was one of those things that was wanted from jump street and now it's there.
The other cool side effect of this update is that the friends activity is less spazmatic. Usually when you go to check out what your friends were doing the Xbox One presented every single little thing they did. So if you were demonstrating to a friend the ease at which you could go from one app to another, your friends would think you had this insane case of attention deficit disorder. Now, the activity feed is more for things like friend connections, achievements unlocked and the like. If you want to know what a friend is currently up to, just look by their gamertag. Nice.
The other big thing was the Destiny beta from Bungie. I have to admit this game is a nice blend of Mass Effect, Borderlands, and Halo. I like the story and I especially dig how other players can just be randomly walking or taking part in action while your own game is happening. So you have the option to just run over and bombard someone's firefight or leave it be. Great stuff and makes me look forward to the end of the year.
I thought that Paul Thurrott really did a service by addressing the hiccups people are having going from Zune to Xbox Music. I loved Zune, but I think Xbox Music is on the verge of something special. The console and PC versions are great, it's just that Windows Phone piece that's all mangled. I do understand people's frustrations as more would tend to use Xbox Music on their phone (on the go) than they would at home or via the Xbox 360/One. I can tell you that this team is working on it feverishly.
Oh, and let me put one more thing in here about that. Some of the people who are working on Xbox Music now were part of the Zune team. This isn't a completely new band of random people. Some of these folks were there with Zune, but they can't just do Zune for the cloud. This is a new animal, for a new type of computing and way of management.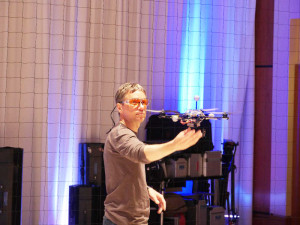 I need to use the TED talks app on my Xbox One more. I watched an episode, recently that discussed quadcopters. It was an amazing display of the power of robotics and intelligent algorithms. During one portion, he even demonstrates control using a Kinect. I'm not sure if it was Kinect for Windows or Kinect for Xbox 360, but it definitely was a Kinect. You should check it out.
There's a show on FX called "The Strain". You should watch it. That is all.
No really, that's all I had for this week. Now to this week's playlist.
Check out and listen to this playlist, free, on Xbox Music
"I Wanna Get Better", Bleachers
"Chitty Chitty Bang Bang", Lee Hyori
"No Compromise (feat. Spitfire)", Paul Oakenfold
"Goodbye", Everlife
"Don't Give Up", Factor
"Secret Life", Alsa Senda
"Thought You Should Know", Keyshia Cole
See you next Friday.