---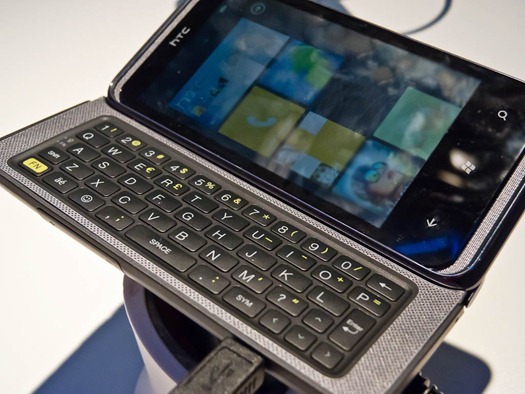 Product: HTC Arrive
Price: Varies by Wireless Carrier & Device (Free with Windows Phone 7 devices)
Released on March 20, 2011, the HTC Arrive is the first Windows Phone 7 device on Sprint's CDMA network. In fact the device is currently the only CDMA Windows Phone in the entire US, and (at the time of this writing) the only handset with the "NoDo" update.
For a quick "top-down" view of the device here are some of the specs:
1Ghz Snapdragon Processor (Qualcomm 8650 Scorpion w/Adreno 200 graphics)
576MB of RAM
512 MB ROM
3.6 inch Super LCD screen @ 480×800
16GB Integrated MicroSD storage. (Phone sees all 16GB)
Slide out QWERTY keyboard
5MP Autofocusing Camera with LED Flash
802.11 b/g/n WiFi, BT 2.1, G-Sensor, Digital Compass, A-GPS.
1500mAh Li-Ion rechargeable battery (same as HTC EVO, Hero, Incredible)
Windows Phone 7 OS release 7.0.7389 (includes NoDo)
The first thing I have to say, is that I have owned many phones (mostly Samsuck phones) and this is, technically speaking, my 5th smartphone. Before owning the Arrive, I owned the HTC EVO. I loved the EVO, with its giant Hummer sized screen and kickstand. The Arrive actually uses most of the same chips that the EVO does, with the exception of Wi-Fi. EVO supports 802.11b/g, whereas the Arrive supports 802.11b/g/n.
Of the 5 smartphones I owned, 3 were Samsuck (Instinct, Instinct s30, Moment) and two have been HTC (EVO, Arrive). Now let's jump into it:
The Software:
The first thing I noticed about the OS is how smooth and slick it is. Android should learn from this, because I sold my beloved HTC EVO to get on the WP7 train, and I can honestly say that I am not disappointed. The OS comes with built in support for Office apps (including Sharepoint), and Windows Live, which are both a huge plus to me. It's nice to be able to take pictures with my phone, and have it auto-sync to my SkyDrive account (25GB of free online storage to boot). Exchange connectivity is there, via Mobile Outlook, as well as Hotmail support, Gmail, Yahoo, and other IMAP/POP3.
Browsing is through a mobile version of IE7 (more like 7.5 since it incorporates features from IE8). For navigating the OS, the live tiles are very interesting and easy to use and set. If you see one from your app list (the only other "homescreen" on the phone) simply longpress it to pin it to the main screen. You can then longpress again and slide it to the location you want it.
The much anticipated "NoDo" update comes pre-installed on the device, which brings Copy/Paste functionality, as well as numerous bug fixes and speed fixes.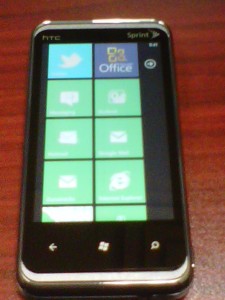 The onscreen keyboard is very nice and fairly accurate in Portrait mode, and more accurate in Landscape mode. In fact, I find myself rarely using the slide out QWERTY if I'm typing a short message/tweet. The settings are fairly easy to configure, and the phone will auto-config once you start the device up. You need to be on (at least) an Everything Data Plan, for this phone to work. Of course, you can always just use it as a wifi device, with no calling functionality if you want.
As for pre-installed software, there is the HTC Hub and the Sprint Hub, which provide apps from both HTC and Sprint. Unlike Android (unless you void your warranty and root), these apps CAN be uninstalled. You can re-download them individually from the market, at a later time. I do wish there were more Google equivalent type apps available, like Bing Navigation because I can't stand the Sprint TeleNav software. With that said, Market still needs time to mature, but it's gaining traction and will get there eventually.
Some of the best apps come from HTC within the HTC Hub. Here you will find a pretty good YouTube app, as well as an app called "Attentive Phone" which can help you customize some of your ringer/volume settings (like in-pocket volume, etc). Another favorite HTC app is "Sound Enhancer". I noticed it made the stock HTC headphones (that come with your Arrive) sound REALLY good. Almost better than my Zune v2 premiums. The app has settings for No E.Q., SRS Enhancement, and also provides a generic E.Q. list, similar to the one found on the Zune HD. HTC also provides an app called "Photo Enhancer", which allows you to make basic edits to your pictures.
On the Sprint Hub, you have the option to download the TeleNav GPS software from the Sprint Hub, as well as options to view your account and pay your bill. They are currently working on a SprintTV app, which gives you mobile access to popular network TV shows and pay-per-view movies. Another Sprint app is the Sprint Radio. I haven't tried this one out yet, but I believe I'll stick with the Zune radio for now.
Noticeably missing is the ability to use custom ringers/ringtones and the contact management needs some work. In my case I used Google Contacts for my contact management. WP7 uses Live Contacts, although you can use Google contacts as well, however there is no way to un-sync the live contacts. It can make things a little messy. These issues will supposedly be fixed in the "Mango" update, later this year…if it happens.
Other cool features are the ability to remotely lock and wipe your phone from the Devices section of your Windows Live account. This is a very nice feature, that MS gives you for free. Android currently has no "baked in" method of doing this, as you have to do that using 3rd party software like Lookout Mobile Security, and pay their $30/year fee for the remote wipe service.
I'm not really a huge gamer, but I do enjoying pwning people on XBOX live. Games like Fruit Ninja now have leaderboards, and you can play against your friends, if they are on XBOX Live. Also, the Netflix app is probably the crown jewel of apps for the Marketplace. It is very nice to be able to watch my queue on my phone, while out at lunch. I only wish the phone had 4G so the video could play more smoothly, but I can live with it.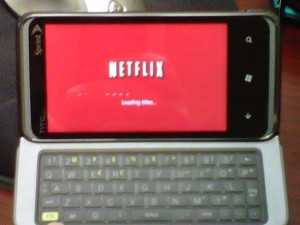 The Hardware:
HTC designed a BEAUTIFUL device here. Everything about this phone is visually appealing to me. From the brushed metal back plate, to the Super LCD screen (just gorgeous!). The best part is the slide out qwerty. This is, hands down, the best feeling keyboard I have ever used. The keys are very responsive and feel just right. The only issue, is the slider mechanism is a bit stiff, but it does loosen up after a few uses.
The phone has a dedicated camera button, so you can take pictures, even when your phone is locked. That is a very nice feature. It also has a 5 Megapixel camera for nice video and pictures.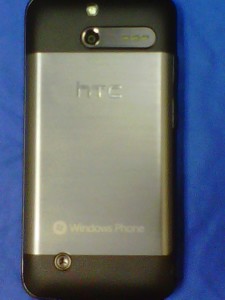 I do miss having the dual cameras of my EVO, but I'll live. The battery is the same size as the HTC EVO, HTC HERO. So if you have a higher capacity slim battery (Seidio 1750mAh or HTCExpress 1800mAh), it will fit perfectly into the battery slot with no extra back needed. They also managed to do a great job at hiding the internal memory card, so tech-tards won't go and change it out. If you do, it will render your phone unusable and it will void your warranty. Truthfully, 16GB of storage is plenty for me. Sure I can't carry my entire Zune library around, but after using the Zune HD for the last 2 years, I've finally learned how to deal with it.
Overall there is little to complain about with this device. The software is a good leap-forward for Microsoft, and is an exciting platform to watch. The OS is polished and smooth and will gain new features over time. I'm glad I bought in early. The hardware is very nice, with a nice springy, responsive qwerty and a beautiful Super LCD screen. I'm not a big fan of the power buttons design, and the volume rocker is poorly placed (mine catches the back panel when turning volume up, causing it to stick). These are more nit-picky items than real flaws, in my opinion.
Here are my main criticisms of the device:
No custom ringtones
Sloppy contact management, via Live Contacts
Landscape support is not fully supported, across the device.
Lack of more integrated SkyDrive features for Music/Videos.
Better Marketplace navigation, with more apps (angry birds) and, for Pete's sake, lower the prices on the apps. $6.99 for an app is too damn much.
The first 3 gripes are the most important, because these are basic features found on the most basic phones, yet it is missing from a (otherwise) very polished and fluid OS.

[rant] The 4th gripe is more in response to Amazon's Cloud Drive. MS has had the resources to do this same thing for Zune and Windows Phone, for several years now. In fact, during my time as a Zune MVP, I remember bringing up the possibility of SkyDrive integration to the Zune platform, but my idea was dismissed.

Now with Windows Phone, this "idea" is starting to become more of a necessity. Take into consideration the Samsung Focus. A wonderful device, with a paltry 8GB of storage space. That device could REALLY benefit from SkyDrive integration, and give MS a leg up on Apple and Google. [end rant]

My 5th gripe, I feel, is echoed by many WP7 users. The Android Market had over 200,000 apps and most of them were 99 cents, or less than 2 dollars. You will need luck finding a good app for less than $3.99 on WP7 Marketplace. With that said, I realize that I won't find many of the Android app developers on WP7 Marketplace, simply because the TOS does not allow apps created in open source code, but still I feel that the apps are WAY too expensive for such a young platform.

Enough with beating the dead horse. Despite the ecosystem shortcomings, I am very pleased with this device and the direction that Windows Phone is heading. Coming from 15 months on the Android platform, I can say that Windows Phone is, hands down, the easiest mobile OS I have ever used.

If you're looking for something different from iOS and Android, then Windows Phone is for you. It's easy to get in, do what you want, quickly, and then get back out. If you want an interface that is icon driven, with lots of home screens, then get an iPhone or get an Android. Windows Phone is not for you.

Overall I believe the user experience on Windows Phone is MUCH better for the average user, than on iPhone or Android.
---