---
Finally, the age of Windows Phone 8 has begun. No longer shall users of Microsoft's mobile operating be forced to wield devices powered by yesteryear's technology. No more will they be forced to ignore the reality that their phones were designed at the same time as NBC thought a Knight Rider was a good idea. With the launch of Windows Phone 8 comes an operating system and thus hardware that should be able to compete twith modern smartphones.
The weaker contenders have bowed out of the Windows Phone device race –but let's be honest Dell and LG were never really in it to win gold. No, this was always going to be an epic battle between HTC and Nokia and if you thought the latter's status as premiere Windows Phone partner was going to damped HTC's drive, you're mistaken, the HTC 8X is proof of that.
If you thought Nokia's status as elevated Windows Phone partner was going to dampen HTC's drive, you were mistaken.
[divider]Design and Durability[/divider]
Design and Durability
[one_half]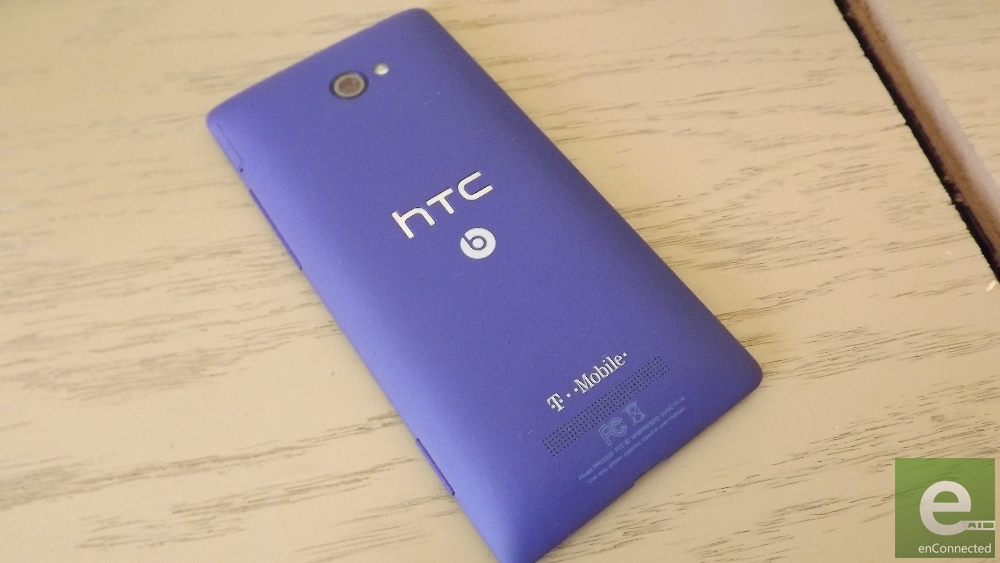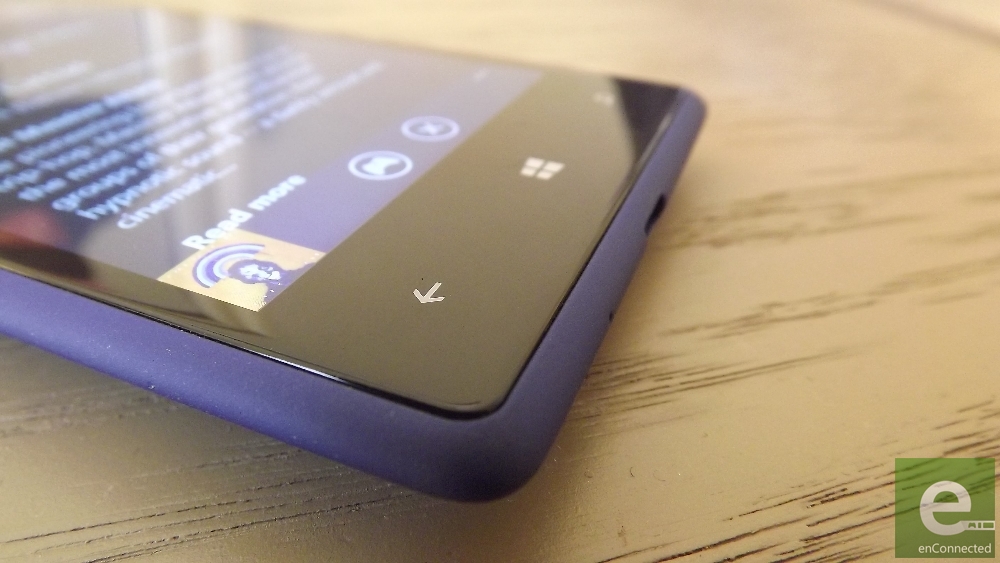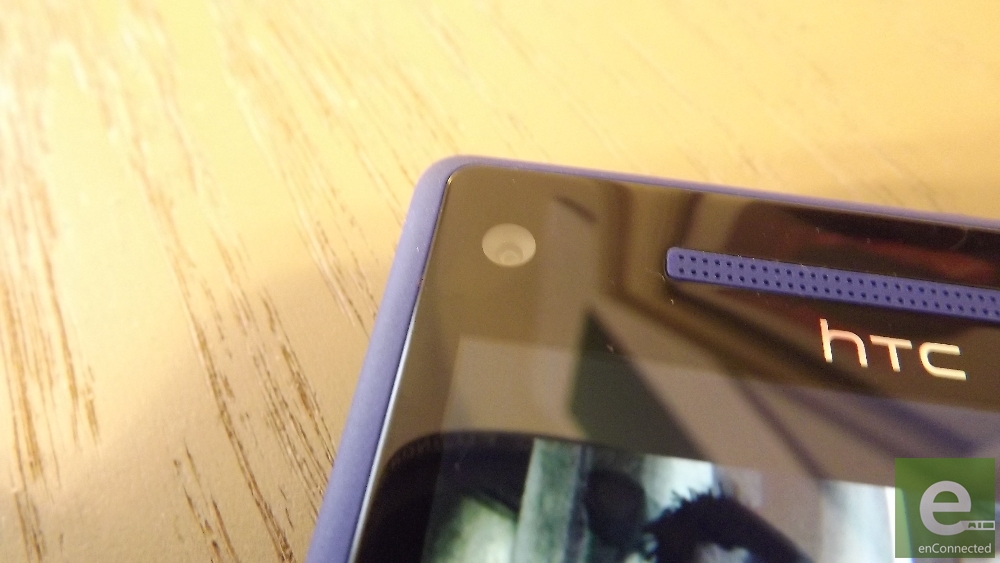 [/one_half] [one_half_last]

Let's be clear. The Windows Phone 8X by HTC isn't just an attractive phone. It's an amazingly attractive phone. HTC has gone and given the entire device the full polycarbonate treatment.  Oh, and with measurements like 132.35 x 66.2 x 10.12 mm and weight of just 130 grams the phone just feels solid in your hands.

About the only thing we really wonder about with the HTC's design language here is its ridiculously flush buttons along the edge of the device. It's not that they're exceptionally hard to find with your finger really but pressing them is more difficult than we would like.

The device's screen is encased in what HTC has told us is Gorilla Glass, but so far we've seen little evidence of that. Our device has consistently picked up a scratches since we brought it home from our local T-Mobile Store. No, we didn't have it in a pocket with our keys, in fact the only thing it's come into close contact with has been our standby pair of Samsung headphones (HTC doesn't provide any out of the box, go figure).

If you'll permit us a little nostalgia,  HTC's last round of Windows Phones featured a side-mounted USB port so that you could better take advantage of the company's first-party dock accessories. That isn't the case here as the Micro-USB port has been returned to its rightful place on the button of the 8X.  Although we miss the option to purchase a first-party dock we aren't at all better about the position change, in fact we'd love the headphone hack to be there as well, but we'll take what we can get.

[imagebrowser id=92] [/one_half_last]

[divider]Display[/divider]
Display
[one_third]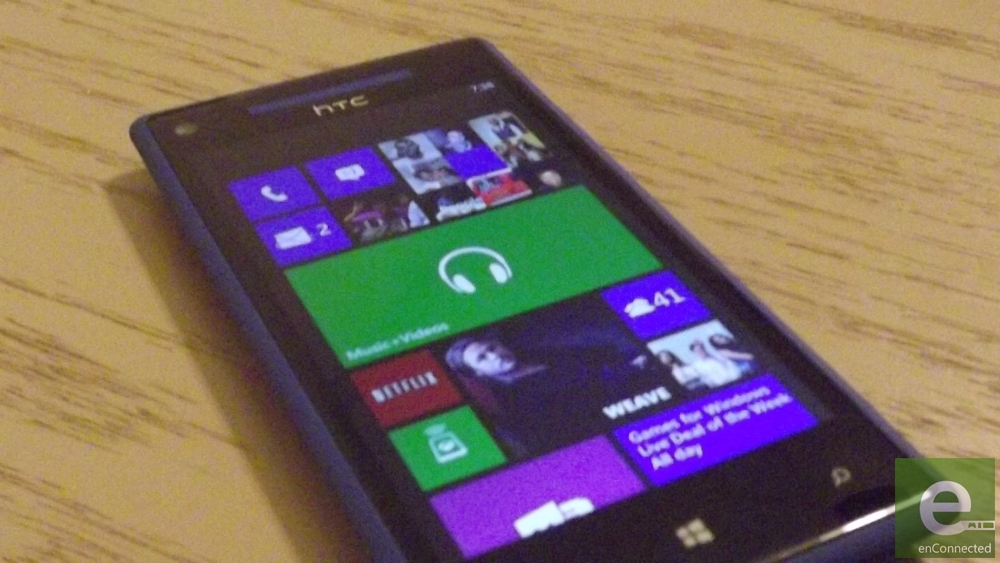 [/one_third] [two_third_last]The 8X's4.3 inch Super LCD 2 display is perhaps the best display on HTC phone we've seen in a very long time. No, you won't find unbelievably dark blacks here, after all it isn't Super AMOLED, but you also don't get the unbelievably blown out colors of those displays either. This display also nails viewing angles and with a 720p HD resolution there's not really much to complain about. Really, it's just a damn good screen.
Bright and shiny.
[/two_third_last]

[divider]Internals[/divider]
Internals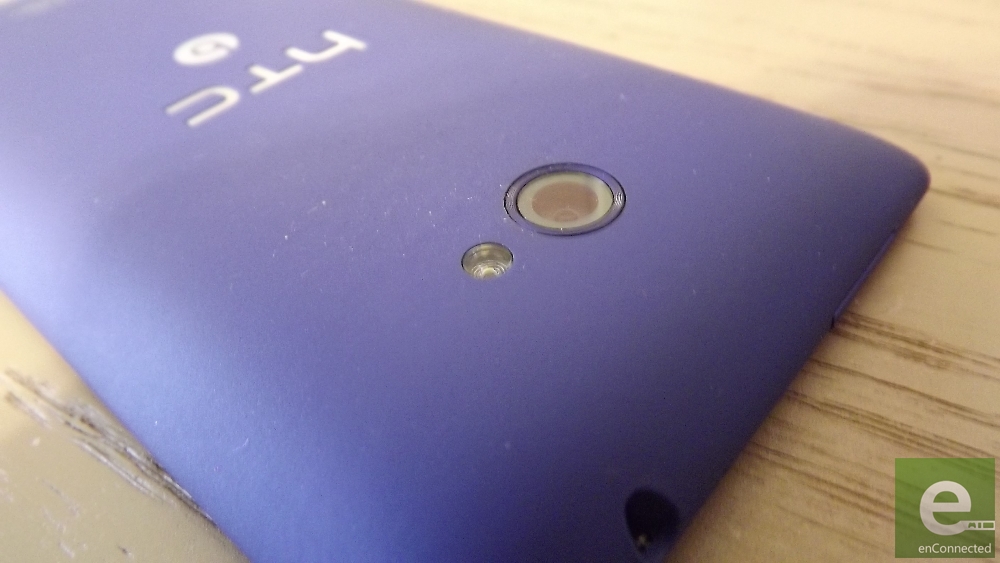 [one_half]

We are not ones to throw around benchmarks from on high. Suffice to say that we're very pleased with the dual-core Qualcomm S4 chip and 1GB of RAM running the show inside the 8X. Windows Phone 8 runs just as smooth as we've come to expect. That being said we noticed a significant drop in loading times for some of our favorite resource-intensive apps like TVShow and Fuse. As both the S4 and 1GB of RAM or now standard on all top of the line Windows Phone 8 devices, this isn't a trait that's exclusive to just this device. All high-end Windows Phones should garner that same experience.

On the other hand all high-end Windows Phones don't ship with 16GB of internal storage and there is no option to add any external media cards either. As we're used to a small storage capacity, we don't mind as much, but for those with more robust media collections this will definitely be a show stopper. Why HTC didn't bump this up to at least 32GBs is beyond us, and it wreaks of a cheap cost-cutting move.

[/one_half] [one_half_last]

As long as we're talking about questionable cost cutting methods we can't help but be stunned at the revelation that the Windows Phone 8X ships with wireless charging only for customers of Verizon. No we aren't bitter that we've yet to experience the wonders of induction charging since our device is of the T-Mobile variety, but we won't be forgetting the slight in the future.

There is glimmer of hope where 8X's camera is concerned. The phone's rear facing 8 megapixel camera is a sight to behold and consistently delivered in both image and video quality. There's no doubt in our minds that as long as we're using this device we'll never pick up or even think about a point-in-shoot camera. We also won't be hauling our big-honking professional camera on trips. You just can't argue with the F2.0 aperture, lens, and imaging chip that's powering this thing.

Things do take a less exciting turn when you use the front facing camera. Though HTC has managed to pack in a 2.1 megapixel camera with a ultra-wide angle lens, but let's be real here –all the real action is up front.[/one_half_last] [one_half] [imagebrowser id=93] [/one_half] [one_half_last]
Rear Camera Video Samples
Images were amazing, videos were modest.
[/one_half_last] [divider]Customizations[/divider]
Unique OEM apps and Services
[three_fourth]

Those who follow the happenings in the Windows Phone ecosystem won't find many major surprises here. Sans the limitations of each mobile phone carrier Windows Phone 8 remains just as attractive, and just as fluid.

In today's Windows Phone landscape HTC's range really only has one competitor, and of course we're talking about that Titan of Espoo, Nokia. At this point HTC should be clued into Nokia's Windows Phone Modus Operandi: great hardware + amazing exclusive software. It's with a heavy heart that we're forced to tell you that the same collection of applications that couldn't excite a two year old are back again for another generation of HTC's Windows Phone devices. We would have thought that since the operating system couldn't be heavily customized HTC would have taken the time it normally spends building Android skins to create compelling applications that only its customers can take advantage of. That's clearly has not been the case, and the fact that Windows Phone 8 (particularly its new map experience), pretty much opens the door for these kind of experience makes the botched app experience all the more surreal. Don't get us wrong, it isn't a complete joke, the company does include a stock/weather application, and a photo enhancer but –no we take it back, the HTC exclusive app situation is a complete joke.

Really, the only bright side ends up being HTC's Beats functionality, which makes it's first appearance in the Windows Phone ecosystem aboard the Windows Phone 8X. Though we've have mocked this as a feature before we got the chance to use it, the hardware amp built inside the phone does indeed produce crisp clear sound.  What we can't understand is why it's been paired with an audio app that doesn't allow you to even change the ranges or include an equalizer, but what do we know? We're only the guys who spend hours listening to music.

[/three_fourth] [one_fourth_last]
[/one_fourth_last]
 No bones thrown in the software department.
[divider]Battery Life[/divider]
Battery Life
[three_fourth]Having been part of our daily routine for nearly two months, the Windows Phone 8X consistently posted good battery numbers with moderate and daily use. That includes heavy use of our newsreader of choice Weave and streaming from our Xbox Music Collection fairly regularly.[/three_fourth] [one_fourth_last]
Satisfactory.
[/one_fourth_last]

[divider]Final Thoughts[/divider]
Final Thoughts
[one_third]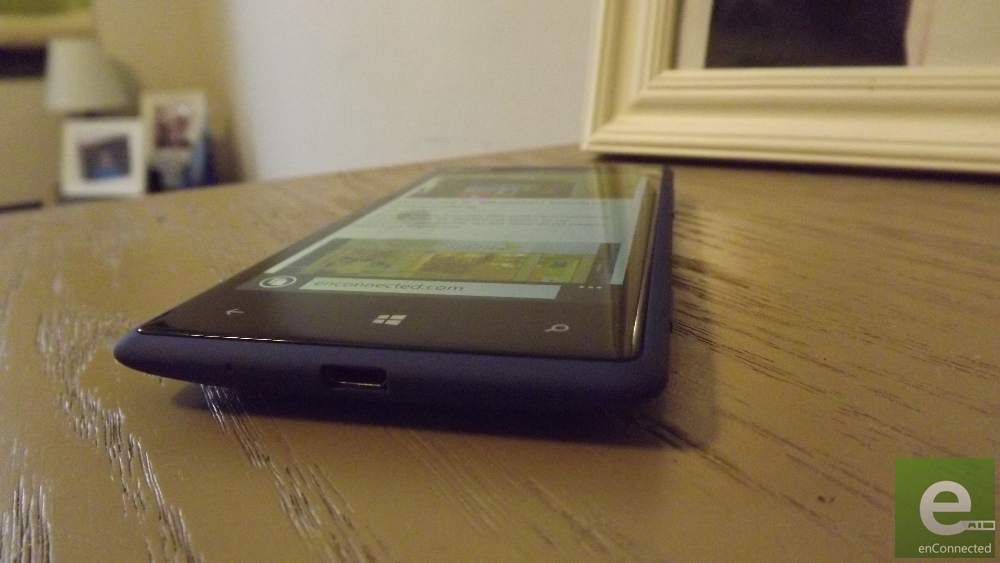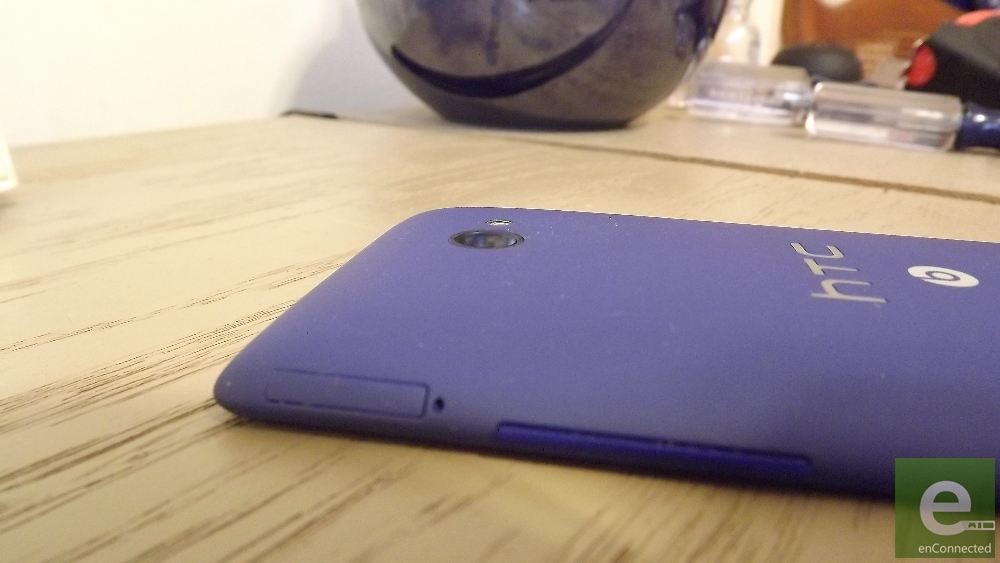 [/one_third] [two_third_last]

Conventional wisdom tells us that looks aren't everything, and as far as we're concerned that just saying is just as true as its ever been where the Windows Phone 8X is concerned. We don't mean to belittle the work HTC has done here. Only a few months ago we blasted those people who even dared to consider the 8X on the same level as Nokia's Lumia flagship. At the time of this review we're fully prepared to eat our own words. The HTC 8X is a Windows Phone worthy of your hard earned quid.

Unfortunately, we weren't completely wrong in our assessment of where HTC stands as a Windows Phone OEM. Just as we hypothesized, the company doesn't seem to understand that the things that come along with building a credible Nokia Lumia challenger. The fact that they still continue to drop the ball on OEM applications is downright embarrassing. There isn't even a Windows Phone 8 equivalent of HTC Watch -you know, just incase we wanted to watch some of the movies the company convinced us to pay for with our Windows Phone 7.5 device.

The utter lack of accessories for this flagship also continues boggle the mind. Gone are the docks like those offered for the Radar or TITAN. Worst yet, there's not even any support for accessories where they'd make sense like the ability to stream to HTC's updated Media Link HD peripheral.

Overall we're left to wonder about HTC's lack of Windows Phone vision just as we did back in September. To be clear, we were wrong mostly, the faster processor, gorgeous screen, and amazing build quality make this this the Windows Phone to get if Nokia's Lumia 920 has too much of a robust waist line for your liking or isn't available on your network. Too bad that won't help sell devices outside of the United States where the Lumia is readily available.

[/two_third_last]
---
| Review: Windows Phone 8X by HTC