---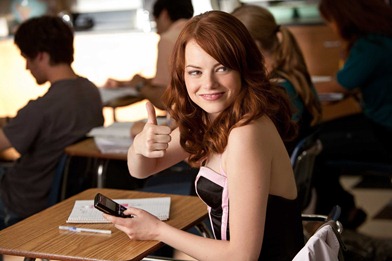 Do you remember high school? Do you remember what it was like to be that person who everyone thought was boring and couldn't possibly do any wrong? If you don't, then we've got enough of those memories to share; perhaps you could listen to a few of our stories, or maybe you could check out "Easy A".
From the Zune Marketplace:
"After a little white lie about losing her virginity gets out, a clean cut high school girl (Emma Stone) sees her life paralleling Hester Prynne's in "The Scarlet Letter," which she is currently studying in school – until she decides to use the rumor mill to advance her social and financial standing."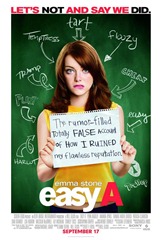 Let us be clear, this not a family oriented movie, in fact we recommend that you watch it alone or with someone who isn't a prude. Despite it's content being as racy as racy can get (you know short of, a George Carlin routine), the movie manages to be sufficiently funny with the subject matter in a few ways we hadn't expected. Emma Stone shines with her character as well, delivering punch lines so well she could have given Lauren Graham a run for her money in "GIlmore Girls". "Easy A" is available for rent this Saturday Night in the Zune Video Marketplace.
---
| Saturday Night @ the Movies: Easy A