---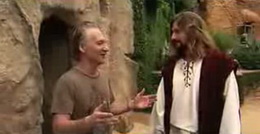 Staring funny man Bill Maher, Religulous tells the story of one man trying to find his way to cosmic clarity. Yes, I'm kidding. Really it's a documentary poking fun at all that may be wrong with believing in a higher power.
I know what you're thinking. "Travis are you too making fun of religion?" No, not in the slightest, even if you believe in a higher power there's something to be said for laughing at what everyone else believes in. It's a thought provoking look at what we all think about God, and also a deeper story about having an intellectual conversation about our beliefs without wanting to burn them at the stake. Oh don't worry about it being Saturday, and to heavy to laugh at. Trust me you'll die, with laughter.
Religulous is available for purchase this Saturday night in the Zune Marketplace.
---
| Saturday Night @ The Movies: Religulous