---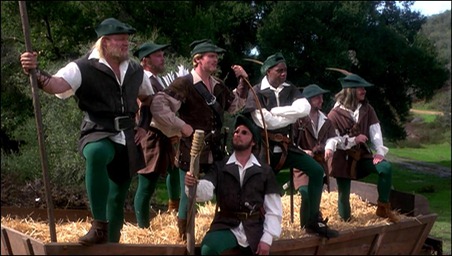 We are just twenty-four hours from Halloween. A time for mischief, a time for story book knights, a time for tights!
From Zune Marketplace:

"In this spoof of the Robin Hood story, Robin returns after a long battle to discover that the good King (Patrick Stewart) has been exiled, and in his place the evil King John (Richard Lewis) rules with the help of the despicable Sheriff of Rottingham (Roger Rees). Robin assembles a new band of merry men, including the Rabbi Tuckman (Mel Brooks), to unseat the bad King, and finds he has a friend in the palace with the lovely Maid Marian (Amy Yasbeth). Unfortunately her keeper, the haggard Broomhilde (Megan Cavanaugh), has installed a chastity belt on Marian to insure her virtue."
While the kids are out snatching up candy tonight (depending on where you live) why not hop in front of the couch for one the funniest Mel Brooks productions since "Space Balls"? Still not convinced? Let's look at the cast. Patrick Stewart , Richard Lewis, Mel Brooks, & the Dave Chappelle.  Rent "Robin Hood; Men in Tights" this Saturday Night for 250 Microsoft points, in the Zune Video Marketplace.
---
| Saturday Night @ the Movies: Robin Hood; Men in Tights