---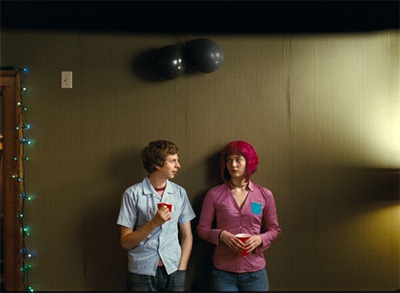 Comic books and movies are the bread and butter of geeks and nerds. Comics are the stuff of boyhood legend. Allowing us to for moments at a time become super heroes and believe that anything is possible. Movies allow us to transport to another reality; and live a story through the eyes of someone else. This Saturday for your enjoyment I propose a movie that combines these methods of story telling.
From Zune.net

"Game on! Scott Pilgrim just met the girl of his dreams…literally. But in order for them to date, he must defeat her seven evil exes — a rogues' gallery — including an infamous skateboarder, a vegan rock star and fearsome identical twins! From the genre-smashing director of Hot Fuzz and Shaun of the Dead comes "a true original" (Entertainment Weekly) powered up by wit, action and groundbreaking visuals that you will want to watch again as soon as it's over!"
Here's what the other reviews won't tell you. Sure this movie is all kinds of great, and by the end of it you'll be asking for more like the little orphan Oliver. Immediately you are introduced to the comic style of filming. Floating text, unapologetically dry humor, and rough scene transitions; it really does smack you in the face the first twenty minutes. That being said once the story gets in the driver seat you start to get used to all the visual flair. That allows you to focus on just how hilarious the writing is. This Saturday night check out "Scott Pilgrim Vs The World", available for rental this week in the Zune Video Marketplace.
---
| Saturday Night @ The Movies: Scott Pilgrim