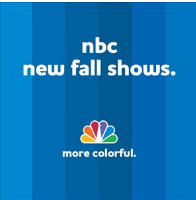 Television buffs have been jazzed up all week in New York City as they preview the latest and greatest that the major US television networks have to offer advertisers. Why can't we get in on the action? Well now you can, at least NBC's lineup.
Starting this week you can now download free preview trailers of NBC's new fall shows. Shows include:

"The Event" is an emotional high-octane conspiracy thriller that follows Sean Walker (Jason Ritter, "The Class"), an Everyman who investigates the mysterious disappearance of his fiancée, Leila (Sarah Roemer, "Disturbia"), and unwittingly begins to expose the biggest cover-up in U.S. history.

"Chase" is a fast-paced drama that drops viewers smack into the middle of a game of cat-and-mouse as a team of U.S. marshals hunts down America's most dangerous fugitives. Kelli Giddish ("Past Life") stars as U.S. Marshal Annie Frost, a cowboy boot-wearing deputy whose sharp mind and unique Texas upbringing help her track down the violent criminals on the run.

"Undercovers" is a sexy, fun, action-packed spy drama that proves once and for all that marriage is still the world's most dangerous partnership. Outwardly, Steven Bloom (Boris Kodjoe, "Tyler Perry's Madea's Family Reunion," "Soul Food," "Resident Evil: Afterlife") and his wife, Samantha (Gugu Mbatha-Raw, "Doctor Who," "Bonekickers"), are a typical married couple who own a small catering company in Los Angeles and are helped by Samantha's easily frazzled younger sister, Lizzy (Jessica Parker Kennedy, "Smallville").
There's tons more including "Outlaw", "Harry's Law", "Love Bites", "Friends with Benefits", "Perfect Couples", "The Cape", "School Pride", & "The Paul Reiser Show". Notably missing from this is "Law & Order: Los Angeles", the most ridiculously ill-conceived idea since "The Jay Leno Show". (I'm not bitter about them cancelling the original, not bitter at all.) You can check out all of these previews right now in the Zune Video Marketplace free of charge.