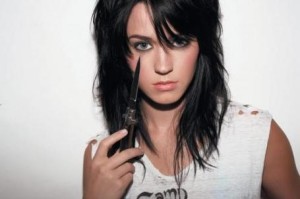 Do you know what today is? No it's not your anniversary (Shout out Tony, Tonie, Tone'). It's Tuesday, more specifically Your Music Tuesday! This week we've got new releases from the fabulously talented, yet horribly fashion impaired Katy Perry, former American Idol Fantasia, and a hideously overrated re-release from Usher.
We begin this week with Perry's "Teenage Dream", an album that for all useful purpose may become the definition of bubble gum pop. Oh and I mean that in the worst way possible, sure the title track and "California Gurls" are catchy tunes with the latter having a slightly more edgy feeling thanks to Snoop Dogg, but do you feel at the end of the CD you've had a cohesive experience? I didn't. However if you are a teenage girl, or a woman in her prime, then this may be the album you need to complete your summer. For the rest of us, well no.
Usually when doing YMT,  I listen to the each album all the way through and highlight the good and the bad. I almost never never to listen twice because if I hated a song before, I'll most likely hat it the second time around. Unfortunately for you, this week i'm choosing to do just that and I'll spare my review of Fantasia's "Back To Me" until this month's Album Drop.  Ive heard reports that it's good. We'll see.
Lastly what can I say about the ball of strange that is our modern Usher Raymond, that hasn't been said before. I'll let the facts speak for themselves. He's Usher. He's releasing a deluxe version of his last album "Usher v. Raymond" as simply "Versus". Same CD, with a few new tracks. Now does that interest you? That's what I thought.
Here are a few other releases that caught my eye:
Don't forget to send us your favorite release from this week on Twitter at @ZuneSpring! Who knows, we might just retweet them for everyone to see!