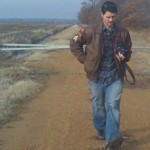 Its Reliant6 comin' to you all the way live from on board the Texas Eagle. I am sitting in a station in Ft Worth. It is 14:35, and 21 degrees outside.
First off let me say that I have no idea why more folks don't travel by train in this country. Almost no waits, no stress, great food, service and over all it cost me an hour more and 40.00 extra over driving the same route. The coffee is outstanding. Extra points for that. Right now you should make a promise to travel some lengthy distance via train.

But to the point of all this…I am on board this train to go to my grand-fathers memorial service. I haven't seen my father in almost 10 years and I haven't seen his father in longer. Make no mistake, I am not mourning anyone. It never occurred to me before this week but I have no idea what my dads dad was like. I don't know any of his family. I don't even know his middle name. In fact most everything about this trip has made me NOT want to go.
Still…something is calling me…so off I go.
So here it is folks, the journey mix.Probably the most deeply personal mix I have done yet…
Who knows what we will find on the way or at the end…satisfaction? rejection? confirmation? absolution?
I sojourn onwards into the cold and dark, to find out.
anyway…hope this helps you along your way…
(post created on 3 FEB)