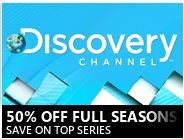 For a limited time only you can enjoy entire seasons of your favorite Discovery Channels shows in the Zune Video Marketplace.
Discounted shows include Survivorman: Seasons 1,2, and 3, Deadliest Catch: Seasons 1 & 2, Mythbusters: Seasons 9 & 8. When We Left Earth, Man Vs. Wild: Seasons 1 & 2, Everest, Brew Masters, and Gold Rush Alaska.
Now go learn something! You've got no excuses now.