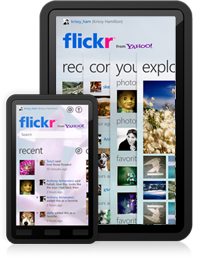 Today, Yahoo! released an official Flickr app for Windows Phone 7 devices. Having downloaded and installed Flickr Manager when I first bought my phone, I was kind of curious to see how the official Flickr app would be different and how or if it would improve on that experience.
Having only used the official Flickr app for a few minutes, its still hard to make any kind of definitive statements about the differences between the two apps, but I think I like Flickr Manager better, personally.
Flickr Manager seems to fit in better with the WP7 interface. Flickr looks more like a mobile version of the Flickr website than it does a WP7 application. Flickr has fewer options/settings than Flickr Manager, as well. For instance, with Flickr Manager, I can choose to go directly to My Stream instead of starting on the "Welcome" screen every time it starts up.
That said, there are a few features that may catapult Flickr past Flickr Manager for people serious about using the service.
Share
First, Flickr is integrated directly into the "Share" menu. When viewing a photo, you can tap "Share", then choose to share the photo on Flickr. With Flickr Manager, you have to choose "Extras" instead of "Share". It's the same amount of taps, but the "Share" item is probably much more intuitive to most users than "Extra".
In-App Photos
You can take and share photographs from directly within the Flickr app. With Flickr Manager, at this time, you can only share photos that already exist on your device (meaning you would have to exit the app, enter the camera app, take the photo, then choose to share the new photo from the "Extras" menu as mentioned above, in order to share a new photograph).
Sync
Apparently Flickr also released a new desktop/slate/tablet application to act as a companion to Flickr for Windows Phone. You can set Flickr to automatically sync between your phone and the PC application. I'm not yet sure what the advantage is of this, since Flickr has traditionally been an exclusively online service, but I guess time will tell.