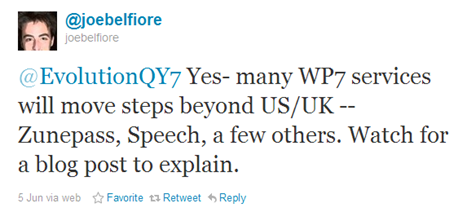 We've all known that the first year of Windows Phone was a time for fine tuning and tweaking rather then seriously competing against Apple and Google for a little while now. Nothing symbolizes the platforms freshmen year then sheer amount of features that happen to not make it to foreign shores. Seems Microsoft is ready to confirm it will be doing something about that with Windows Phone Mango
From Joe Belfiore, Vice President of Windows Phone Design and Engineering,
"Many WP7 Services will move steps beyond US/UK – ZunePass, Speech, a few others watch for a blog post to explain"
We can't wait for the expansion to happen and know just how some international users must feel. Why anyone would be a Windows Phone without Windows Phone Marketplace for example as beyond us. They need to fix this and quick.
Source 1800Pocketpc.com via WMPowerUser