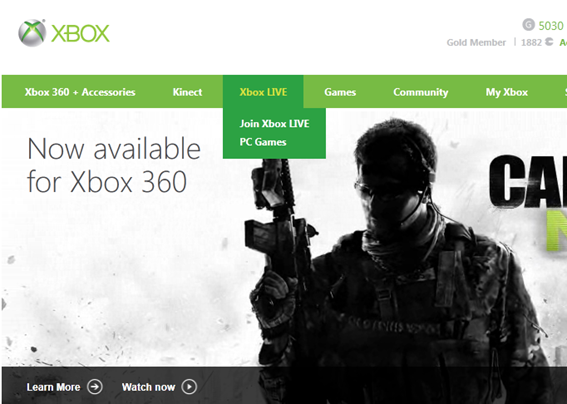 We have no doubt that most online media outlets will be posting this headline: "Xbox.com to get Beefed up Social and Video Areas". Sure that's most of the exciting part. What's the other interesting bit? It seems Microsoft may also be porting over Zune.net's music functions.
Today Denny Atkin, from Microsoft posted a nice run down of what will becoming to the updated Xbox.com including beacon support, more streamlined pages for games, a new recent activity feed, and the replacement of the 'My Xbox' page with  a new 'Social' area all using the Metro style. Now here's where it get's interesting. If you look closely at the screenshots he provided, we get a view of the new navigation coming to the site.

What's that between Video and Support you say? Music, dear reader, it's a music section.  Interestingly enough the post makes no mention of it at all but does note that the ability to browse and purchase videos from the Zune Marketplace is also coming in the update to the site.  I'm not willing to say that this confirms those rumors of Microsoft merging Zune with Xbox, but surely it makes the rumors a little more interesting since video browsing and music library browsing are the core functions of Zune.net. You can check out the changes in more detail at the Xbox.com Forums Blog.