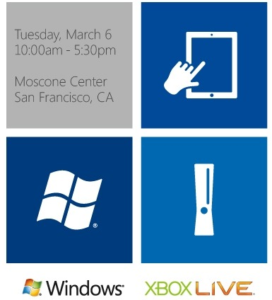 With all this talk of the Windows 8 Consumer Preview, and Windows Phone Apollo leaks somehome the yearly Games Developer Conference slipped ours minds. Luckily, like any good host Microsoft has posted a bit of a reminder about the show and a little information on what they plan to present there.
Sessions during the event at San Francisco's Moscone Center include "Entertainment Reimagined", "Developing a Great Metro Style Game for Windows 8", "The Making of Metro Style Marble Maze", "Async Gaming", "Xbox LIVE on windows 8 Deep Dive", "Xbox LIVE Services – Entertainment Powered by the Cloud", "Game Data Anywhere Using Xbox LIVE Cloud Storage", "Asynchronous Gaming with Xbox LIVE Services", and "Connecting Xbox LIVE Web Games with Xbox LIVE Services".
Of particular interesting to everyone will be the Xbox LIVE on Windows 8 Deep Dive but that Xbox LIVE Services session also has our attention. Don't worry we'll be hear to bring you the latest news and information when the event kicks off at 10am PST on the March 6th.
Source MSDN via Neowin.net