---
Like a fine wine, groundbreaking PCs should get better with age. I'm still not sure that's true of Microsoft's 2017 Surface Pro, and I have owned one for months.
Certainly, the original laptop that can replace your tablet has things going for it. The new Surface Pro is slimmer than the Surface Pro 4 it replaces and has a more attractive design. An updated kickstand and pen experience make this the best Surface Pro artists can buy. It even lasts 13 hours on a single charge, more than any previous Surface Pro.
And yet, maturity hasn't made the new Surface Pro any less of a gamble for some people. The device is missing a port every high-end Windows 10 2-in-1 should have. It's no more durable than the model it replaces. And, shockingly, Microsoft has slyly made using all the Surface Pro's features more expensive than it already was. Models now start at $799 at the Microsoft Store without savings or discounts.
Torn, you bet I am.
2017 Surface Pro with Core M3 & Core i5 Review: Design & Internals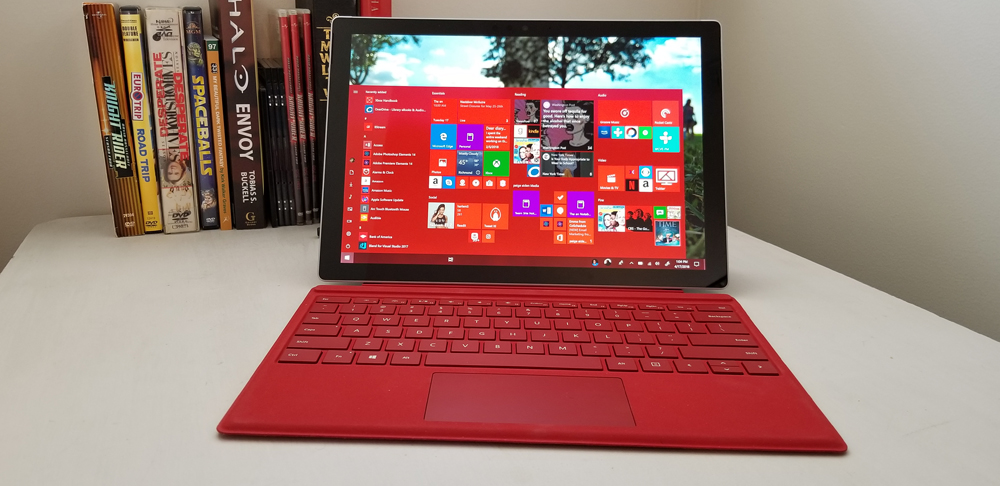 Design
The design is something that Microsoft got right, even if they didn't venture that far away from the Surface Pro 4.
For one thing, the tablet has a premium feel to match its premium price tag. It's made of magnesium, not the cheap-feeling plastic that still dominates the tablet space. Thanks to hardened glass, the screen doesn't flex as you move around Windows 10 by tapping on things with your finger or the Surface Pen.
Those high-end finishes don't necessarily translate to a durable, battle-ready tablet. I wouldn't count on a Surface Pro's display surviving even a fall from waist height on a hardwood floor or a carpeted area, especially if one of its gently tapered edges hits the floor first.
On the other hand, the new Surface Pro is 0.33-inches thin and weighs as little as 1.69-pounds. I forget it's in my messenger bag all the time. Those gently tapered edges make it more comfortable to grip than older models.
Internals
Looking at the device head-on, it's impossible to ignore the 2,736 x 1,824 resolution 12.3-inch PixelSense display on the front of the 2017 Surface Pro. This upgraded display isn't any sharper than the Surface Pro 4's display, but it does offer brighter colors thanks to an enhanced color mode. The black border around the display hides sensors for unlocking Windows 10 with your face, a 5-megapixel front-facing camera and stereo speakers with premium Dolby Audio.
All the new Surface Pro's most important ports are on its right edge. That's where the USB 3.0 port, Mini DisplayPort and Surface Connect port are. Unfortunately, Surface Connect is only good for the included charger and Microsoft's $199.99 Surface Dock.
The left edge of the Surface Pro is mostly empty because that's where you attach the magnetic Surface Pen. There's a headset jack just above this magnetic area too.
Microsoft calls the optional keyboard accessories that turn the Surface Pro into a laptop Surface Type Covers. These covers magnetically lock into the cover port on the bottom of the 2-in-1.
Speaking of features that allow the device to replace your notebook, the kickstand that holds the tablet upright folds out from the back. You extend it by pushing on the cutouts on the left or right edge of the Surface Pro. You can lay the 2017 Surface Pro nearly flat with the kickstand extended for a better writing experience. This lower angle is new for this model.
All Surface Pro models have three sensors from your smartphone: An ambient light sensor, an accelerometer and a gyroscope. Windows 10 uses the light sensor to adjust screen brightness and boost battery life. The accelerometer and gyroscope tell Windows how you're holding the device so that it can change your screen orientation.
The 8-megapixel camera on the back of the 2017 Surface Pro is great for scanning documents into Microsoft's OneNote app. I wouldn't use for more than that though. You don't want to be that guy taking pictures with your 12-inch tablet in public.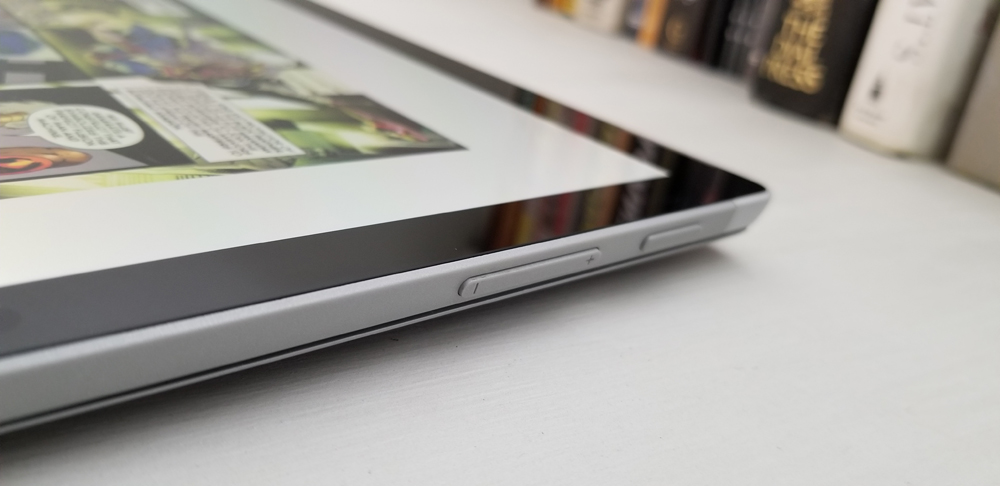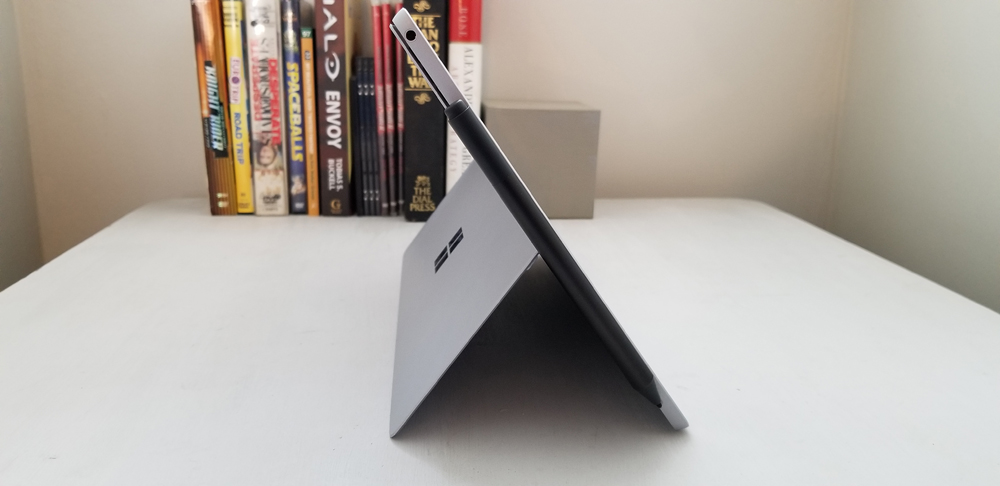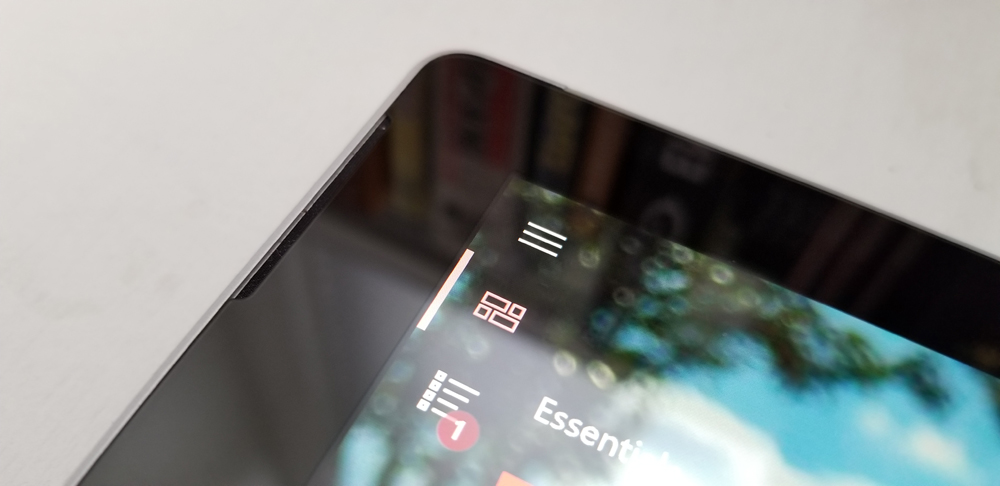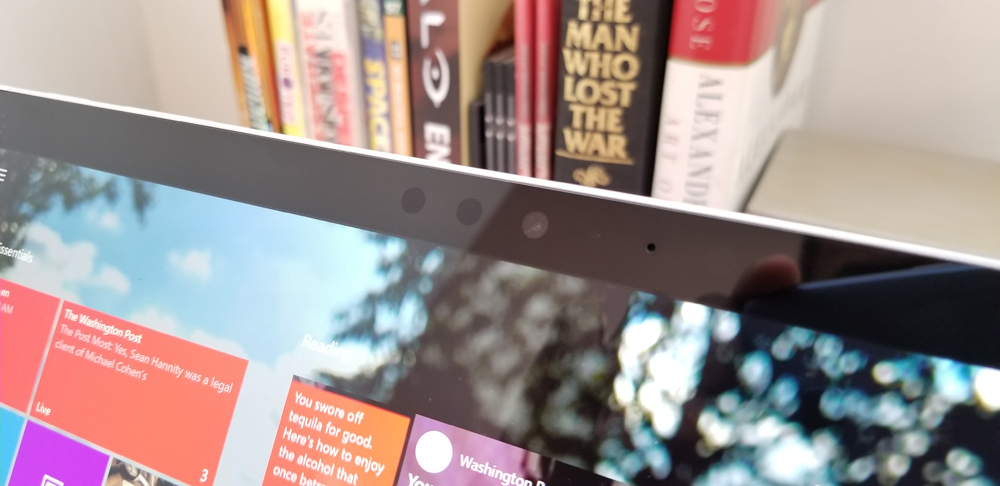 The more you spend, the more power you get.
2017 Surface Pro with Core M3 & Core i5 Review: As a Laptop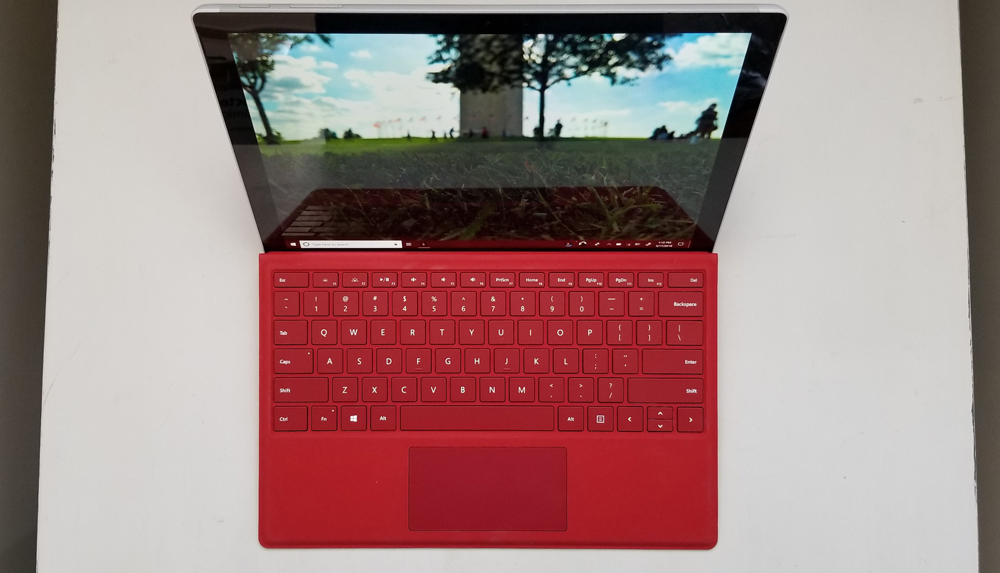 As a Laptop
The new Surface Pro can absolutely replace your laptop. That is, as long as you buy the right model for your needs.
These devices use 7th generation Intel Core m3, Intel Core i5 or Intel Core i7 processors. The more money you spend, the more powerful your device's processor is. The Core m3 and Core i5 models don't have an exhaust fan. You can buy a model with as much as 16GB of RAM and 1TB of storage. However, the least expensive device you can buy comes with 4GB of RAM and 128GB of storage.
Microsoft gets credit for not eliminating ports. With this device, printing something is as simple as plugging in a cable to the USB 3.0 port. If you need more room to work, you connect a monitor to the Mini DisplayPort. To add storage, slide a MicroSD card into the slot behind the kickstand or connect a hard drive. Keep working the way you always have.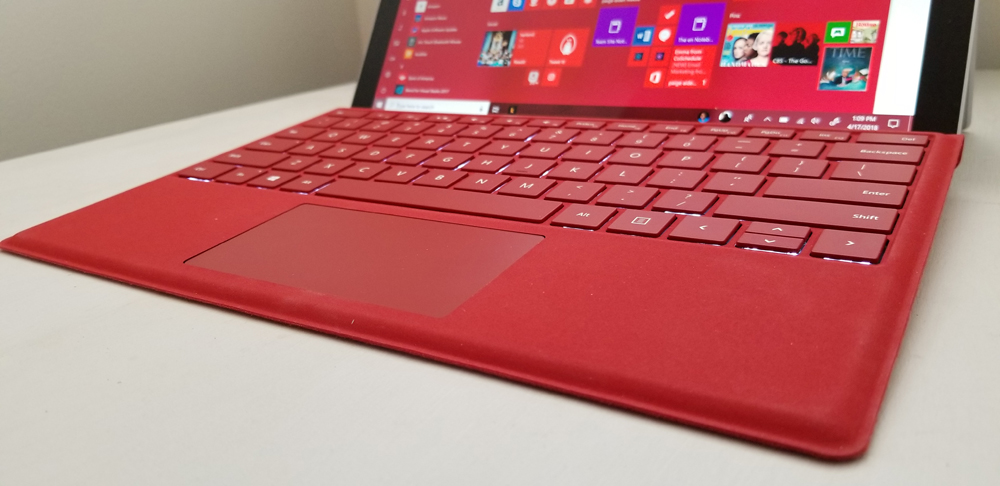 You need a Surface Type Cover.
I only wish Microsoft had replaced the Surface Connect port with a USB Type-C port. At least, users would have their pick of desktop docks. Otherwise, I think the company has struck a nice balance between offering too few ports and offering too many.
Despite its tablet looks, the 2017 Surface Pro works with the programs you're familiar with. If you don't like Microsoft's Edge browser, install Google Chrome. The chances of Windows 10 Pro not running a program you need to get through your day are slim.
Getting Work Done and the Surface Type Cover
Keep in mind that this device doesn't force you to learn keyboard shortcuts or tap your screen to get work done. Unlike Apple's iPad Pro, the new Surface Pro supports mice and keyboards. That means no lifting your hands from the keyboard deck to tap or select words or buttons.
Don't forget the Surface Type Cover. These accessories have a backlit keyboard that glows in the dark and a multitouch trackpad that you can use to move around Windows 10. Close the cover and your Surface Pro goes to sleep. Open the covers and the device immediately wakes up. These covers cost at least $129.99, so add that into your spending plan.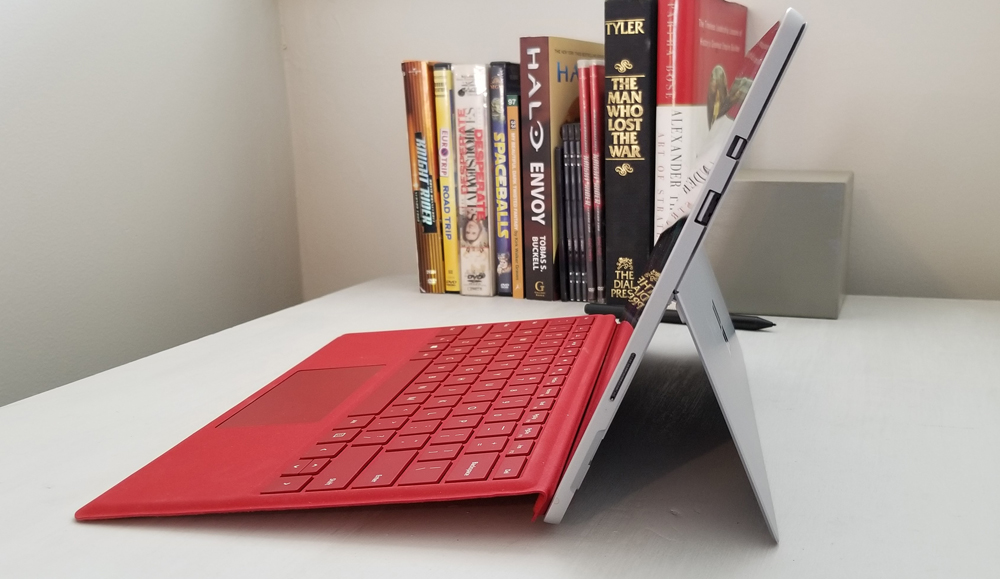 Using the Surface Pro as a laptop, I got a full 9-hours of productivity. However, I work in Microsoft Word and keep a few browser tabs and Twitter open. Different jobs require different apps and programs, so your battery laptop in Laptop Mode depends on what software you need to get your job done. I will say that this is still far more than the 6-hours I got out of the Surface Pro 4.
2017 Surface Pro with Core M3 & Core i5 Review: As a Tablet
As a Tablet
The new Surface Pro is a decent enough tablet.
It's a great way to watch videos. The 12.3-inch display is crisp and bright. Movies and television shows look amazing on it, and there's very little glare in most situations. Because the speakers face you, it's never hard to hear the dialogue coming from your favorite character. Detach the keyboard and extend the kickstand and you've got a pretty great viewing experience.
The Surface Pro lasts for 13.5-hours of video, as long as that video is stored locally. Thanks to an extremely screwed up travel schedule, I've confirmed this first-hand.
Reading is great on it too. This screen is so big that magazines, newspapers and books don't feel squished like they do on 7-inch tablets. Turning the device switches it from portrait to landscape mode. The Core m3 and Core i5 models don't have fans. Because of that, there's no whirring sound to distract you as you're read or browsing your favorite websites.
Some Surface Pro devices don't have a fan.
The problem is software. The Windows Store is still missing some apps other tablets offer. Those missing apps undercut the great design.
Microsoft has done its job. You can set Windows 10's Tablet Mode to turn on when you remove a Type Cover immediately. This turns on gestures and supersizes the operating system's touch keyboard. With Tablet Mode on the Start Menu becomes the more finger-friendly Start Screen. You can have two apps open at a time.
However, app developers just aren't showing up as quickly as you'd expect, and that's left some very strange holes in the Windows 10 user experience. Windows 10 doesn't have a touch-friendly Kindle app, leaving you to deal with the terrifically awful Kindle desktop program that's only barely working. There's only a Google search app in the Windows Store. YouTube and Prime Video, two of the biggest video apps on the planet, are both missing.
I've had to cultivate a slew or workarounds for the lack of apps other platforms have. I use an app called MyTube to watch YouTube videos. If an app has a website, I pin a shortcut to that site to the Start Screen. I've done this for Amazon Prime Video.
Drawing and the Surface Pen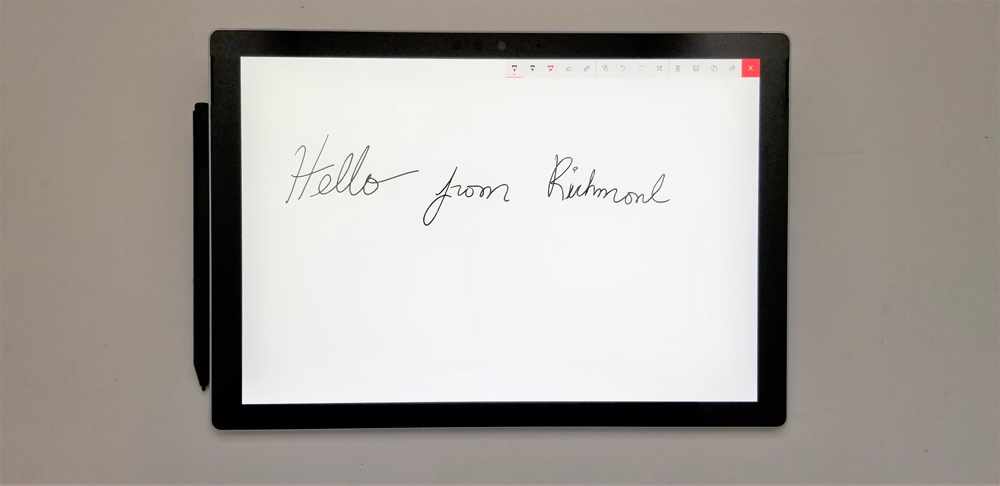 Hello from Richmond.
To know yourself is to know your limitations. I'm not an artist, but I love to write things down on the 2017 Surface Pro.
Writing on the new Surface Pro feels natural. The display and the new Surface Pen allow Windows 10 to detect 4,096 different levels of pressure as you write. That's more sensitivity than other devices offer, including the Surface Pro 4. The harder you press down, the bolder your line gets. The Surface Pen detects the direction you tilt it in and adjusts your strokes accordingly. Finally, Microsoft has decreased the amount of time it takes for a pen stroke to appear on-screen. If there's lag, I can't see it.
The Surface Pen's eraser cap and shortcut button already made it the best digital pen of any Windows device. These upgrades make it even better.
Here's the kicker though. Plan on spending $99.99 to experience this improved writing experience. Microsoft doesn't include a Surface Pen with the device anymore.
2017 Surface Pro with Core M3 & Core i5 Review: Cost & Misc.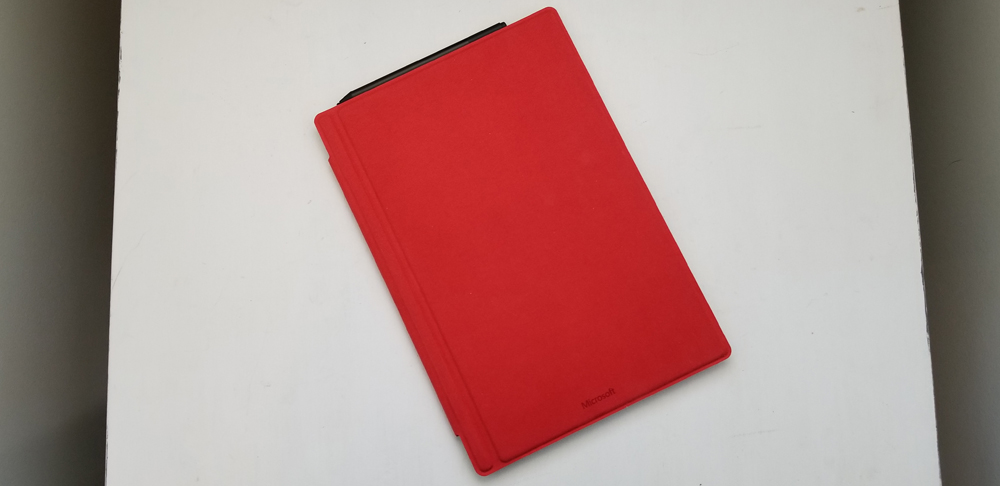 Cost & Misc.
And that gets us to cost. Microsoft's 2017 Surface Pro pricing is a shameless sliding scale designed to empty your wallet.
The least expensive 2017 Surface Pro you can buy has an Intel Core m3 processor, 4GB of RAM and 128GB of storage. At $799, it's expensive for a computer that doesn't have much storage. I suggest avoiding it unless you spend a lot of time in your web browser and Microsoft Word.
Remember, you can't upgrade a Surface Pro's RAM or processor later. You must upgrade your entire device if you ever need more horsepower.
I tried to avoid falling into that vicious cycle of upgrades by keeping my older accessories and purchasing the 2017 Surface Pro with Core i5 processor, 128GB of storage and 4GB of RAM. It cost me $999. Back to the store I went. If you don't need much storage, this model is fine. I needed more storage and more RAM to avoid needing to upgrade in a few years.
Watch your wallet.
I had to upgrade to the 2017 Surface Pro with Intel Core i5 processor, 256GB of storage and 8GB of RAM. It has the storage and performance I need. It also cost me $1,299, the most I'm willing to pay for anything that doesn't have four wheels or have a vote in the United States Congress.
Don't forget that if you're coming to the Surface Pro new, there are some accessories you will want. You owe it to yourself to buy a $129.99 Surface Type Cover. Artists will want the $99.99 Surface Pen too.
You can skip these accessories if you're coming from an older Surface Pro. I upgraded to the new Surface Pen, but opted to keep using the Type Cover I'd used with my last Surface Pro. Surface Pro 3 and Surface Pro 4 keyboards, chargers and docks work on the newer model. Old Surface Pens work on this newer model too, you just won't get the tilt detection or enhanced pressure sensitivity.
Bottom line: Microsoft's 2-in-1 gets expensive fast.
The Verdict: Should You Buy the 2017 Surface Pro?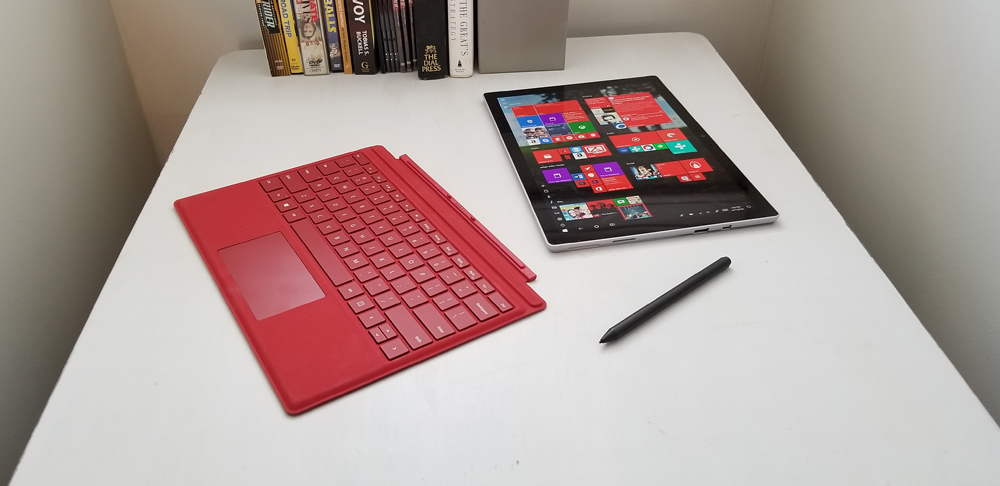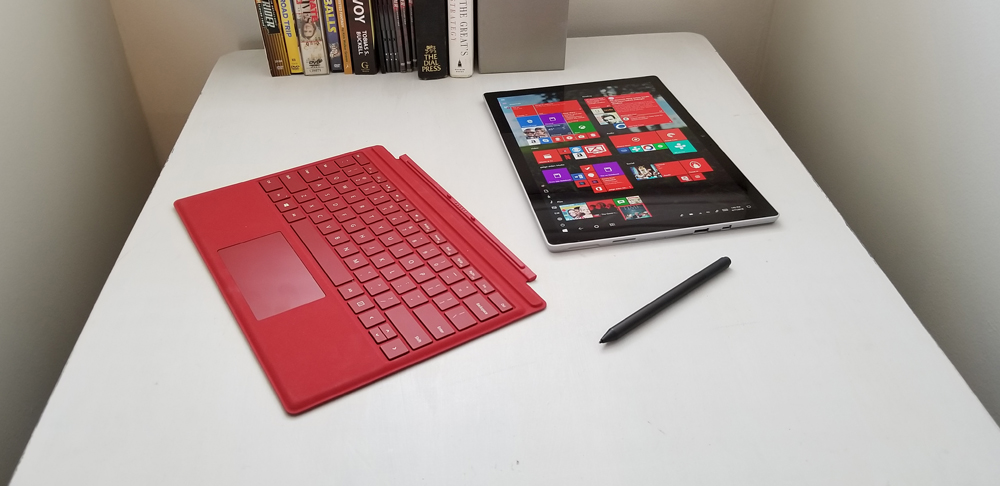 The Verdict
The 2017 Surface Pro is the best Windows 2-in-1 you can buy. It offers great, but not amazing battery life. It is a great way to take notes or watch movies. You get those benefits while still getting access to the Windows programs you already rely on. I love mine, and it is better than the models it replaces.
Just be ready to pay a lot. Look into cheaper alternatives that come with their accessories, like the Lenovo Miix 720 if you're really on a tight budget.
That's not to say that I wouldn't make a few changes. The fast-charging technology the HP Envy X2 has would put an end to battery life concerns forever on this device. My dream Surface Pro would also have a USB Type-C or Thunderbolt 3 port for fast transfers and docking at my desk. As it is, you must make do with Microsoft's Surface only option or a USB 3.0 dock that won't charge the device. Microsoft gets away with this today, but the next Surface Pro needs these features. Other Windows 2-in-1s already have them.
---
| 2017 Surface Pro with Core i5 Review