---
Games that are toys. For years, adults have tried to convince adults younger than themselves that the games they play are immature, digital toys that they should've grown out of by the time they're able to spend their own money on them. Despite the influence of my slightly rigid girlfriend, I'm happy to say that digital toys or not, I play more games now than I ever did as a kid. That same girlfriend watched as I played Disney Infinity 3.0 for Microsoft's Xbox One console for the first time.

I haven't heard a peep out of her about toys being games ever since.

[divider]Design & Control Scheme[/divider]
Design & Control Scheme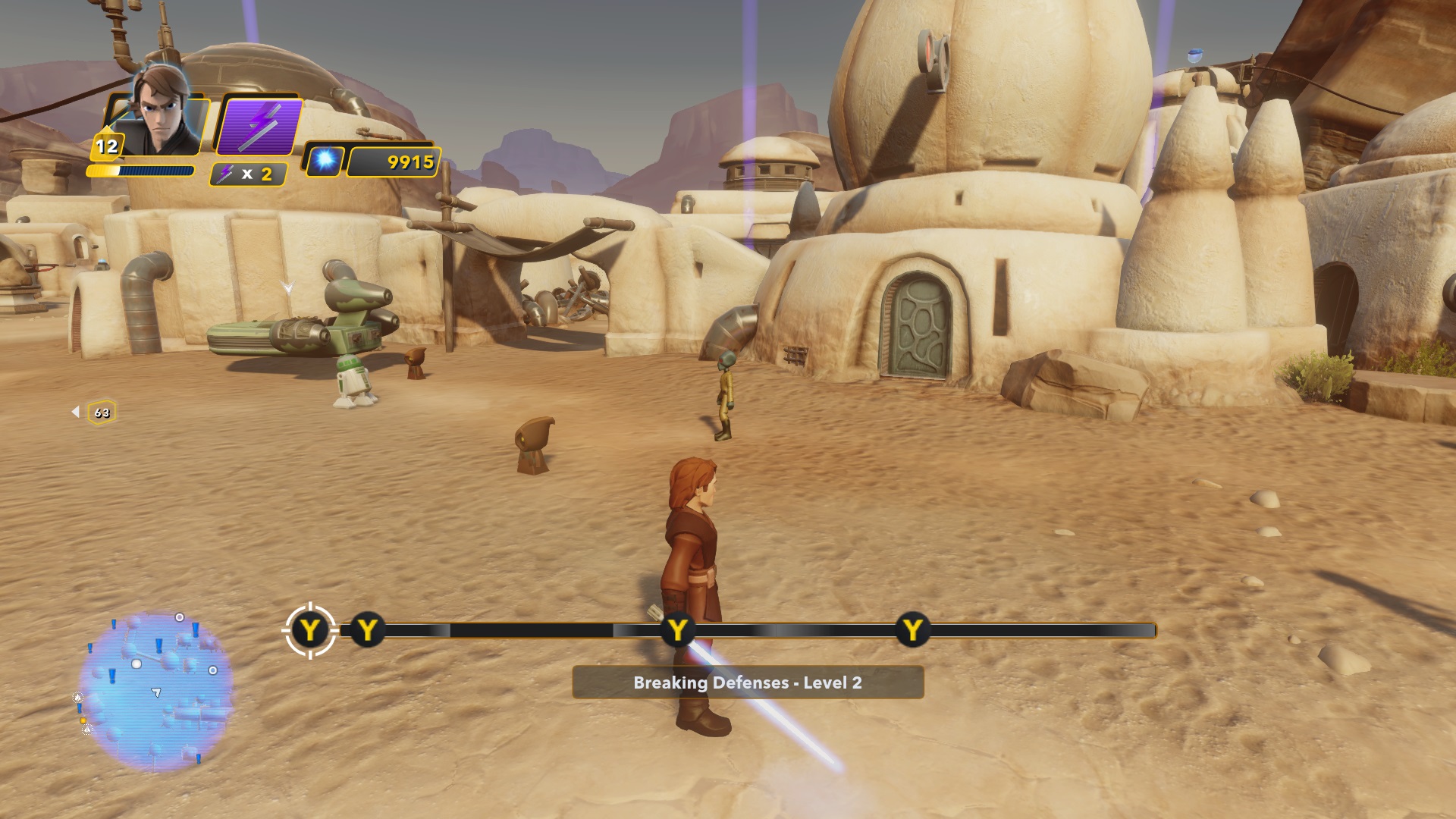 Disney Infinity 3.0 is the latest in a series of games produced by Avalanche. To be clear, my girlfriend is absolutely right about some things. Games are toys and the success of the Toys-To-Life genre of video games proves it. Every Disney Infinity 3.0 Starter Pack comes with a game that you install on your console and a USB-powered pad that senses what Disney Infinity figures you want to play with. Switch the characters on the pad and they switch in the game. Switch the center piece on the pad and you switch out the story experience.
I'd never played Disney Infinity 3.0 before that warm September day I spent 20 minutes in GameStop buying this years playset. I'd toyed with the franchise at the Electronics Entertainment Expo in June, but only for twenty minutes. You get Ahsoka Tano and Anakin Skywalker to complete the story missions with, but you can add more by buying extra figures. A week in and I've already convinced my little sister to get me Darth Vader and used Marvel characters from Disney Infinity 2.0.
A week in and I'd already convinced my little sister to get me Darth Vader himself.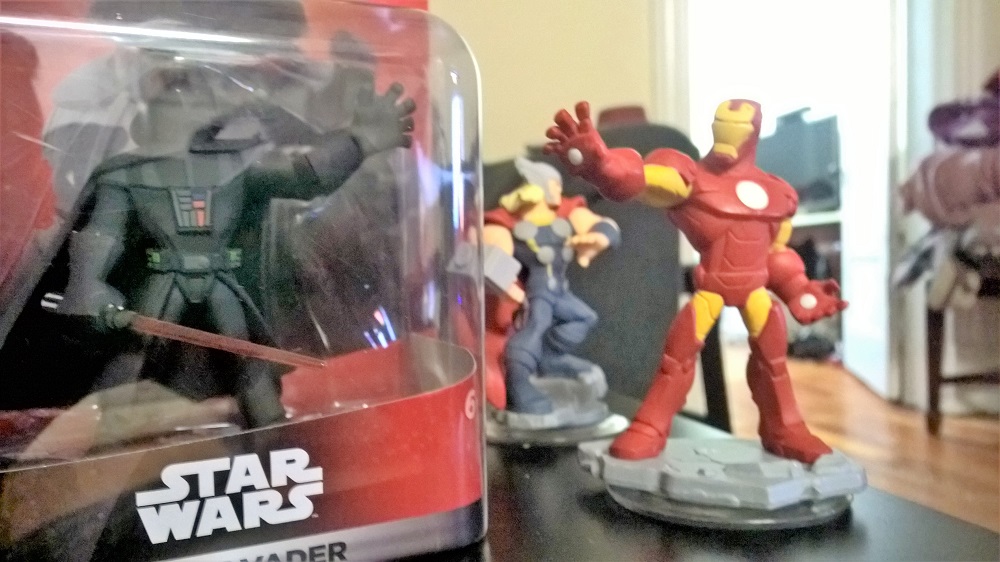 Disney Infinity 3.0 adds depth to each character with distinctive skill trees. As you're collecting sparks and completing the story, you get some currency to upgrade each character with abilities. These aren't cosmetic upgrades, they really do add some dimension to the gameplay. Nuance is everywhere in this game. Pulling off those abilities requires you to remember some specific button combos. Don't learn them and you can still make it through the game. It'll just be very, very frustrating.

[divider] The Content [/divider]
Story, Replayability & The Toy Box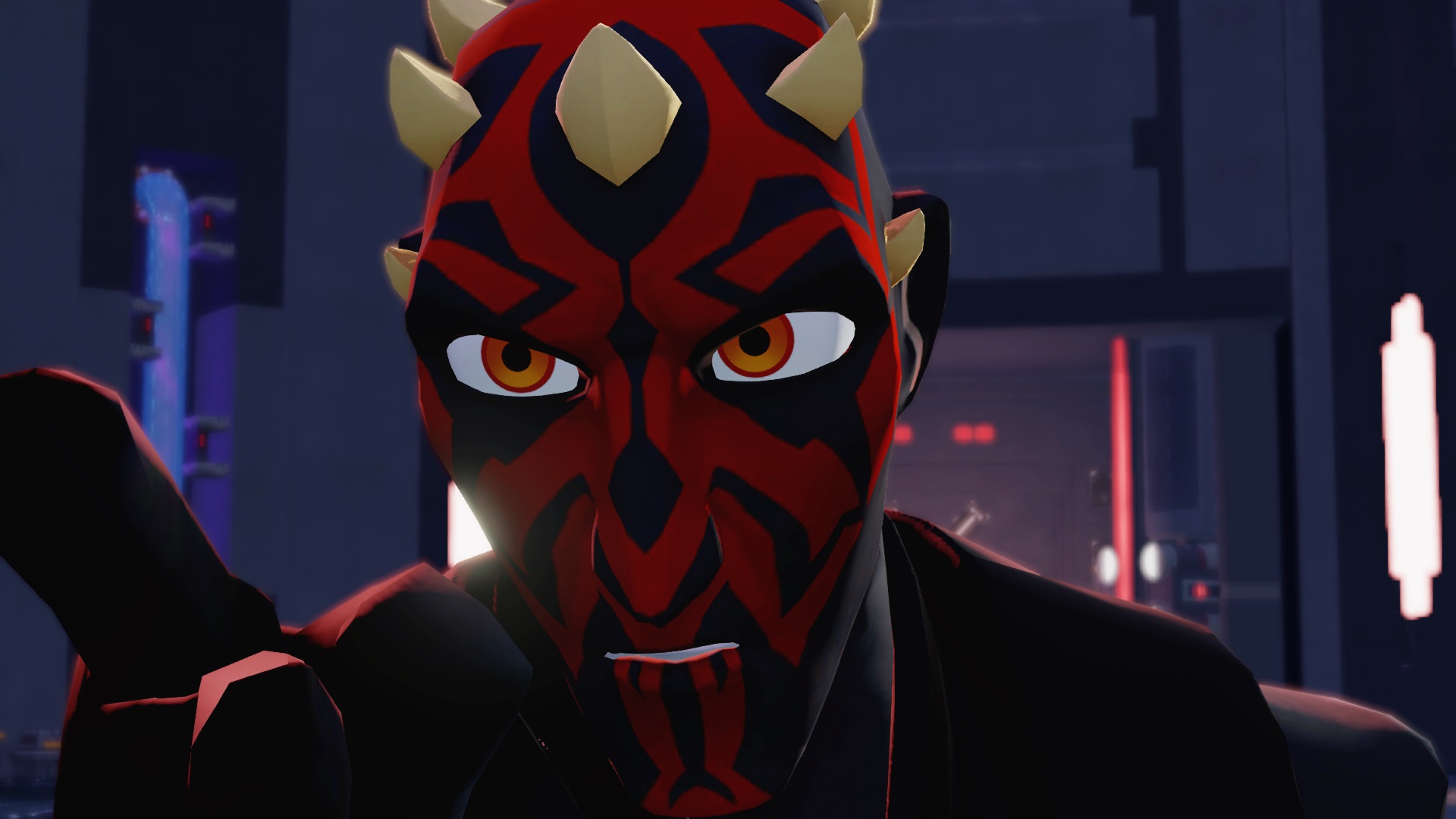 Disney Infinity 3.0 focuses mostly on Star Wars sets and figures. The Starter Pack comes with the Twilight of the Republic story missions. With Star Wars being a huge universe, I was nervous about getting overwhelmed.
I needn't have been. The story and on-boarding process is great. Avalanche's introduction to the game gives you a taste of all the different activities you can expect. There's driving and combat. The story offers enough for players to get the most out of their character's abilities, but it's not intricate in the same way most games are. There's enough skill involved that some will take the time to learn every move they unlock. Everything is also so basic that kids can just mash away at buttons and defeat most of the enemies.
Disney is counting on players being so happy to complete the story and do side tasks that it distracts from the relatively shallow narrative. It's a safe bet as the game is made for the young and young at heart. That makes sense, my favorite part of the story was the dogfights in the orbits of the game's different planets. Right now, I can't even remember if the game gave me a believable reason for traveling in between so many planets.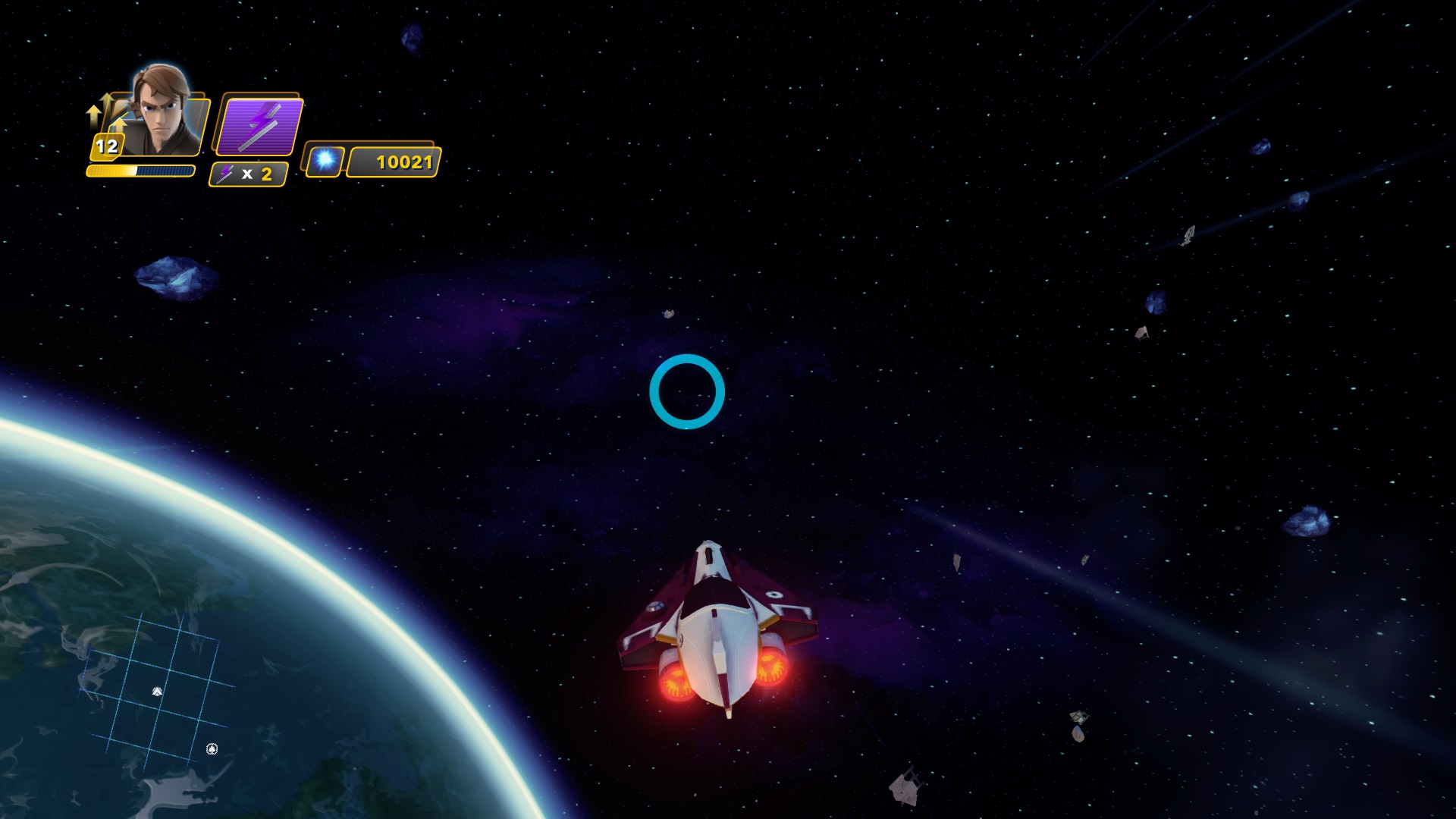 …the game is made for the young and young at heart.
The Toy Box isn't linear and doesn't have a finite number of missions. It's your connection to multiplayer and mission creation. Different themed activity areas let you quickly do an activity without any other loading or dive deeper into an activity. This being Disney, the hub world is populated by dozens of classic characters from across the company's portfolio of games. Standing tall over it all is Cinderella's Castle.
I smiled non-stop as I toured the Toy Box for the first time. With some convincing by me, my girlfriend dropped in too. I made it my first order of business to blast her out of the sky using a mini-blaster I purchased with some sparks I picked up. Picked up a nice The Incredibles themed hover slide too. There's hours of fun to be had downloading other people's Toy Box creations and making creations of your own.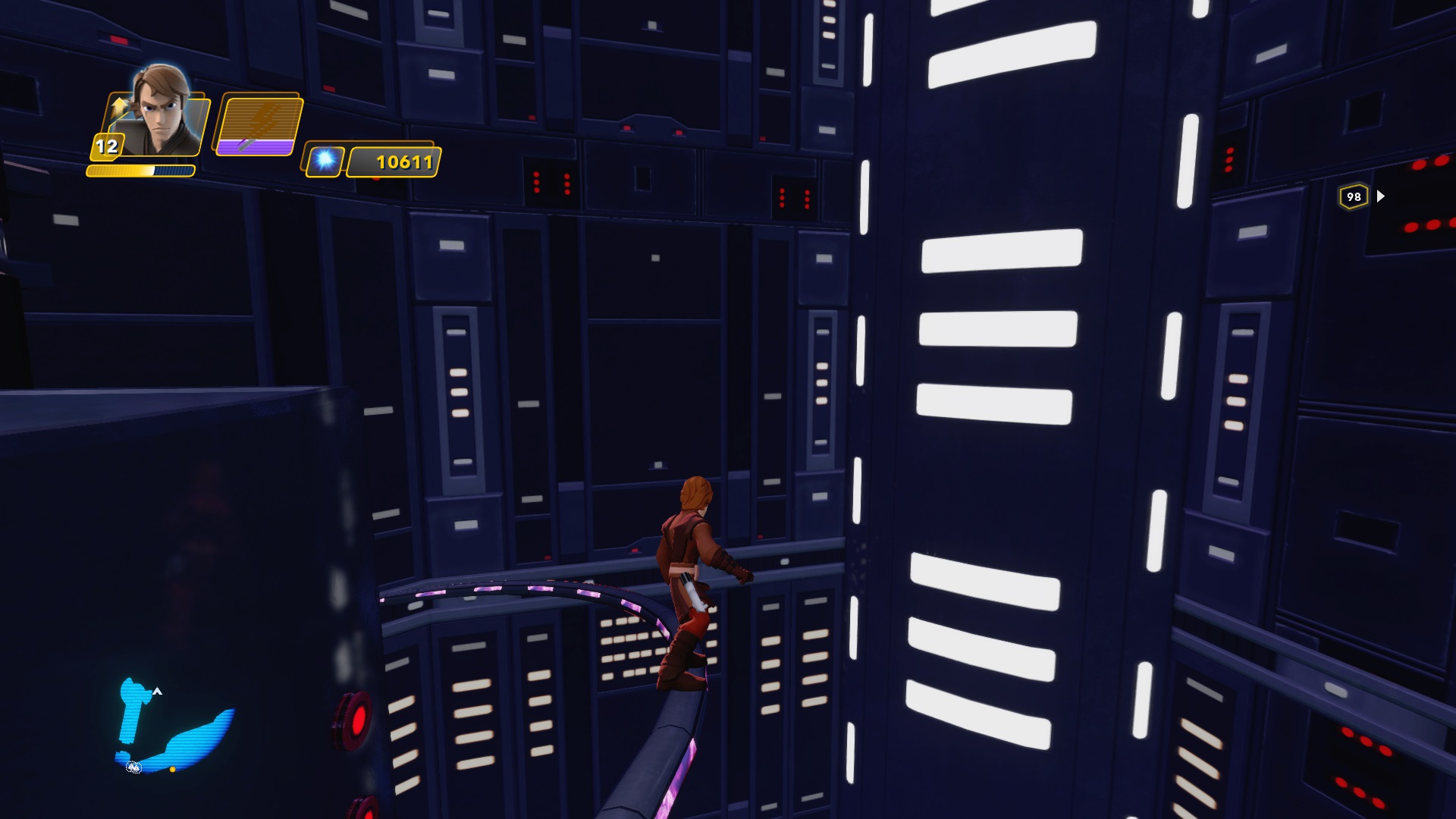 Disney Infinity 3.0 sometimes has you feeling like you're loading content for hours too. There's no easy way to cache a Toy Box you like from the web, as far as I can tell. There's a loading screen for the game's menu, then another loading screen to get into the Toy Box. You'll need to go through another loading screen to access individual Toy Boxes. One thing that drives me crazy is the amount of time it takes to load a character into the Toy Box from the moment you set it on the USB Pad. It is way too slow. I also found a pretty egregious amount of software bugs.

The Toy Box creating itself has gotten a bit easier with upgrades for those who're really into that sort of thing. Better level creation tools are terrific, but I just dropped in a streaming box for Radio Disney out of posterity.

[divider]The Verdict[/divider]
The Verdict
What people who don't play games don't or won't ever understand is that a game is more than just the activities you're doing on-screen. Long after you've finished playing Twilight of the Republic you'll remember the way Disney Infinity 30's different activities and fun tasks made you feel. I loved Disney Infinity 3.0, I'm very happy I purchased it.
Other games require you to wait for next-year's version before you can get that feeling again. New play sets, characters and online activities can let you rekindle the magic every few weeks if you're willing to dump more money into the game. At $13.99 for each character, I think that's acceptable. Of course, next year's version will add more features and extras too. I suppose you have to decide then whether upgrading is something you want to do. You can at least rest assured that your figures from previous editions come along for the ride; Disney Infinity 3.0 lets you use all your characters from past games.
Disney Infinity 3.0 is buggy and feels like it takes a bit too long to load. Also, I'm smiling just thinking about how much fun I've had playing it with everyone that's come over to my place. The bugs mar what's is otherwise a terrific experience.
---
| Disney Infinity 3.0 review