---
Windows Media Player and Urge formed the foundation for Zune. Zune became Xbox Music. Microsoft's Xbox Music service is Groove Music in Windows 10. It's worth getting that history lesson out-of-the-way now because people seem to build their entire reviews of Groove Music for Windows around that. Somehow, they think that providing context for Groove Music's current state does the app a favor. I'm not sure it does.
The truth is that Groove Music has gone through so many name changes even the most die-hard Zune Music fans wouldn't recognize it. Having stayed with Microsoft's Music service, I recognized the app that comes with Microsoft's free Windows 10 upgrade immediately.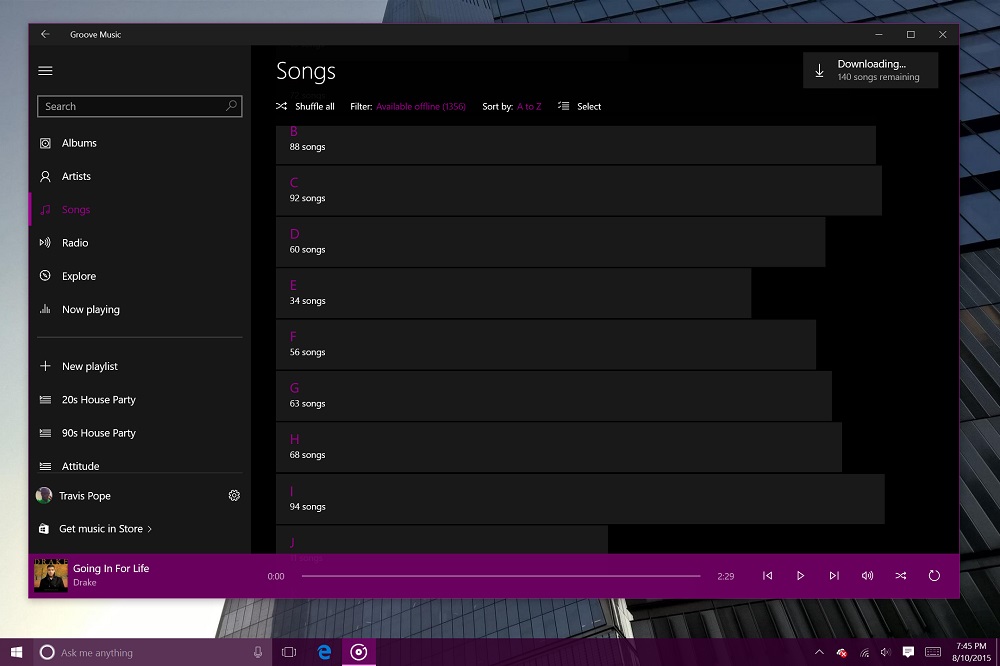 Groove Music Review – Groove Music Is Groove Music
Groove Music Is Groove Music
Groove Music is the software that powers Microsoft's music subscription service on iPhone, iPad, Xbox and Windows. Every single one of the Groove Music apps available to users today is roughly a rebadge of the Xbox Music apps that preceded it. That is, except for Groove Music for Windows.
Resizable and agile, Groove Music picks up more of each user's personality than its predecessor. Gone is the solid black and green color from Xbox Music. Like most Windows 10 apps, users get to decide whether they'd like a light or dark theme. The borders, accents and Now Playing bar colors stem from whatever the Windows 10 system color is.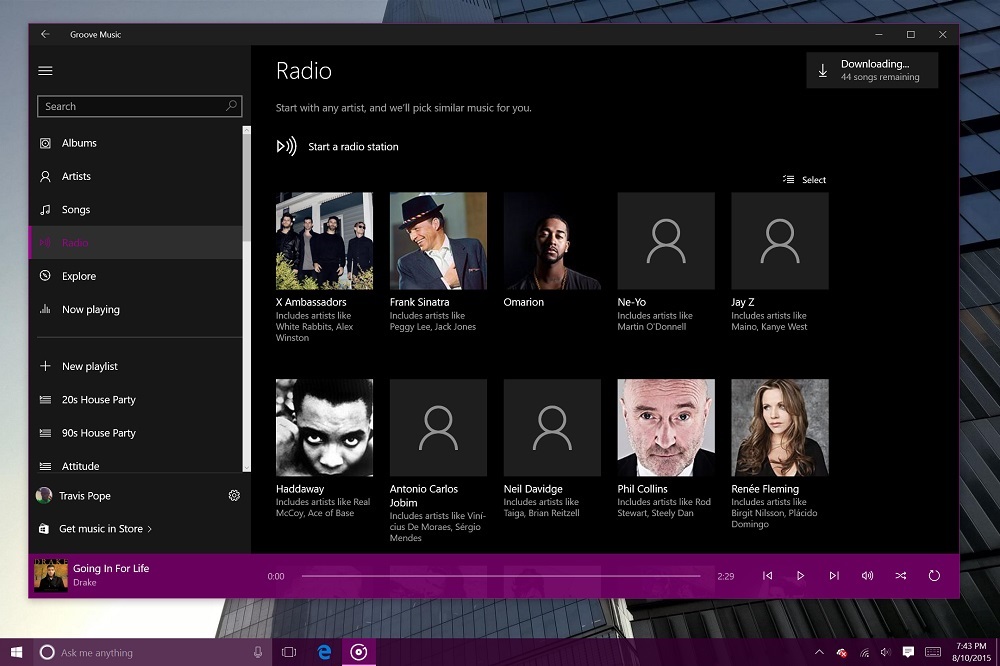 The death of Windows' dedicated Charms Bar means that relevant information and music selection are bunched together on the left-navigation. Artists, Songs, Radio, Explore, Now Playing are all areas for users to navigate. Playlist creation, user management and a link to Microsoft's new Windows Store are there too.
Groove Music Review – Groove Music Is Groove Music Pass
Groove Music Is Groove Music Pass
With solutions past, Microsoft had dedicated silos for doing just about anything in its ecosystem. For Xbox Music, this worked out since the app became the one place users could purchase audio in Microsoft's ecosystem.
One of the new features in Groove Music for Windows 10 isn't a new feature at all. Instead, it's a smart decision to boot that store from the app itself. You can't purchase songs and albums in Groove Music for Windows 10, that stuff is now available in Windows 10. Groove Music is strictly for playing music with a $9.99 Groove Music Pass and streaming the content you already own from OneDrive. Of course, it'll also play any music you have stored locally to.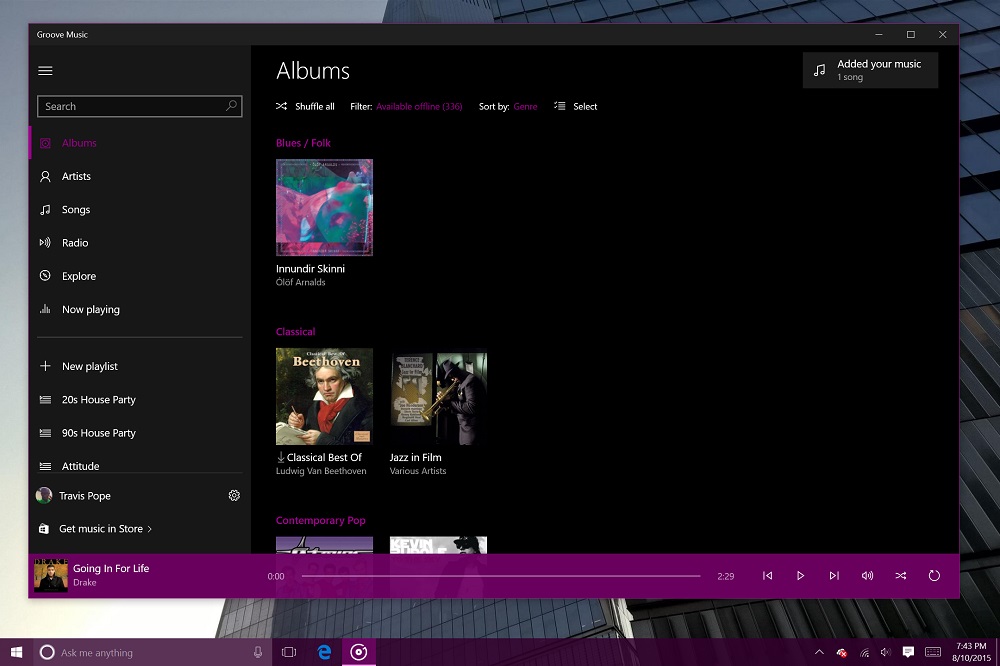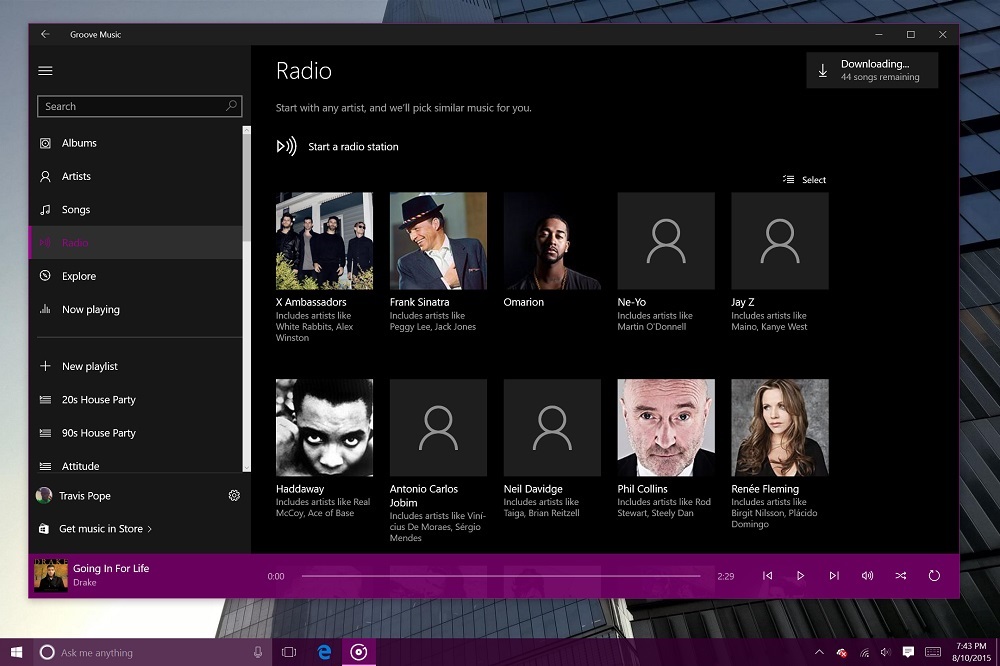 Groove Music is proof that design can be misleading. Look at it quickly and you'd assume there isn't massive functional upgrades. There are, and they lurk just beneath the surface. A subtle glass effect in the Now Playing bar lets you see what categories and albums are coming up next as you scroll. Different section headers now hold sorting information, staying with you as you scroll through your extensive music collection. It's a small change, but one that keeps a shuffle button ready for you always.
There are other smart practical improvements in Groove Music. Hovering over the Groove Music icon in the Windows 10 Taskbar and you can quickly change songs – that's something we owe to the dual nature of Windows 10. Xbox Music was mostly touch friendly, whereas Groove Music makes concessions for notebooks and tablets. A right-click menu gives users the options they want in a way they're already familiar with. The Songs browser itself has colored letters for quickly browsing to a song. This isn't new, it was just only in Artists and Albums before. OneDrive playback for streaming music not on you computer is still around.
A built-in iTunes Playlist importer lets switchers take their favorite playlists – and their music – along with them. This is the only real new music discovery feature included in this update.
There are other smart, practical improvements in Groove Music.
Groove Music Review – Groove Music Isn't Revolutionary
Groove Music Isn't Revolutionary
For all the new features, Groove Music still leaves so much to be desired.
Now Playing, that screen you get when you just want to see some cool visualizations with your audio, remains as stodgy and boring as its ever been. Worse, it's even less exciting than what Xbox Music had in its early years. I know with artists look like; there's no need to show me slightly moving pictures of them.
The stuff people have asked for years is Groove Music is still very much missing in action. Groove Music continues to override users metadata while not letting them edit it. Gapless playback for more seamless song transitions still isn't available. Radio, though a decent music discovery tool, isn't as good as what you get elsewhere, in my estimation. The service still doesn't offer curated playlists from an actual human.
Somehow Microsoft's new music store within the Windows Store is better looking, better at browsing through Top Music charts and easier to deep dive through. Groove Music's Explore area remains uninspired and pedestrian. You can still stream music videos through Xbox, but no in Groove Music, the application I'm more likely to use.
Groove Music Review – The Verdict
The Verdict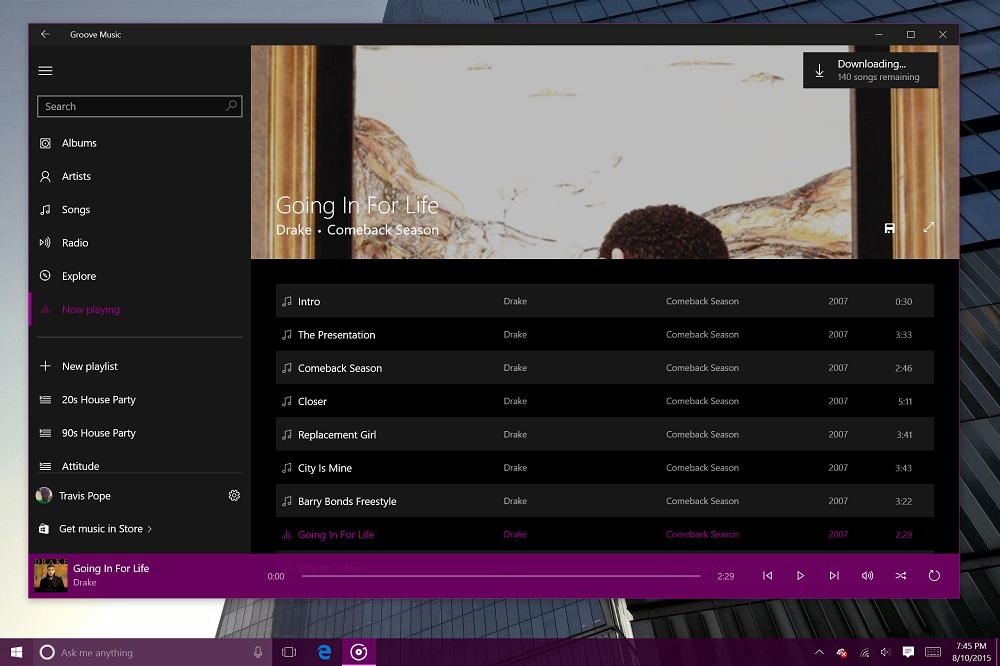 Groove Music on Windows is a decent app for listening to your music. Also it's your only option if you hope to take advantage of Microsoft's $9.99 music subscription service.  That in no way makes its shortcomings acceptable though. There's a lot of basic stuff missing. What the company has with this app is a terrific foundation to build on. I'm just hoping we see the scaffolding sooner than later.
---
| Groove Music for Windows 10 review: An Old Flame with a New Start