---
Today, the fanboys war over PlayStation 4 easily pushing 1080p resolution graphics more easily than Xbox One. They argue over how the upcoming Xbox One X will fare given its meaty specs. The race has often focused on how good a game looks, if it's open world and how feature filled it is. For every Horizon Zero Dawn, there's the magnifying glass under which a new Assassin's Creed will reside, how big its release day patch will be and what humorous graphical glitches will result.
But that conversation has, for the better part of the last 16 years, only involved Sony and Microsoft. During this time, Nintendo has been at the party, usually having a side conversation in the corner with its fans. Who would have bet Nintendo, a wallflower of a gaming company, would end up the center of attention because of the Nintendo Switch?
Nintendo Switch review: Hardware
Hardware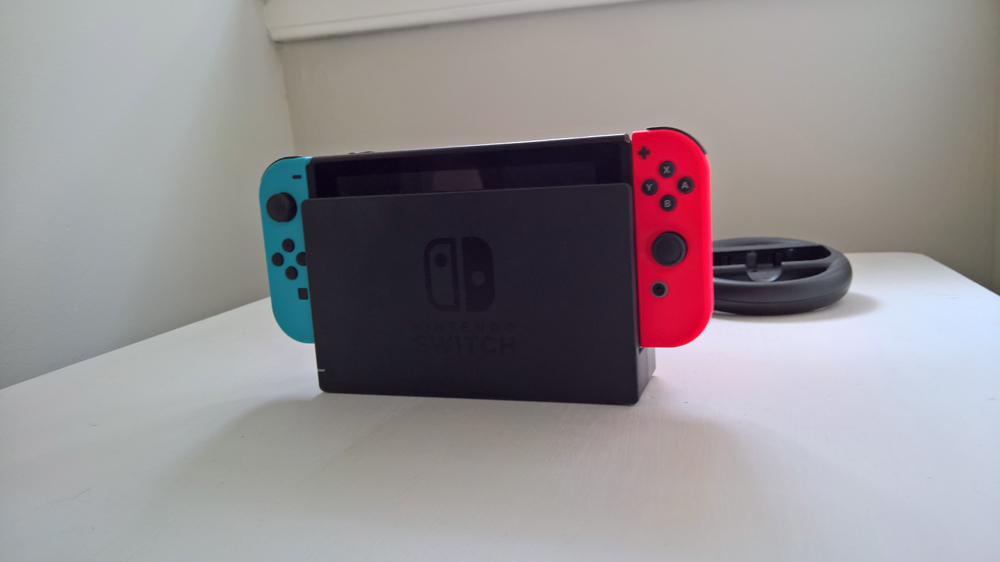 The Switch's elegance lies not its svelte form and slick Joy Cons. Powered by a custom NVIDIA Tegra X1 chip, with 4GB of RAM and a 6.2-inch 720P HD display, the Nintendo Switch isn't going to blow away the PlayStation 4 or Xbox One.
That's not to say that the Switch is a meager system. Judging by Breath of the Wild and Splatoon 2, it can deliver great graphics and gameplay, though compromises are inevitable. The upcoming Skyrim port – in itself an impressive feat that we'll be seeing it at all – has been the subject of much scrutiny as to whether it is the more recent, graphically impressive Special Edition, the original, or something in-between. Such debates miss the point of the Switch. It's meant to offer good performance but not be a hot rod. The Switch knows to stay in its lane, and focus on the experiences Nintendo designed it for.
Besides the Nintendo Switch console itself, every box includes a Nintendo Switch dock, a charging cable and two Joy-Con Straps that Nintendo hopes will prevent you from flinging one of the tiny controllers into your television set while playing motion games, like Arms.
Nintendo Switch review: Games & Software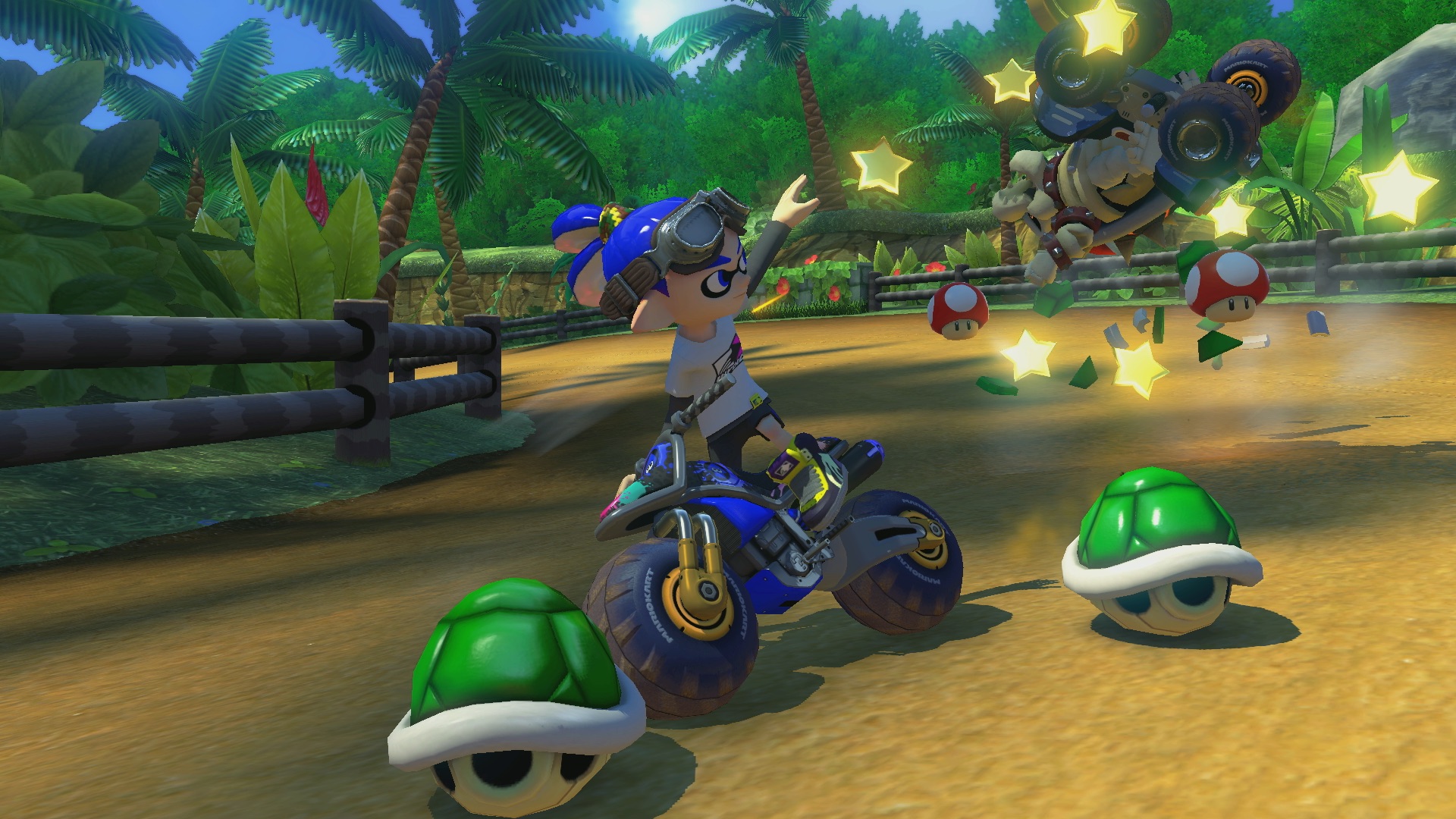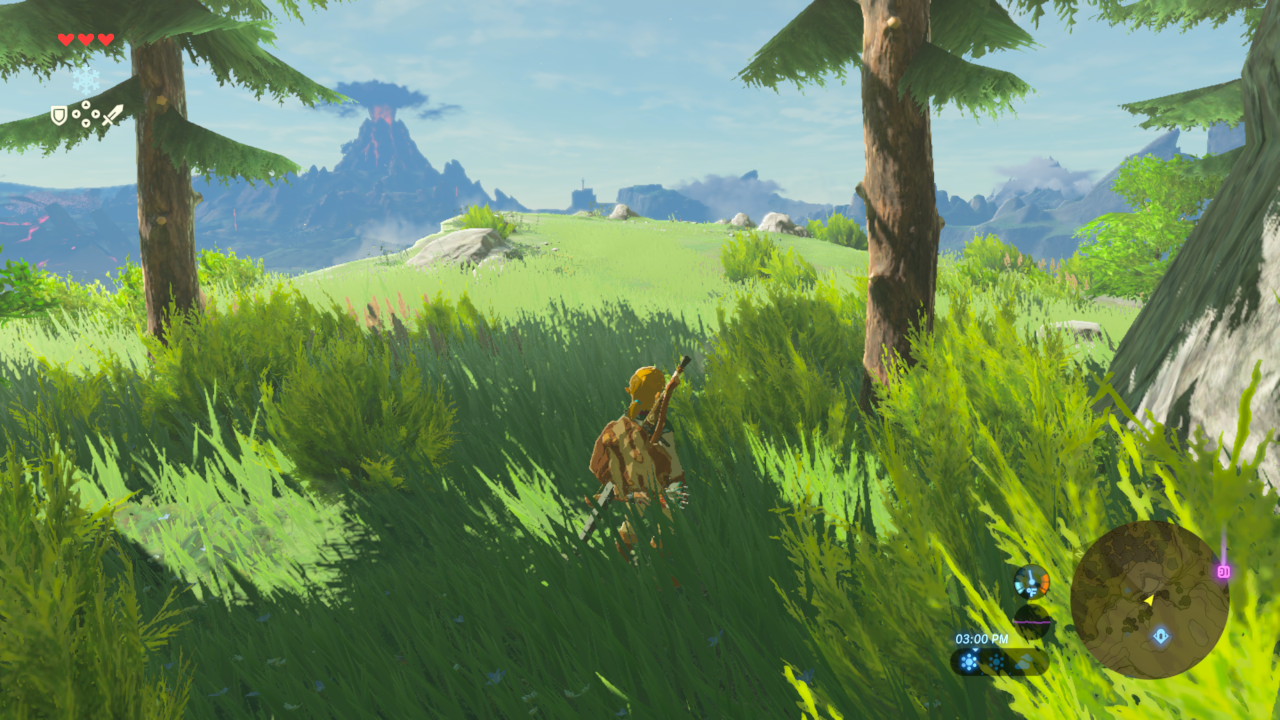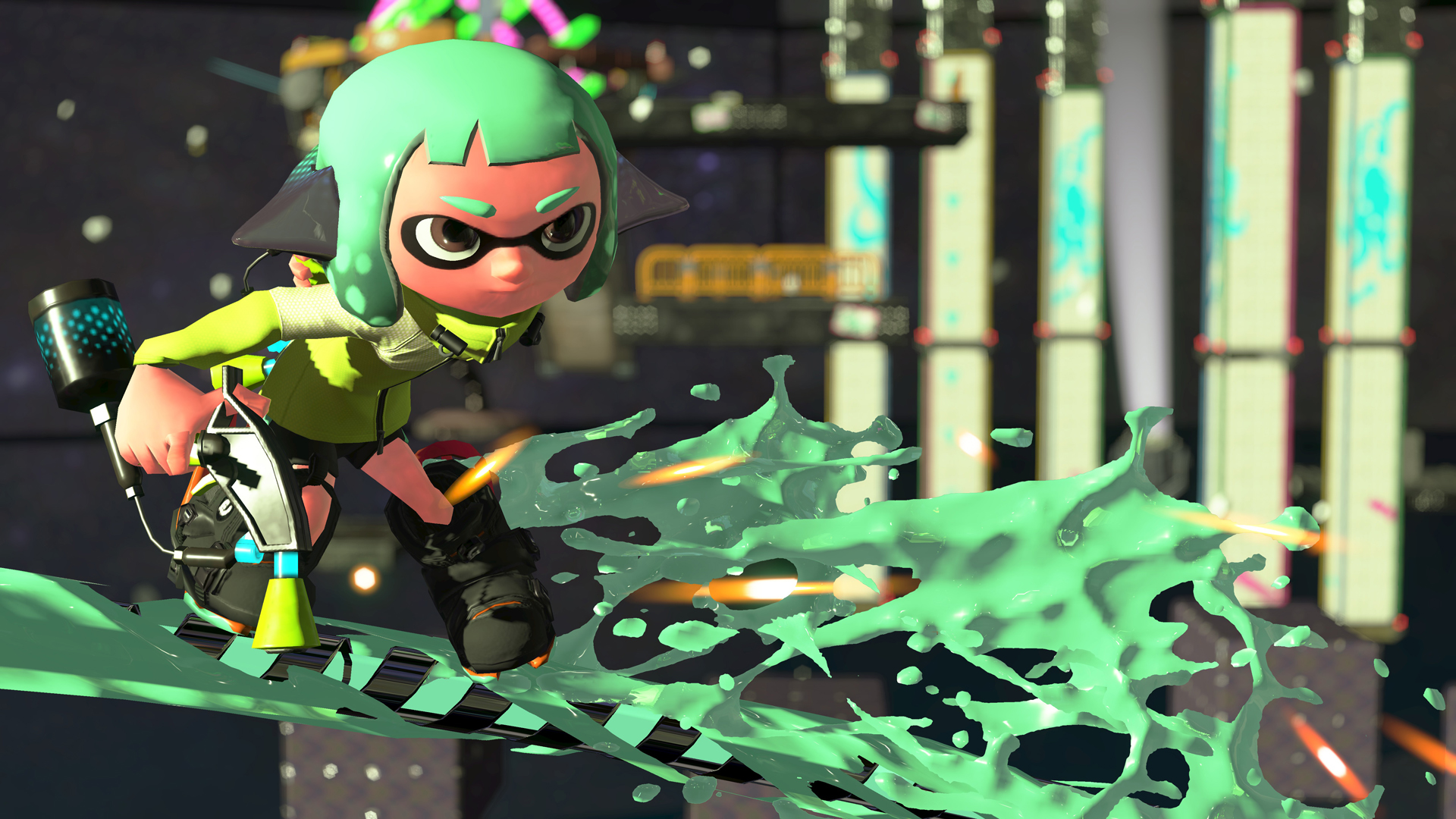 Games & Software
The interface is the best Nintendo has ever produced; beautifully minimalist and colorful. In the first several months we've already seen a number of improvements made. Channels on the console's home provide you with up-to-date details about your favorite games, for example. That wasn't available at launch. With any hope, Nintendo will deliver updates that improve the console's multiplayer experience and make moving game saves from console to console easier. Today, the console's multiplayer requires you connect through a phone app.
The complaints about lack of games are gloriously overblown. Given the lineup for the first nine months of 2017, with games such as Breath of the Wild, Mario Kart 8 Deluxe, Disgaea 5 Complete, Arms, Splatoon 2, FIFA 18, Super Mario Odyssey, Dragonball Xenoverse 2 and Xenoblade Chronicles 2 to just name a few not counting other release and indies, the Switch has received great support. Again, this is only in the first nine months. Imagine the console's library two years from now.
But there are still some question marks. Where is the Virtual Console? Nintendo Switch doesn't provide access to your older games. How will the online service will fare given Nintendo's odd requirement of a smartphone app to engage in voice chat and party creation for online games? The latter is particularly troubling because Nintendo got so much right with the Switch, but this is beyond idiosyncratic. It borders on misstep – and an annoying one at that.
Nintendo Switch review: The Experience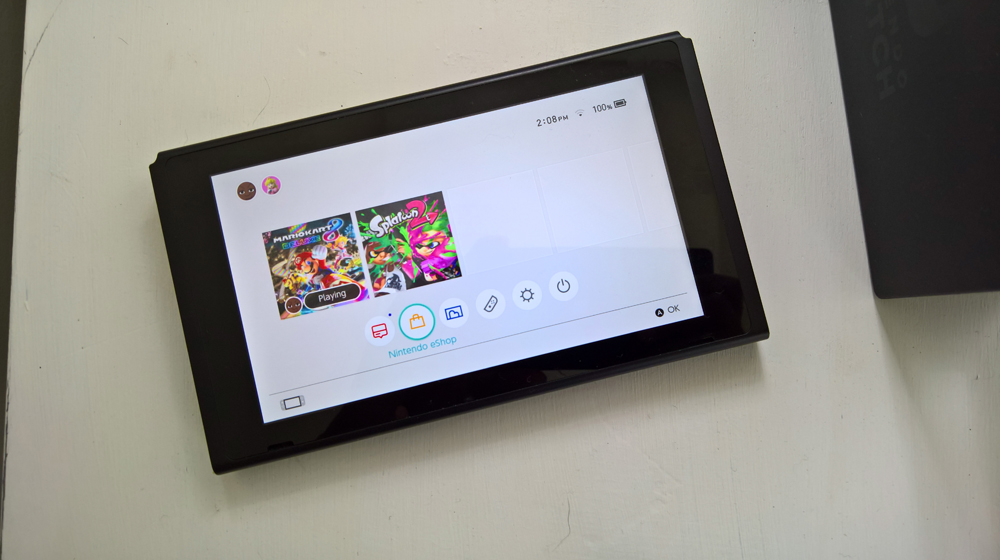 The Experience
The hottest gaming console of the year is not all hype, even if it's still extremely early to herald it as one of the greatest consoles ever. Nintendo created an attractive piece of hardware that is unique and novel in its setup as the original Wii was. But whereas the Wii's hook was getting people (note: not gamers) of all ilk to game via the motion controls, the Nintendo Switch aims to use mobile gaming as the ultimate party device.
Two moments with the Nintendo Switch stick out for me. We were at a dinner with friends who have young children. I had step out to pick up my son from work, and while dropping him off at home I picked up the Nintendo Switch because their children discussed wanted one. Bringing it to their house earned me a welcoming they previously reserved for Santa. They were awed by the device. I fired up Mario Kart 8 Deluxe, and after setting up the Switch in tabletop mode and giving two of the children a Joy Con, we sat back and watched them play, entranced by the experience. The kids took turn racing and having fun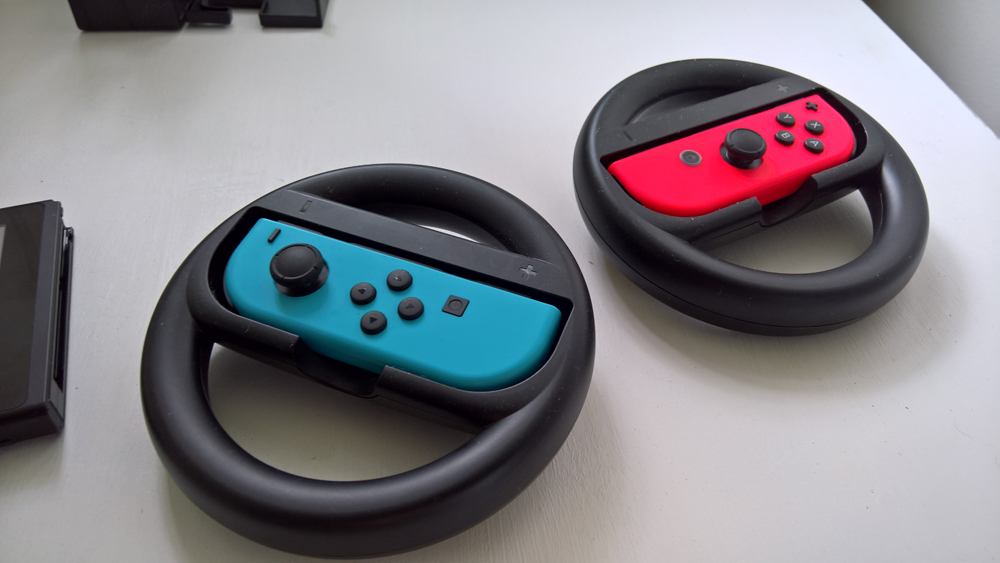 I was at my youngest brother's house for another dinner party, during my second favorite Nintendo Switch experience. He has a Switch as well, and my son and I took raced him and his girlfriend in several rounds of Mario Kart. The experience was flawless and between the trash talking and laughter, it really proved the portable multiplayer focus of the Nintendo Switch wasn't wasted energy on Nintendo's part.
Nintendo Switch review: Battery Life
Battery Life
Although the hardware is sleek, the battery life could be better. It's not awful by any means, but for a full-on party session, you need the console's USB Type-C charger. I usually get 3 to 3 1/2 hours from the Nintendo Switch, but it varies by game. Splatoon 2, which has been consuming my gaming life since release, takes it toll on battery life. Not surprising, considering the multiplayer and fun, beautiful graphics. Surprisingly, I find an indie game like Gonner seems to drain my battery decently as well.
Inevitably, there will be a Switch 2 / New Switch hardware revision that I expect to address this, as is Nintendo's way.
Nintendo Switch review: The Cost of Switching
Cost
The Switch costs $299 for the base device + Joy Cons and Dock. The device has been hard to get for most of the year, but I am seeing it more and more in my area (even if stock does dissipate after a couple of days, it seems to replenish quicker than before). The built-in 32GB of storage won't last you long if you go heavy on digital purchases. Thankfully, there's a microSD slot, but a 128GB or 256GB card can run you roughly from $80 to $200. But these cards go on sale often, so it won't be hard to find a deal if you're patient.
All things considered, $299 is not a lot for a gaming console, especially one that you can take with you.
Nintendo Switch review: The Verdict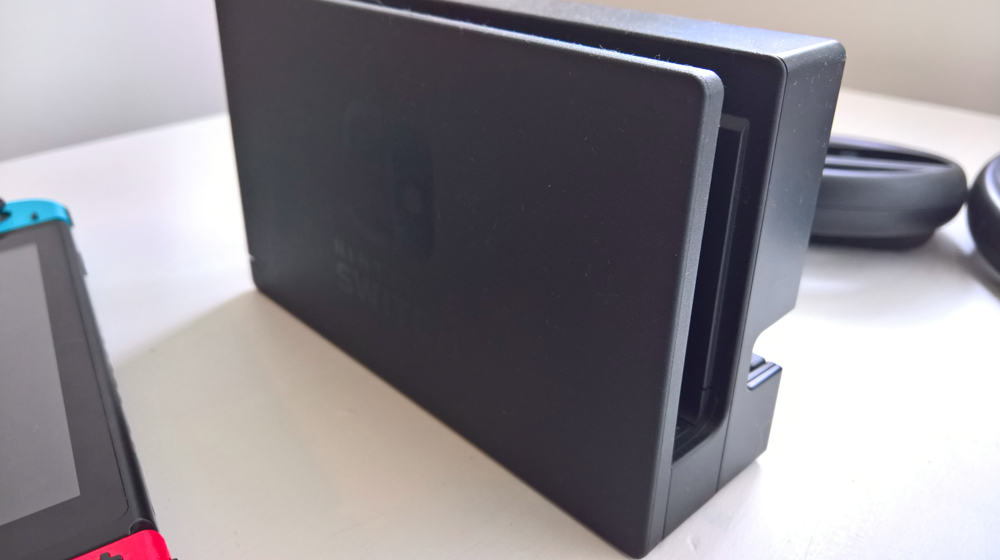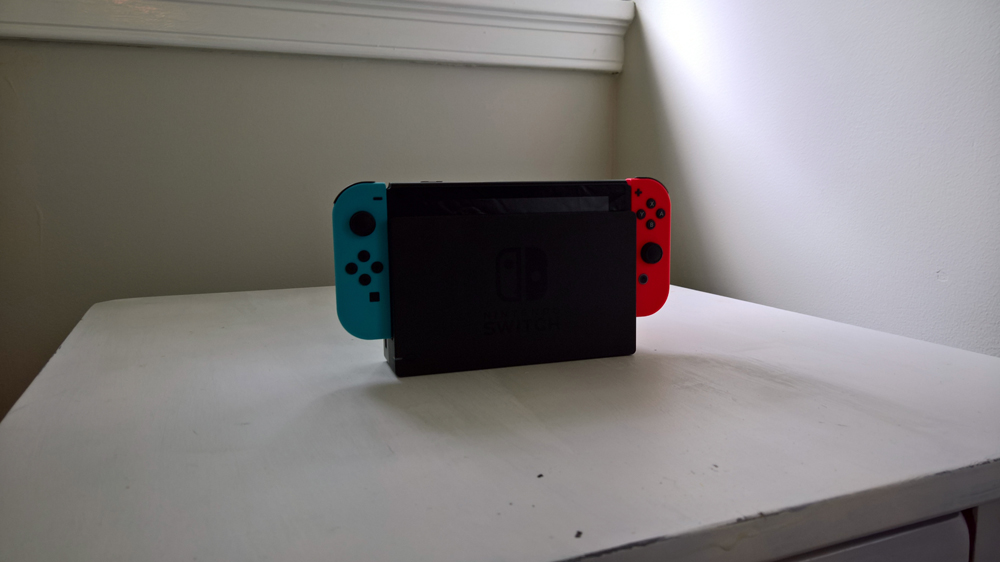 The Verdict
Whereas previously the Nintendo 3DS or other handheld devices were niche products that made playing with other people hard, the Nintendo Switch has made it cool and desirable. This is no small feat given the graphical arms race Sony and Microsoft are mired in. The Nintendo Switch is not as powerful as the PlayStation 4 or Xbox One, but the console doesn't need to be. Its unique proposition is getting gamers to go out and engage with others; to have gaming seamlessly transition from home to on-the-go without missing a beat. Nintendo nailed this aspect
The Nintendo Switch has earned its place as a phenomenon. It's not a race of whether it will surpass the PlayStation 4 and Xbox in the console wars. As usual, Nintendo has struck out and carved its own path in the gaming landscape, and the industry is the better for it. It's too early to ascertain the impact that the hybrid nature of the Switch will have on the industry, but if the present is any indication, the future of gaming is looking to be even more social and fun.
---
| Nintendo Switch review
The Nintendo Switch has a bright future ahead. Given the excitement around the platform, excellent first year slate of titles, and long-term prospects, the Switch is a watershed device for the industry. It points to a hybrid future, but only if other companies can capture the same balance of power and usability that Nintendo has deftly managed. The big question marks remaining are Nintendo's online service and modern features such as cloud saves, items Nintendo has to get right.
Learn more about The en policy on affiliate links.