---
This in-depth look at gaming on the Xbox One is the second part of our Xbox One coverage. If you're looking for buying advice, a final review score or a detailed look at the Xbox One hardware it's a good idea to start with our original Xbox One Review.
[one_half]Our review of the Xbox One briefly touched on the subject of gaming with the Xbox One. I know how backwards that sounds, but we really set out to offer a more in-depth look at the activities that the Xbox One hardware enables. As such, here we are.

After unpacking the Xbox One, connecting to my wireless network, configuring the Kinect 2 sensor and learning my way around the controller; I got down to playing the console's launch games.

Much has already been said about these titles. I've heard a lot of chatter about whether users should wait until there are more games to purchase. While I think reports of a sorry line-up of launch games for both the Xbox One and PlayStation 4 are overly exaggerated, I do think that that's a personal question that users must answer for themselves.

That being said, good Kinect 2-specific titles, those games that require users to play with motion controls, are about as scarce as a government budget surplus. Users who really want to play games with only their Kinect 2 sensor should wait to buy until after Kinect Sports: Rivals arrives next year.[/one_half] [one_half_last]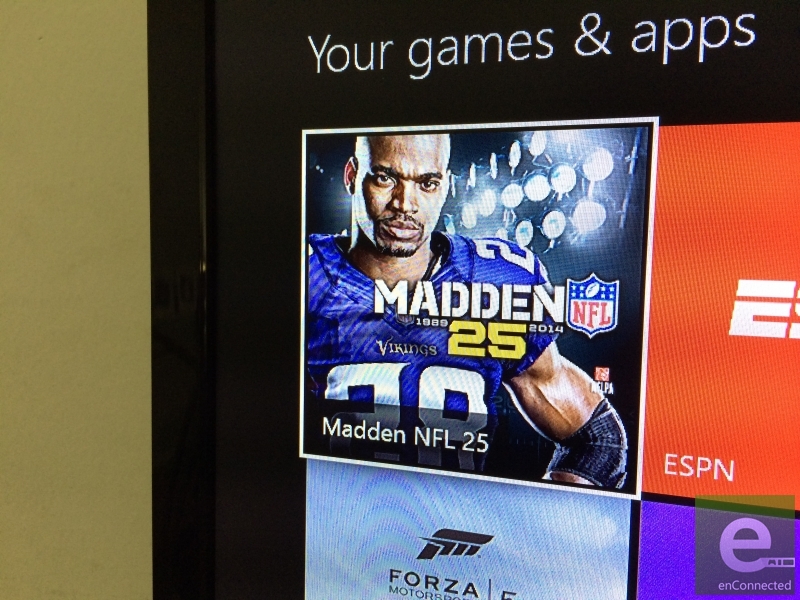 [/one_half_last]

[divider] Playing Games [/divider]
Playing Games
[one_half]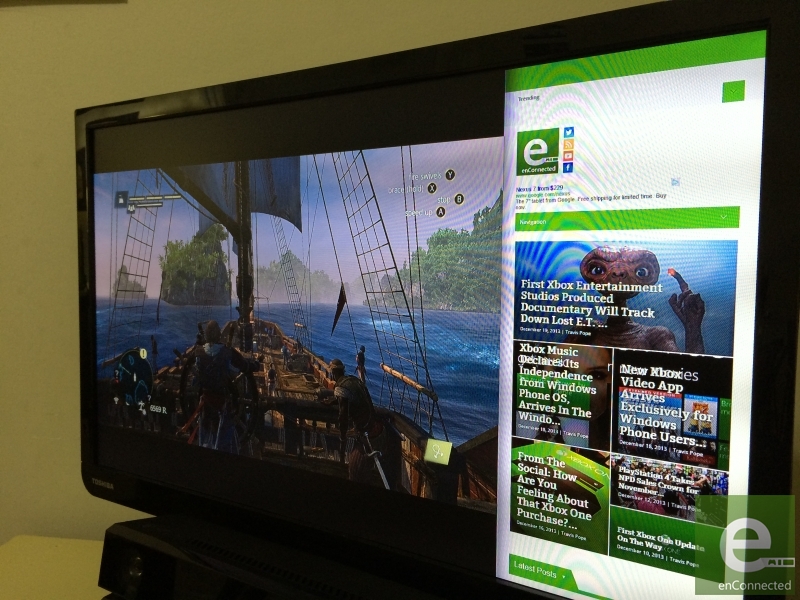 [/one_half] [one_half_last]I am comfortable saying that I found the Forza 5, Madden 25 and Assassin's Creed 4: Black Flag to be pretty fun on the Xbox One. Of those three titles, only Forza is exclusive to the Xbox One. As such, I found the games graphics to be pretty stunning.

As there's no version of Forza 5 for the PlayStation 4, I can't compare the two. Despite this, I do legitimately feel that anyone claiming Sony's console has the upper hand in the graphics and horsepower department are blowing smoke. The Xbox One is a game console that includes an enormously powerful processor and supports high-definition displays. I suspect no buyer is having trouble deciding which console they should buy based on subtle graphic differences in a few games. In the interest of full disclosure, this is coming from the guy who said Microsoft would never make its own tablet.

Though I don't personally like the Xbox One controller, response times seemed pretty quick. I never felt that the controller was the cause of the my Redskin's losing streak in Madden 25. It's worth noting that the new programmable rumble motors feel amazing and really do make you feel like you're in the game.

The Kinect 2 also lent itself to immersion. Different games use the sensor in different ways, but changing plays in Madden 25 with my voice felt natural and futuristic.

I'd also like to note that playing games while running other apps on the console is some pretty slick stuff.[/one_half_last]

[divider] The New Xbox Live [/divider]
Playing Games on Xbox Live
[one_half]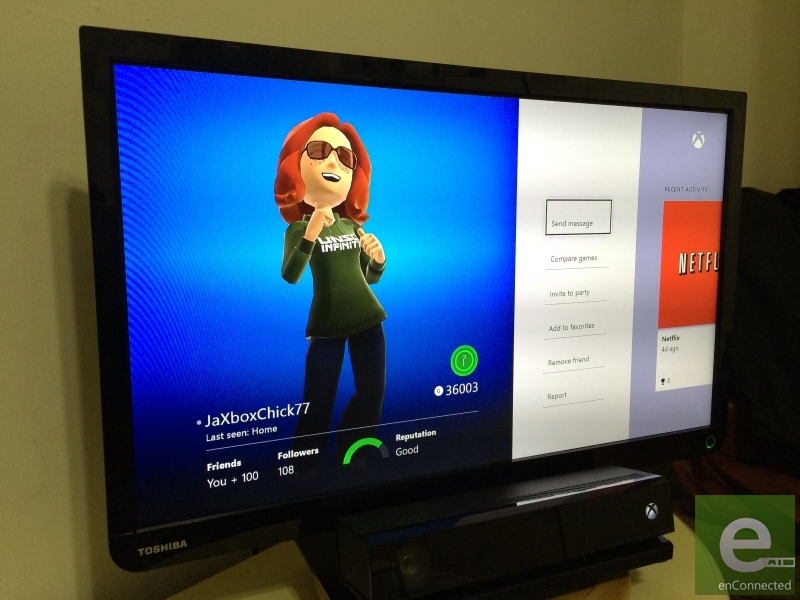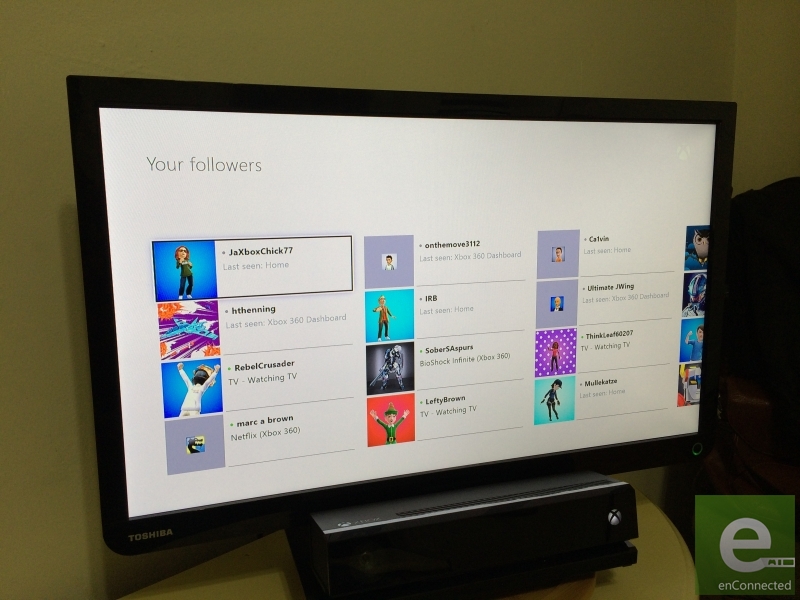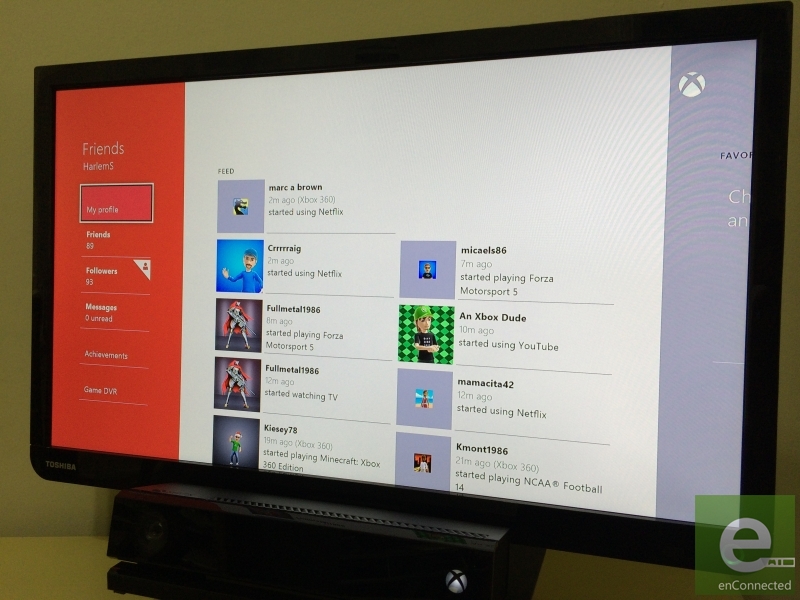 [/one_half] [one_half_last]Xbox Live, the online service that allowed millions of Xbox 360 and original Xbox One users to connect with other gamers, is back with the Xbox One and it's learned a few new tricks. Unfortunately, for those trying to keep away from subscription services, that bag of tricks doesn't involve making itself non-essential.
Xbox LIVE is just as integrated into the Xbox One as it was with the Xbox 360. New users are asked to connect to or create a new gamer tag. Though the gamertag is free, users will need an Xbox LIVE subscription to play games online with friends.
To their credit, Microsoft has made managing Xbox Live much less of a pain. Xbox Live child accounts are automatically ported with their parent's gamertag, and the Xbox One signs in each member of the family if it sees them. (Unfortunately for multiple Xbox One households, it doesn't also automatically log them out.) The Xbox One greets users as it recognizes their voice or face. It then surfaces their Xbox LIVE pins.
Microsoft is encouraging developers to create games that take advantage of Xbox Live Compute, a cloud service that lets developers offload some calculations to Microsoft's own servers. Users who aren't connected to the internet will find that their Xbox Live Compute games still work. The biggest example of Xbox Live Compute in action are the internet-based drivatars that earn Forza 5 players in-game currency for letting their Xbox LIVE profile play against other users when they are offline. Allegedly, the system learns user's driving habits and uses those habits to create a profile that other real users compete against. It's futuristic, for sure.
Xbox Live now natively manages all game saves, and it'll sync all game saves to whichever Xbox One that user logs into. For example, If I logged into a friends Xbox One to play Assassin's Creed 4 Black Flag, the game would resume where I left off at home. The process is equal parts cool and seamless, though having the option to manage game saves myself would have been nice too.
At the same time Microsoft has made users more reliant on Xbox Live, it's also made Xbox Live more approachable for families. When one user on an Xbox One has access to Xbox Live, everyone does. That saves real people, real money.
The way Xbox Live now handles achievements, party chat, friends and the new automatic Game DVR recording features are nearly as user friendly as they should be. The Xbox One may allow users to open these apps for quickly and multitask, but breaking them out from the core Xbox One Dashboard makes them feel so interspersed. Users have to wait a bit too long for these apps to open too. Also, none of these apps have a consistent user interface beyond just consisting of flat tiles. Like the rest of the Xbox One Dashboard, looking at your achievements or searching for friends to play doesn't feel as baked-in as it should. They just don't feel as polished as other parts of the Xbox One Dashboard.
There is good news for users who think of Xbox Live as a social network. Xbox Live users can now follow each other without having to accept friend requests. Two users who follow each other automatically get upgraded to friend status. Users can follow as many people as they want. Were those features inspired by Twitter and Facebook? Maybe they were. Do they finally get rid of annoying bottlenecks for most gamers? Yes they do.
There is good news for users who think of Xbox Live as a social network. [/one_half_last]
[divider] Getting Games [/divider]
Getting Games
[one_half]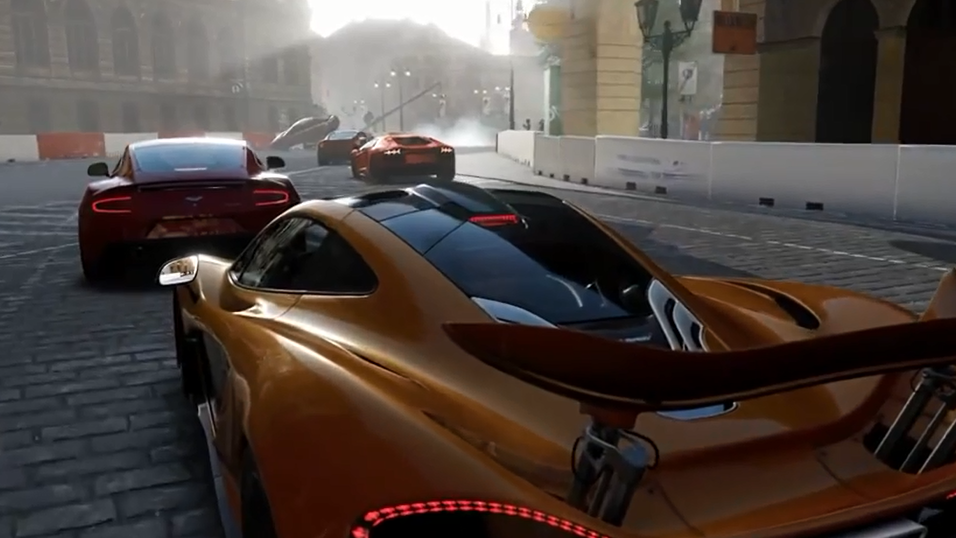 Thanks to internet outrage the disc survives, still.
[/one_half] [one_half_last]Industry insiders and die-hard console fans made a lot of noise about the Xbox One not allowing users to play games offline. Thankfully, Microsoft discarded that requirement. User's still need a day-one update, but the console will allow them to play their games when there isn't an internet connection after that update is installed.

Sadly, that change did cost users a few features. For starters, the Xbox One still requires users to insert a disc if they are playing disc-based games — even if they are installed on the console's hard-drive. That's key, as every game has to install a bit of itself on the console before users are allowed to play it – including store-bought titles. This installation doesn't take long, but it bothersome nonetheless.

Users can avoid that nonsense by simply buying their titles online. Games arrive in the console's digital download store on the same day as they arrive on store shelves, finally ridding users of the pain in the rear-end that is pre-ordering games. Like your Xbox LIVE status, these digital games travel with you and can be accessed on whatever Xbox One a user logs into.

In theory, the feature allows users to go from house to house with their entire game collection, however download times stand in the way of true digital nirvana. Most digital games are a 10-30GB download. Clearly, that download is going to take some time if a user doesn't have a fast internet connection, putting a slight damper on any impromptu gaming party.

Not only does the entire family only need one Xbox Live account, they also only need one copy of the game. Users on an Xbox One at home can play digital titles purchased by other accounts on that console — even when the original buyer isn't logged in.

With these being digital titles, users can't trade them in. Digital game buyers will want to factor that in before they decide which way to purchase their titles. [/one_half_last]

[divider] The Extra [/divider]
The Extra
I'd be remiss if I didn't note that Microsoft is once again trying to convince users to pair their smartphones and tablets with the Xbox One. Dubbed Xbox One SmartGlass, the latest edition of the apps for iOS, Android, Windows and Windows Phone allow users to place in-game calls in the case of Dead Rising 3, monitor their in-game progress and more. Microsoft has even added controller support so that developers can turn everyone's smartphone into an Xbox One controller. Right now, no games support that functionally, however it's hard to imagine that there isn't some updated Scene It trivia game waiting in the wings to use this feature.

Xbox SmartGlass is a cool idea, one that should could gain traction if a large number of game developers ever decided to embrace it.

[divider] In Images [/divider]

This slideshow requires JavaScript.

[divider] The Verdict [/divider]
The Verdict
[one_half]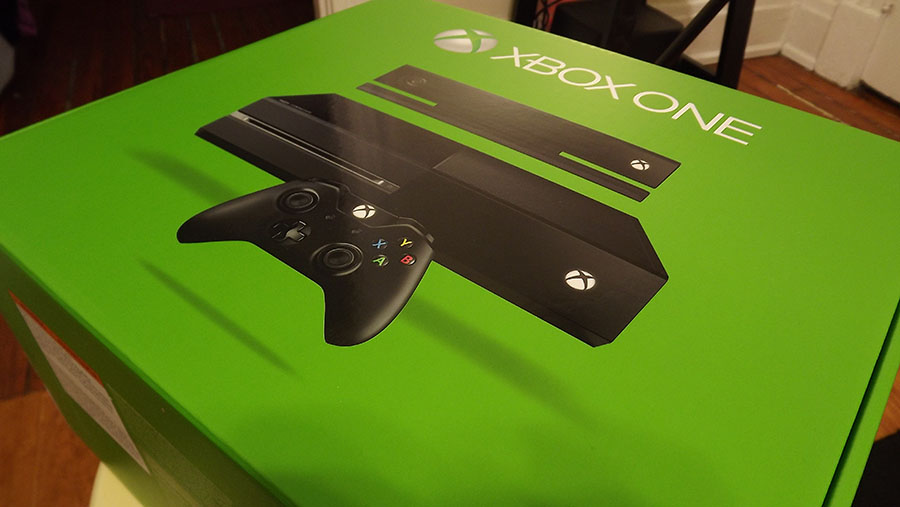 [/one_half] [one_half_last] Overall, the gaming experience on the Xbox One is solid. In fact, it's so great that I have a hard time not longing for how seamless the Xbox One gaming experience would have been if Microsoft had grown a pair and kept the console's original feature set.

Because they didn't, switching between two games is still rather annoying. Let's also not forget that before Microsoft appeased users, gamers would have been able to lend their digital games to friends. Those two ideas alone could have redefined the entire gaming industry.

Despite not having those features, gaming on the Xbox One is still great. The things that users loved, like cross-gaming voice chat and the robust Xbox Live service, are still here. They're also joined by day-one digital availability and the option for users to share their Xbox LIVE Gold subscription with the entire family. That, plus Microsoft's recent decision to give users free games every month makes the Xbox One a formidable gaming machine.

Jump in folks, this is gaming done right. Really, we're just waiting on more games at this point.[/one_half_last]
The Xbox One is a huge sea change for longtime Xbox fans and users of Microsoft products in general. As such we thought that it would be better if we took a look at the Xbox One hardware and experience equation in separate parts. As such, you'll see a host of Xbox One related content for the next few months. Don't worry – you won't have to hunt down each post. Instead, we'll link them all here as they become available. Please note that the review score here reflects the Xbox One experience as it is today.
This review was completed with hardware provided by Microsoft. That had no effect on our findings, however it's worth noting just the same.
---
| Review: Xbox One – Gaming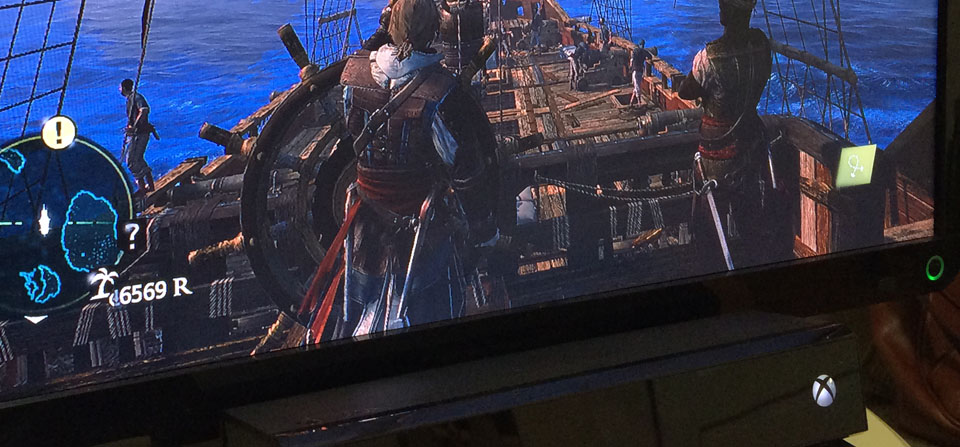 The Xbox One is futuristic device mired in today's problems. Decent games and cool game experiences are aplenty, and the Xbox OneGuide and television integration are seamless. Still, the Xbox One's Dashboard feels like it needs another round of big updates. Buy it for the games, buy it for the live television, buy it because you want to share your faming experiences with the entire family.
Learn more about The en policy on affiliate links.