---
If your phone lacks a headphone jack or you hate wires, the Samsung Gear IconX 2018 might be the best headphones you can buy.
The Samsung Gear IconX 2018 are truly wireless earbuds. That is, they use Bluetooth technology to communicate with your smartphone and each other. In theory, a pair of these could solve all your smartphone audio problems. Because they're wireless, your phone doesn't need a headset jack. Thanks to the built-in storage and fitness support, you can leave your smartphone at home on your morning run.
The Gear IconX 2018 are the 808s and Heartbreaks of truly wireless headphones. If you choose to spend the $199.99 these headphones cost on Amazon, I can only promise you two things: truly wireless music listening and at least one moment when you reconsider your purchase.
Samsung Gear IconX 2018 Review: All Things Wireless
Living Free with Gear IconX 2018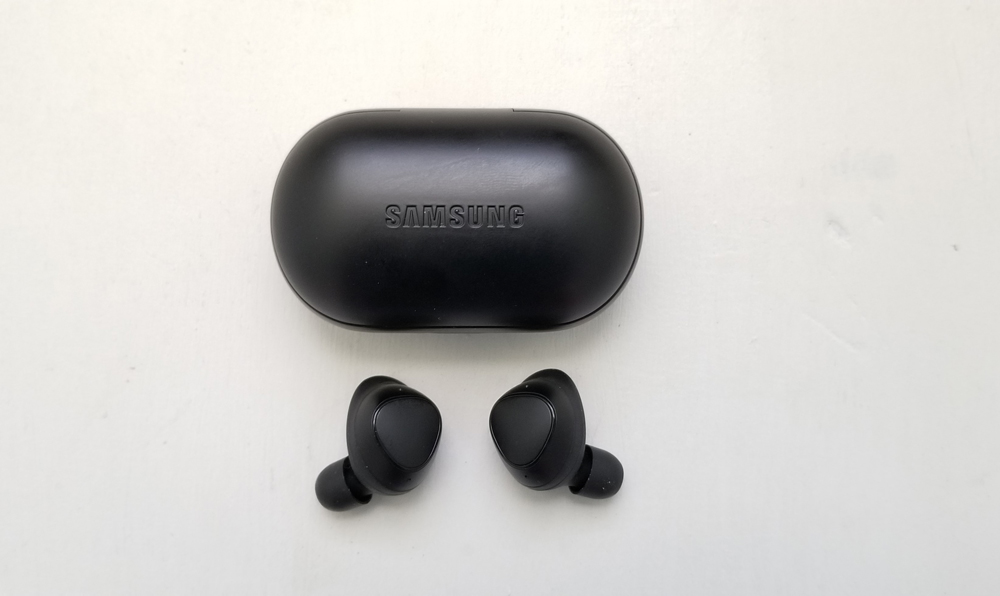 The Gear IconX 2018 look work similarly to ear plugs. They use rubber tips to isolate your ear canal and block everyone else's conversations in an office, library or coffee shop. I like this design, but I recognize not everyone is comfortable with shoving plastic down their ear.
All the electronics and sensors are inside a bulbous outcrop that sits outside your ear. A matte touchpad that senses taps and swipes covers the outer face of each earbud. Channels that run around the earbud's side let you add one of three rubber wingtips to keep them in place as you move around.
Samsung has stuffed these earbuds with tech, and some of that tech lets them replace devices you already use. Motion sensors detect your workouts and proximity sensors pause music when you lay the earbuds down on a table. Each earbud also has 4GB of storage. So, you can leave your phone at home and still listen to music.
Don't count on leaving the included charging case at home. The case charges the earbuds between listening sessions and protects them from damage. You also need it to pair the earbuds to a new device.
The Gear IconX 2018 come in silver, black, and pink. The case and wingtips always match the color of your earbuds.
Samsung Gear IconX 2018 Review: Connectivity, Battery Life & Sound Quality
How Well Do the Gear IconX 2018 Work?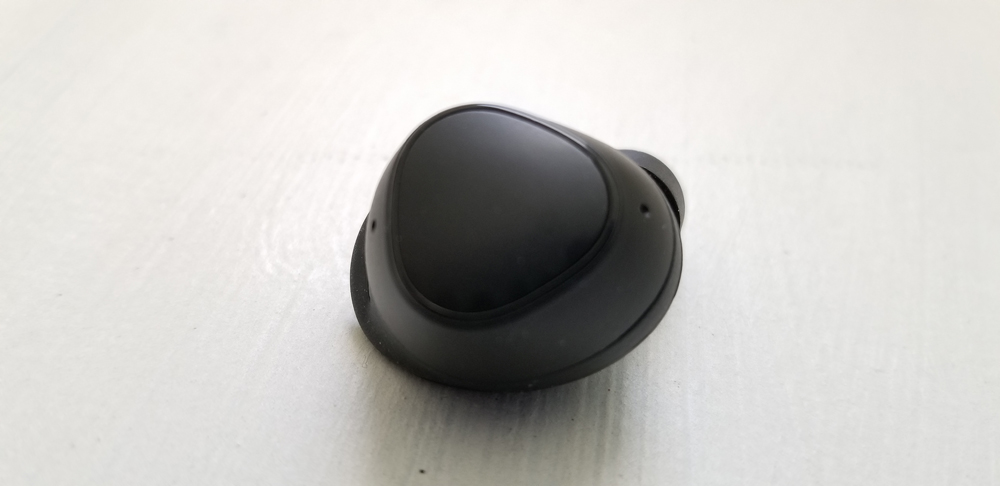 I judge wireless headphones by how comfortable they are, how long they last between charges and how much effort they require to use every day. The Gear IconX 2018 meet my benchmarks.
The Gear IconX 2018 are comfortable, I'll give Samsung that. You won't forget that you're wearing them, but they're not uncomfortable or heavy.
Each wingtip gently pushes up on the top of your earlobe to prevent the entire earbud from shifting too much as you walk, run or do cartwheels. Running, jogging and jumping in place like a maniac, they didn't slip once. You should have seen the looks I got just confirming this in a public park.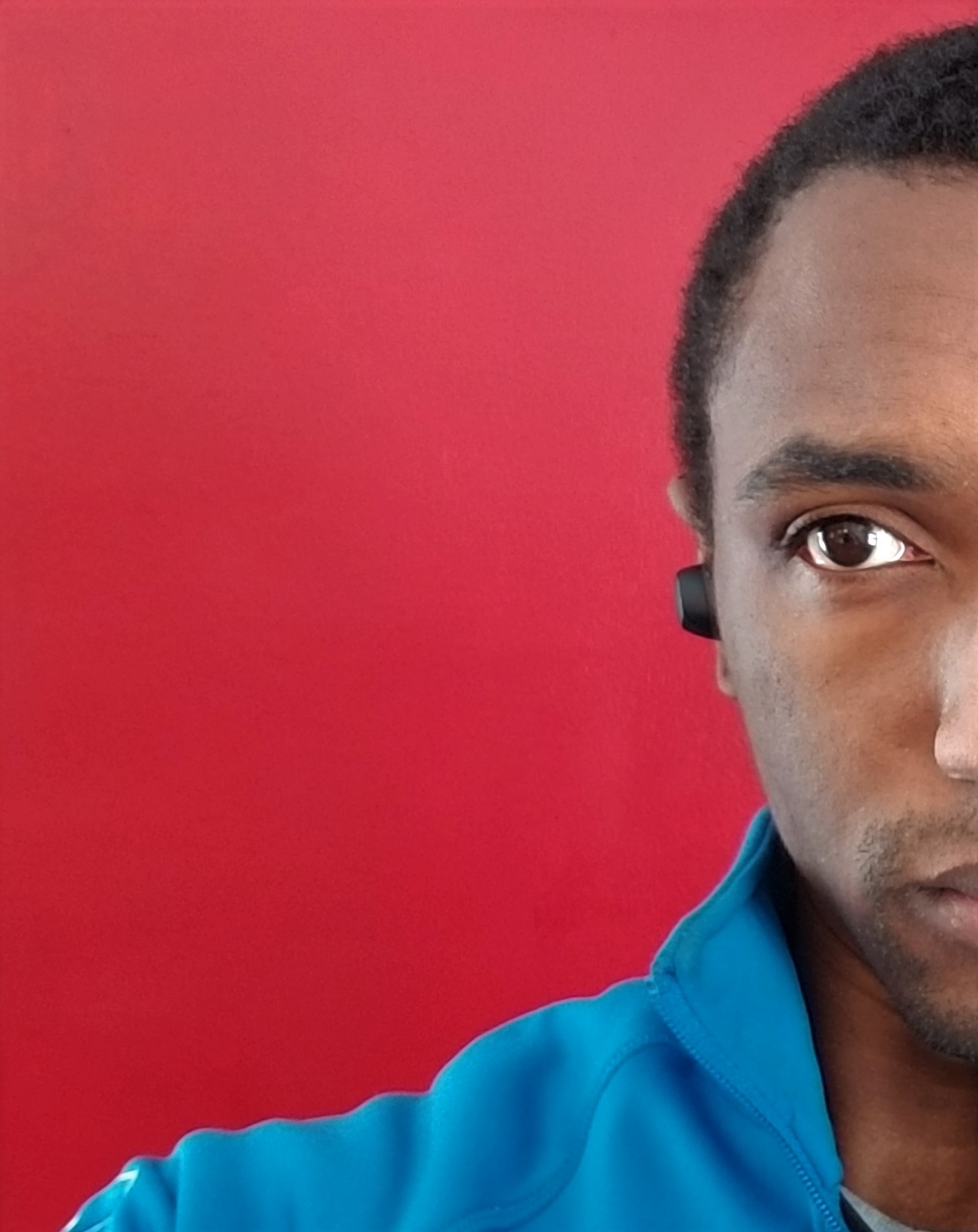 The key to a great fit is finding the right wingtip and ear. Samsung includes three sets of ear cushions and wingtips, so you shouldn't have a hard time finding the right ones for you.
Truly wireless earbuds don't last you an entire day on a single charge. They're meant for shorter listening sessions and workouts.
The Gear IconX 2018 are no exception. I got around 3 hours from them before needing to drop them back in their case for a 10-minute charge that got me another hour of listening time. They lasted 5 hours if I only listened to the music stored on them.
Don't worry if they die on you away from home. The case can almost fully charge the earbuds before its battery dies.
By far, the best thing about these IconX 2018 are the random features that led Samsung to classify them as wearables. I just wish each feature wasn't marred by some basic problems.
Earbuds as MP3 Players
Having wireless earbuds with their own storage is a fantastic idea. I hate carrying my phone on a run, even if it's in a zipped pocket. As I mentioned, the IconX 2018 have 4GB of storage. Fill each of them with music and you can leave your smartphone at home during a run. The IconX switch into this mode automatically when they aren't connected to a device through Bluetooth.
On paper, this sounds great and it works surprisingly well in the real world. Unfortunately, it's very, very easy to accidentally open your personal assistant or switch a playlist when you're really trying to go to the next track. I never managed to switch a playlist with tap or swipe on the first try.
Earbuds as Fitness Coach
The built-in running coach isn't very impressive. The earbuds aren't very accurate at detecting a run. And, I wasn't exactly inspired to pick up my pace by the ominous voice in my ear telling me the same thing over and over.
Still, the real point of this feature is that it allows you to leave your phone at home and get workout data through Samsung Health. For that, it works just fine.
Sound Quality & The Gear App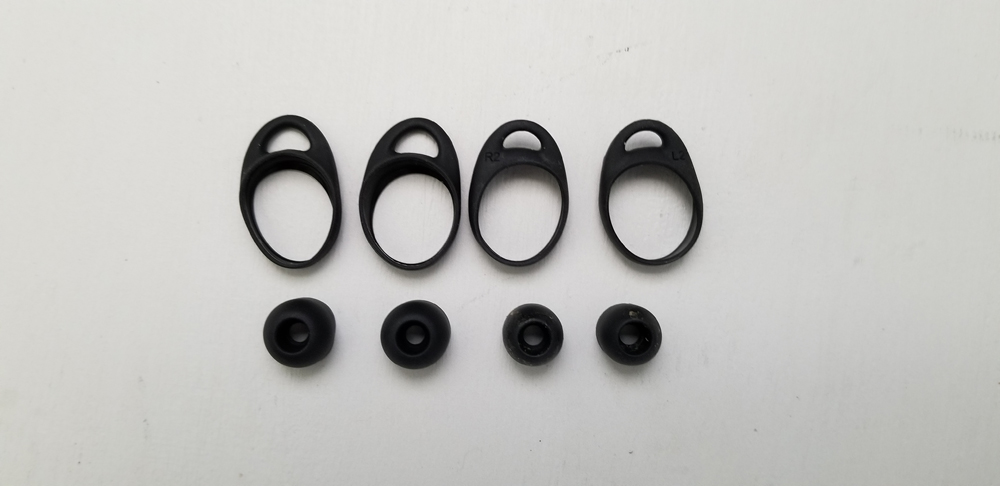 The Samsung Gear IconX 2018 sound as great as Bluetooth earbuds can. Their in-ear design can drown out in an entire room. By default, they aren't set up to offer a lot of bass, so count on using the equalizer to get the best sound quality possible.
Samsung also puts the Gear IconX 2018's tons of sensors to good use. Take one earbud out and only it stops playing music. When you take them both out, whatever you're listening to automatically pauses.  These are in addition to the running and coaching features that also use the sensors.
Despite the great sound quality and cool tricks, using these earbuds as full-time replacements for your headphones is sometimes problematic.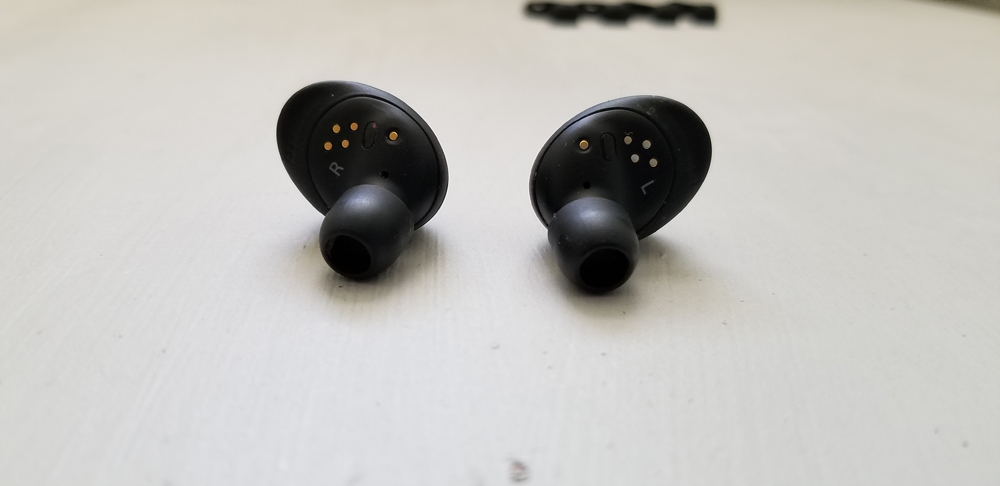 The touchpad on each earbud should let you keep your phone in your pocket. However, switching playlists or turning on Ambient Sound so that other people can hear you involves some confusing gestures.
In the end, I gave up and used the Gear app to manage these features. The app also tells you how much power each earbud has left and tweak settings not available with a tap or swipe on the touchpads.
Finally, I find it very, very strange that there's not a single tap or swipe you can use to put these earbuds into Bluetooth pairing mode. When you want to switch devices, you need to put them back into their case and press its dedicated pairing button.
Making matters worse, the Samsung Gear IconX 2018 don't pair to two devices at a time. That is a serious omission considering what a hassle it is to pair them to something different.
Samsung Gear IconX 2018 Review: Problems
Samsung Gear IconX 2018 Problems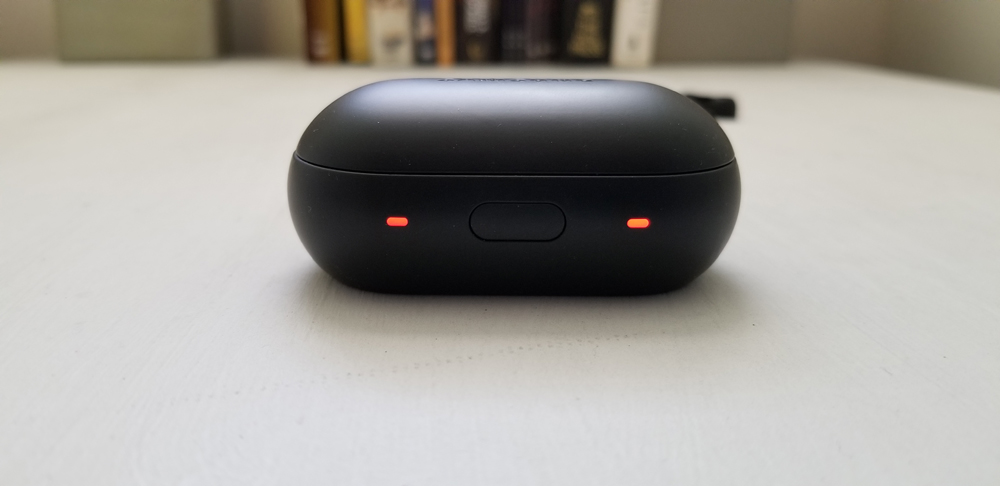 Truth be told, these are all small issues I could have overcome, if it not for the Gear IconX 2018 being somewhat unreliable.
It took two pairs of the headphones to finish this review, and that's because the first pair's left earbud stopped producing sound at the same level as the right earbud. This happened less than a week after I purchased them. This design flaw has effected enough Gear IconX headphones that there's already a Samsung support article on the subject.
The replacement set of earbuds arrived three days later. They worked well, prompting me to write a positive first draft of the review you're reading now. By the time I was ready to add a conclusion to the review, the left earbud had suddenly stopped turning on at all and the headphones refused to connect to my Samsung Galaxy S8+.
The headphones spontaneously started to work again a few hours later, but my confidence in them was already shaken by then. Deflated a little, I pulled out the backup pair of AKG headphones that came with my phone.
Samsung Gear IconX 2018 Review: The Verdict
Should You Buy the Samsung Gear IconX 2018?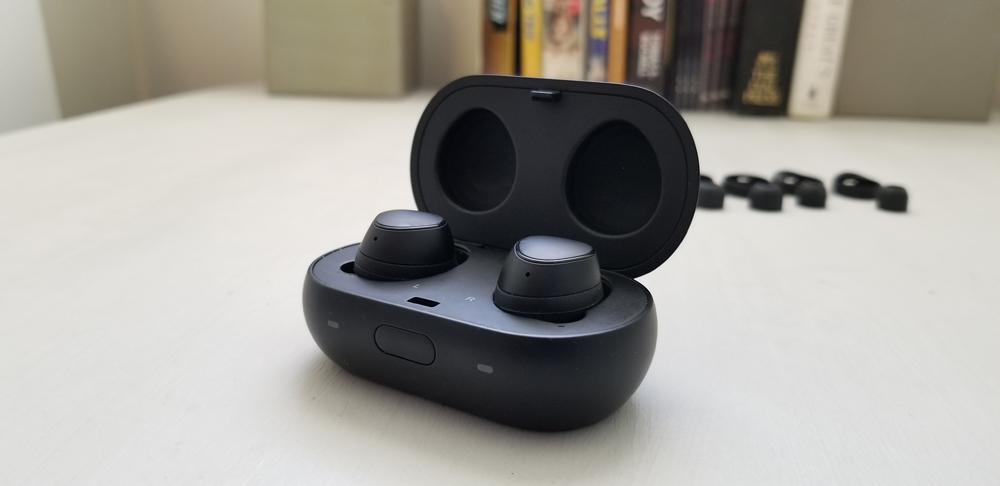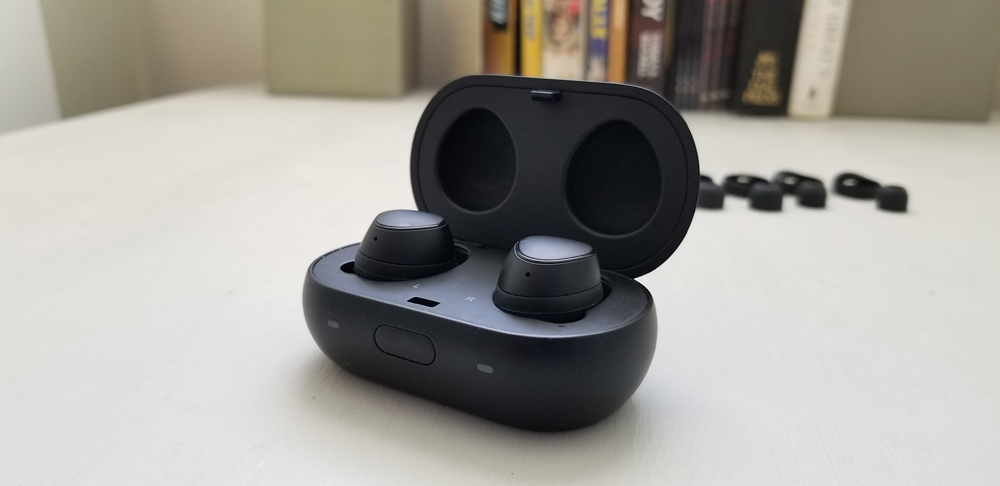 The Samsung Gear IconX 2018 are terrific wireless headphones on paper. Still, I can't recommend that everyone buy them.
There are things to like. Their sound quality is great. I love that they double as MP3 players away from your phone. It is aggravating to pair them every time I want to switch devices, but not so annoying that I wish I were still using wired headphones.
I can't recommend them to everyone because two pairs of Gear IconX 2018 later, I'm still not confident that these won't randomly break or stop working on you. Connectivity problems and a faulty design are bad for any headphones. That these earbuds cost $199 – more than Apple's AirPods – makes those problems even harder to ignore.
If you know what you're getting into and are buying from a shop with a decent return policy, try the Samsung Gear IconX 2018. Just be ready to send them off to Samsung or get a refund if something goes wrong.
---
| Samsung Gear IconX 2018 review