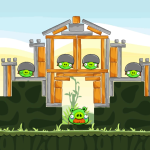 Today, the official Windows Phone blog announced that the "Must-Have Games" for Windows Phone 7 will be released on a weekly basis starting next week (May 25). The news is phenomenal for those of us looking for great, fun, high-quality games on our WP7 handsets; but it brings with it a bit of a major disappointment, as well.
During the MIX11 conference last month, it was reportedly announced (I didn't watch the keynotes) that Angry Birds would be released for the platform on May 25. Every article I read on the subject reported it that way, and the official Windows Phone Support Twitter account apparently thought so, too. Sadly, Angry Birds is actually the last of the 6 "must-have" games that will be released; not seeing its debut on the platform until June 29.
Prior to the release of Angry Birds, we will see the following games released, one each week until Angry Birds hits the marketplace.
Hydro Thunder Go – May 25
If this game is anything like the classic console Hydro Thunder games, it promises to be a fantastic experience. A fun race game in which you control a speedboat through treacherous waters full of obstacles and sharp turns. Since I was such a fan of the original game on the Sega Dreamcast, I am seriously looking forward to this game.
Doodle Jump – June 1
This is a fun, semi-mindless little game that I first experienced on the iPhone. If you want to get a taste for the way this game handles and the fun that can be had, you can pick up Bubble Jump from the Marketplace right now. Bubble Jump is very similar to the concept of Doodle Jump, with a different backdrop and different power-ups. Both games are 100% safe for kids, and will probably provide limitless hours of fun for everyone that picks it up.
geoDefense – June 8
This is another one I first experienced on the iPhone. This is a classic tower defense game. If you're into tower defense games, this is definitely something you should pick up. This is one of the better tower defense games you'll find on any mobile platform; full of cool power-ups, enemies and more.
Sonic the Hedgehog 4 Episode I – June 15
From what I've heard (I haven't played this game), this is more a fan-type remake of classic Sonic games than it is a new episode in the series. However, if you're a fan of Sonic (as I most definitely am), you'll probably want to pick up this game and play it til your fingers bleed (assuming it lasts that long – I've heard from a few sources that the original release of this game had far too few levels to be really fun).
Plants vs Zombies – June 22
This seems like a fitting lead-in to Angry Birds. Although I've never played Plants vs Zombies on any platform, I've seen its praises posted all over the Web for quite a while now. It is probably the second-most anticipated game that's been confirmed for the WP7 platform.
Angry Birds – June 29
The culmination of the "6 weeks of must-have games" comes in the form of everybody's favorite birds vs. pigs adventure. If you haven't played Angry Birds before, I have to wonder how you're reading this blog article since you're most likely living under a rock with no Internet service. 🙂 That said, if you want to try the game, you can head on over to http://chrome.angrybirds.com/ right now if you're using Google Chrome or Firefox (may require version 4) as your Web browser.
You can see some screen shots, read more about each game and check out the prices that will be attached to each by heading on over to the Windows Team blog entry I mentioned above.
Have you played any of these games on other platforms? What did you think? Which ones will you be picking up?