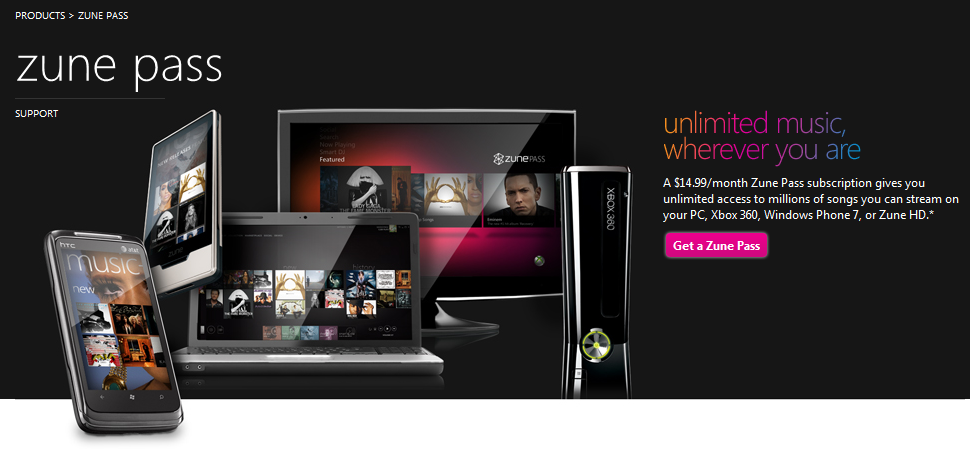 We hoped tome changes we're coming to the Zune Music Pass in the U.S. and indeed it is. Not only is streaming your music going to become cheaper, you're going to get the opportunity to stream music videos as well.
"Zune Music Pass in the US and Canada will now include more than just unlimited music downloads and streaming – starting October 3rd subscribers can stream tens of thousands of music videos through the Zune PC software and later this fall on Xbox 360."
Additionally Zune is finally getting a little cheaper as well.
"On October 3rd, in the US, we will be introducing a new, lower priced version of Zune Music Pass at $9.99 per month. The plan will provide unlimited, on-demand access to more than 14 million songs and tens of thousands of music videos. Unlike the current Zune Music Pass offering, it will not include 10 MP3s to keep each month. In addition, as part of the new $9.99 offering, subscribers will be able to download songs and synchronize them on up to a total of four devices (1 PC + any combination of PC, Zune device and Windows Phone), and continue to enjoy unlimited access to streaming on Xbox 360 and on Zune.net.
Once the new Zune Music Pass offering is available, the $14.99 plan with 10 monthly MP3 credits will no longer be available to new subscribers. However, current subscribers can stay on their existing Zune Music Pass plan if they choose and will also have access to streaming music videos."
Source ZuneInsider