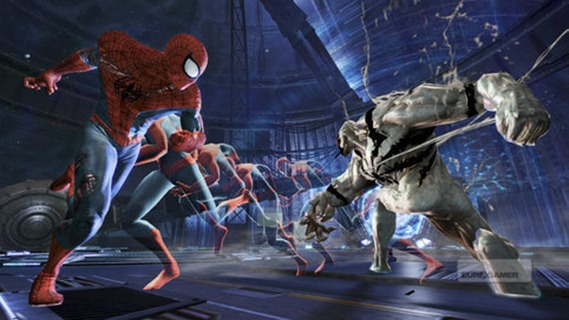 Been looking to get in a little Spider-Man like web-slinging action? Got a taste for the souls? This week's new Xbox releases include a couple of gems. "Spider-Man: Edge of Time", "Rage", "Dark Souls", and if sports are more of your thing, "NBA 2K12".
Spider-Man: Edge of Time revolves around the timeline of both The Amazing Spider-Man and Spider-Man 2099. Genre Adventure Games
Rage Releasing October 4th
Rage is a first person-shooter from Bethesda set in the not-too-distant future where an asteroid impacts Earth, leaving a ravaged world behind. Genre: First-Person Shooters
Dark Souls Releasing October 4th
Dark Souls will take you into a dark world filled with despair, where you must use your creativity to strategize, learn, and overcome unpredictable and unique challenges to determine your fate. Genre: Role-Playing
NBA 2K12 Releasing October 4th
We think this one kind of goes without saying but it's a basketball simulator themed and customized for the NBA. Yep, that really does say it all. This year the franchise will include such NBA legends as Michael Jordan, Magic Johnson and Larry Bird alongside today's players. Genre: Sports
Xbox LIVE Arcade
Orcs Must Die Releasing October 5th
Orcs Must Die! challenges players to defend fortresses under siege. With a wide variety of traps and weapons to choose from, Orcs Must Die! dares players to find the best ways to hack, launch, flatten, gibletize, and incinerate an endless army of filthy orcs and their vile allies. Genre: Action
KINECT
The best-selling dance franchise returns with its highly anticipated third iteration, Just Dance 3. Genre: Rhythm Games
Motion Explosion! Releasing October 4th
Motion Explosion explodes with electrifying mini-games that keep your entire body moving. Genre: Miscellaneous
Are you picking up any new titles this week? Let us know in the comments!