We've been able to try Microsoft's Windows 10 operating system in all of its glory since shortly after Microsoft's January Windows 10 Media Briefing. Now anyone running the Windows 10 Technical Preview can try out early version of Microsoft's replacement for Xbox Music and Xbox Video.
Microsoft announced the new Music Preview and Video Preview apps were available in the Windows Store today, hours after they first appeared in the new Windows Store being built specifically for the Windows 10 update. In a blog post on its Windows Blog, Microsoft says that it's releasing these apps now so that it can get feedback and improve them along with the rest of the operating system.
Music Preview looks exactly like the app that surfaced during the Windows 10 Media Briefing in a slideshow. The app eliminates the Collection area in favor of sticking Artists, Albums and Songs directly on the collapsible menu on the far left. The bottom of the app still has a bar for quick access controls and a look at what song is playing now. The iconography in the app is heavily tweaked too. Today, white dominates this Music app, but Microsoft plans on adding a darker theme in future versions. Contextual menus, a smaller compact view for when the app is resized and music purchases in the Windows Store are all things coming.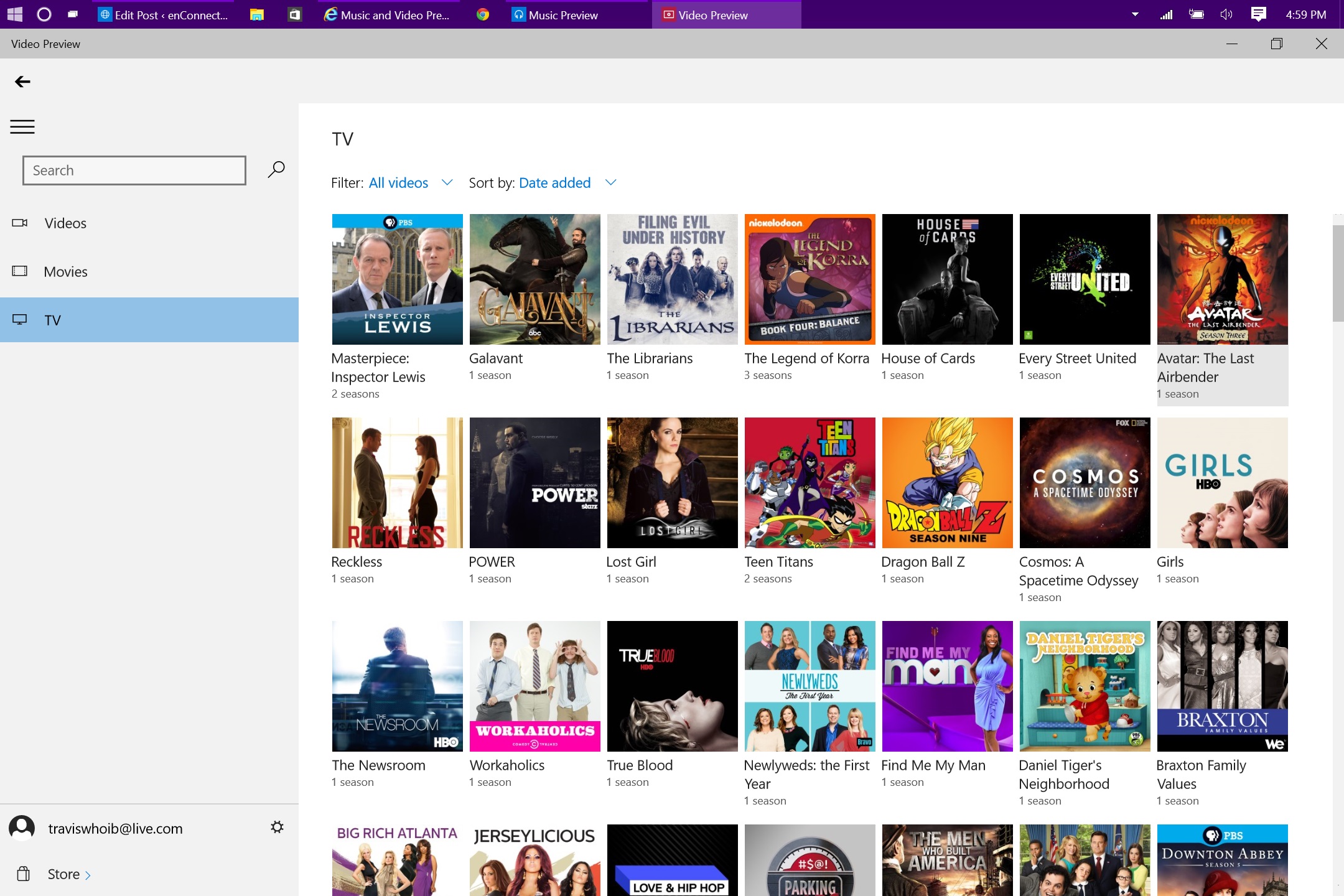 Video Preview shares the same basic design as Music Preview, including the mostly white color scheme. For now the app only supports video streaming, not downloads but Microsoft says that's in the works. Already, the app supports MKV video files typically found online sharing sites. Microsoft says that it has plans "Device Management," settings tweaks, and offline playback in other releases coming soon.
Windows 10 I scheduled to launch as a free update for Windows 7, Windows 8.1 and Windows Phone 8.1 users later this year. Besides upgraded versions of the Music and Video apps, Microsoft has a new Xbox gaming app in the works for Windows 10. For now, these apps will run side-by-side with the old Windows 8.1 apps in Windows 10.