Microsoft's Mike Ybarra now says that Xbox One owners can expect the new software to come to members of the Xbox Preview Program in September. What follows is our original story.
Microsoft still isn't ready to let members of its Xbox Preview Program test the Windows 10 update coming to its Xbox One entertainment console. However, It is providing more details about the coming update and revealing when normal users can expect it on their consoles.
Microsoft showed off Windows 10 for Xbox One this morning during its Gamescom 2015 press conference and on Xbox Wire. Available free this November, Windows 10 on Xbox One will bring some huge changes to the interface that's on the Xbox One now. That being said, most of the changes are evolutions of what is already there today.
Microsoft is completely reshuffling the Xbox One's Home screen, navigation and features. Profile pictures will remain in the left corner of users screen, with the battery meter and current time moved to the top-right corner. Sandwiched between those is a navigation that holds Community, Watch, Games, Movies & TV, Apps and Music.
On the Xbox One today users can snap an app to their screen to watch television or listen to music while they play. This feature is staying around, but Microsoft is moving app snapping to the left side of the interface. Joining it are links for options previously buried in different apps. Search Friends, Messages, Activity Alerts and Settings are accessible from the left edge of users screens.
In this screenshot, the focus is on the games and Game Hubs. This new Xbox One software will highlight the latest updates made to game hubs by developers. This can be anything from the latest Achievements to new Challenges. Microsoft gave a brief look at the new Games area on Twitter.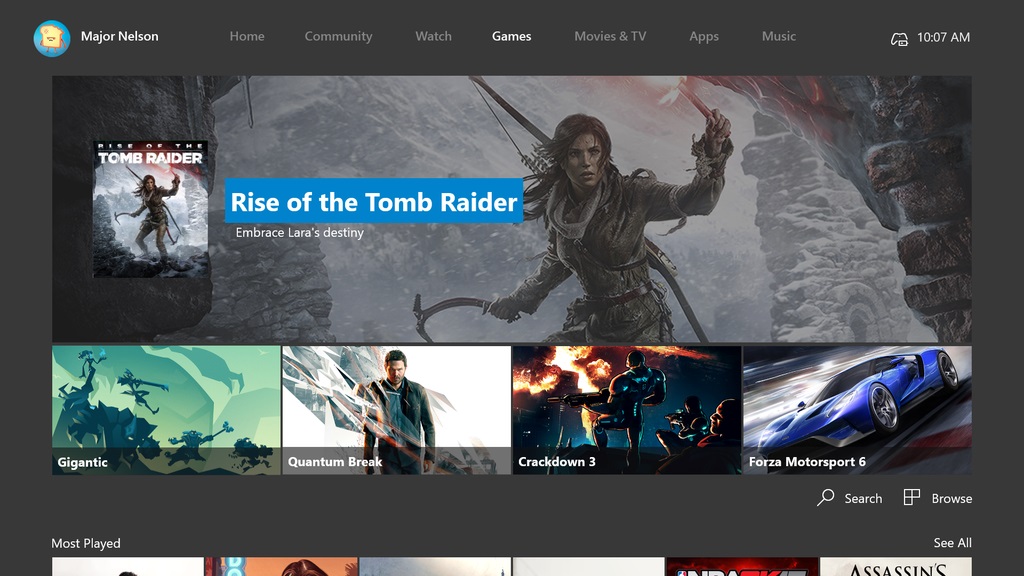 Besides a smattering of new features, this update seems to mostly reshuffle and prioritize features that are already there. Community-related features are scattered throughout the experience but the Community area will act as the single place users can find out about what their friends are doing and what's trending on Xbox Live. Watch will surface the App Channels that are now buried within the Xbox OneGuide. The OneGuide itself is getting picture-in-picture when browsing for new shows and next year it'll pick up digital video recording for broadcast television. The Store area will evolve to match the categories now offered in the Windows Store. Games, Movies and TV, Apps and Music will get their own separate areas.
At E3 2015 Microsoft revealed its Cortana personal assistant is coming with Windows 10 on Xbox One. It also revealed that it playing Xbox 360 games on the Xbox One would be possible — provided users still have their disc. Any digital Xbox 360 purchases will be visible on the Xbox One immediately. Microsoft says it and publishers are on target to deliver 100+ titles through backwards compatibility this year.