---
I love real-time strategy games because they challenge you to think two steps ahead of what you're doing today. I admire Apple and the iPad for the same reason. I don't buy their products regularly, but I appreciate their looks and the slow creeping domination that's defined the company since the iPod. If you need an example of this, look no further than the 12.9-Inch iPad Pro.
There was talk of the iPad replacing a PC almost immediately after Apple announced it. For a huge swath of people, it did exactly that. Trouble was, it only managed to replace the laptops and desktops of people who already didn't need a laptop or a desktop. Sales plateaued, and Apple settled into making ever thinner, better-looking iPads.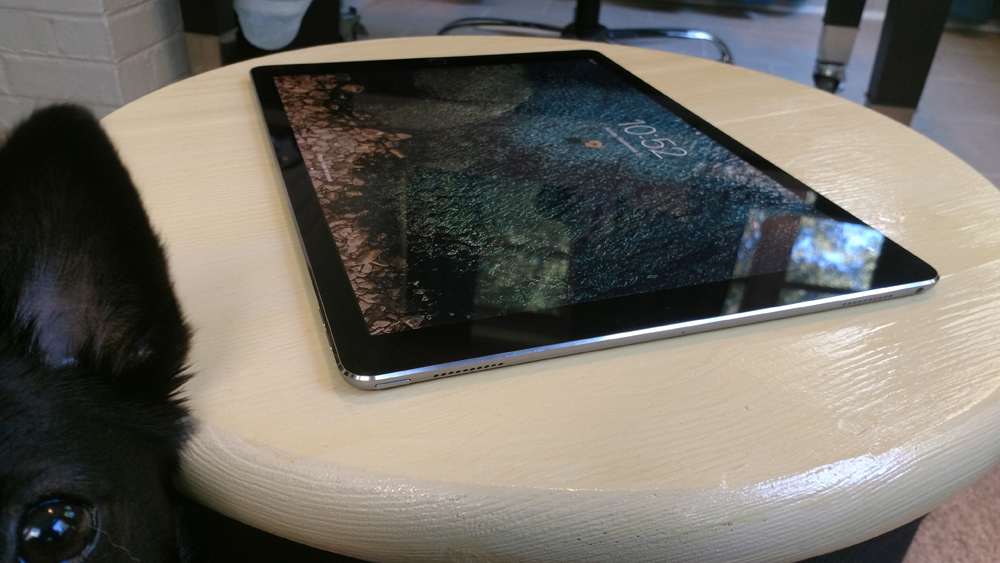 Having reached that same conclusion, no doubt, Microsoft came up with the Surface Pro. The Surface Pro is a laptop that looks like a tablet. I bought my first Surface Pro in 2013, and I've owned every model since release, including the 2017 Surface Pro I plan to use to run The en and replace my Surface Pro 4.
Between the 2017 Surface Pro and the sale of my Surface Pro 4 this summer, I had a brief fling with the 12.9-Inch iPad Pro. Microsoft should be very, very afraid. I almost didn't make it back to the world of Windows.
12.9-Inch iPad Pro Review – Touch My Body
Touch My Body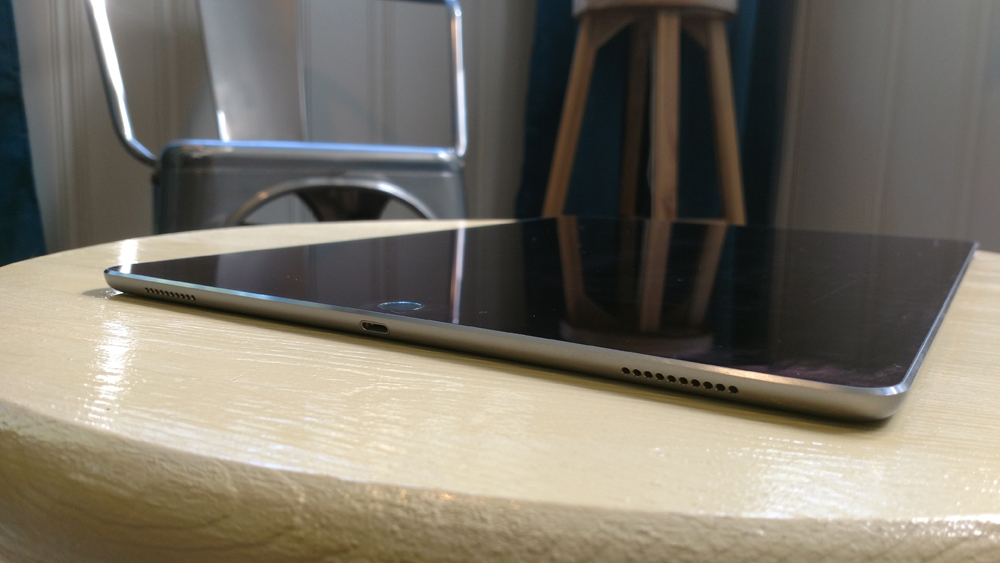 Reading The en, you'd think that I'd never bother using anything but a Microsoft product. You'd be wrong, I came to music players – and therefore, Zune and Xbox 360 – by way of a fascination with the iPod. My first taste of high-end consumer electronics was Apple's iPod Photo, a device I discovered the existence of while watching an episode of Degrassi: The Next Generation. By the time Zune came along, I'd owned the iPod Photo, iPod with Video and the iPod Touch.
Apple products always wowed me with their expensive and substantial feel, and that's the first thing that came rushing back to me as I opened the 12.9-Inch iPad Pro. Its aluminum body felt cold to the touch. I marveled at the smallest things, like how its power button, volume button, and four stereo speakers were all perfectly lined. I remembered how satisfying it was to click a home button and immediately have something happen on screen. TouchID is the gift that keeps on giving.
The 12.9-Inch iPad Pro takes its name from the12.9-inch 2732 x 2048 display that changes its refresh rate depending on what you're doing. Apple calls this tech ProMotion, but I just call it a great way to watch a video. The iPad Pro 12.9-Inch has two cameras, one 7 megapixel sensor that takes great selfies and another 12.MP camera that can record 4K video and takes amazing photos. Already, we're doing better than the Surface Pro here, which has a great display, but an awful rear-facing camera.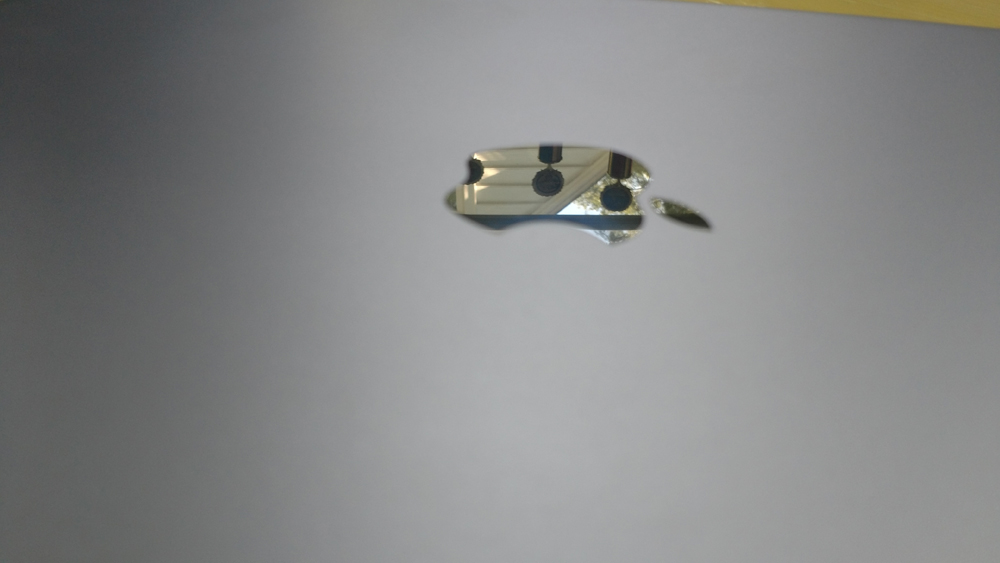 Apple sells 12.9-Inch iPad Pros with as much as 512GB of storage and cellular connectivity. However, I opted for the $799 model with 64GB of storage for two reasons. For one, I wasn't sure how I'd like the tablet. Second, $929 for any computing device feels like a bit much when you're used to buying smartphones for $499 or lower.
Having come from a large tablet already, I didn't find the large tablet too unwieldy for reading or watching a video and its size made it a terrific PC replacement. I don't know how Apple did it, but the 1.49 pounds the tablet weighs is evenly distributed through its body. That plus the screen ratio makes it comfortable to handle in portrait or landscape. That's not something I can say about Surface Pro. It tends to feel a little unwieldy and awkward in portrait mode.
One thing the Surface Pro does have going for it? You never feel like you're going to break it. The iPad Pros is frail by comparison. Drop it just once and you're shopping for a new tablet.
12.9-Inch iPad Pro Review – iOS A Decade Later
iOS A Decade Later
As good as the 12.9-Inch iPad Pro feels in the hand and looks, this story has more to do to with software than it does hardware. Apple has always made gorgeous, meticulously crafted hardware with solid displays. I ended up in a Target hunting for an iPad Pro because of software. I wanted to try Apple's iOS 11 and all the apps that its iTunes Store makes available. I also needed a break from the Windows 10 software that Surface Pros have installed.
iOS' mobile approach to computing doomed the first iPad Pro. It endowed it with an army of apps, but it also made the operating system a multitasking hell. Windows 10, which can switch between touch-centric controls and a mouse-friendly desktop interface, became my platform of choice because it offered a decent enough touch experience, but still made multitasking effortless.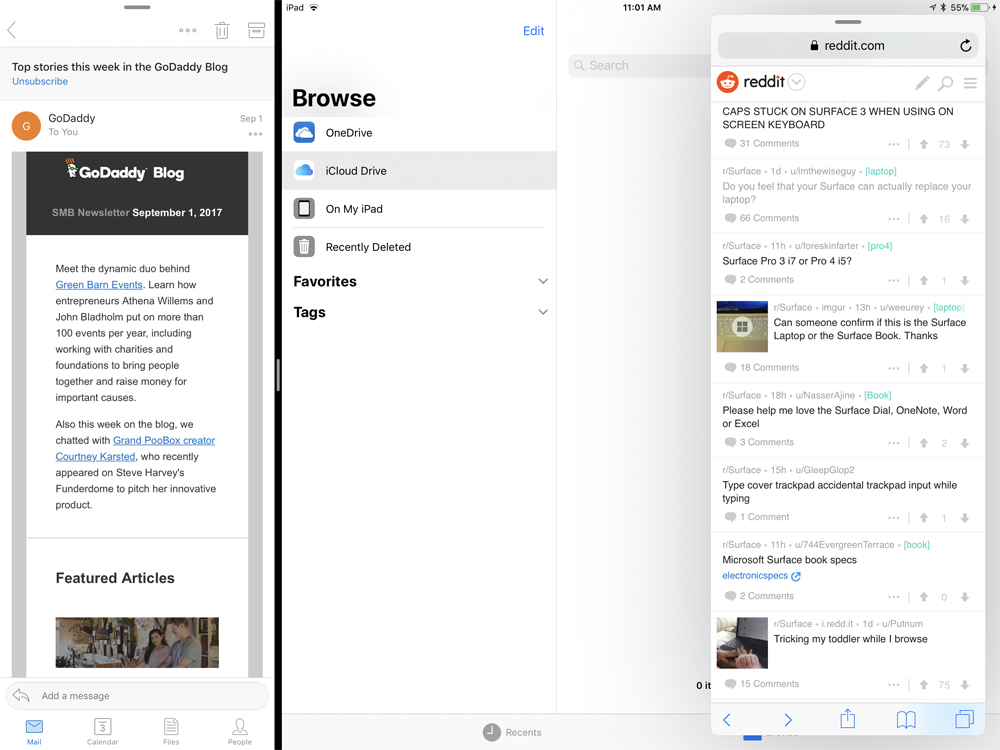 iOS 11 wholesale borrows everything that made Windows 10 touch-friendly and adds some unique Apple flair for good measure.
To open an app in Windows 10 Tablet Mode, you must open the Start Screen and tap on its Live Tile. I should add, that's when the Start Screen doesn't take way too long to open than it should. To multitask with an another app, you must go back to the Start Screen, open the app, then use the TaskView area to drag the app to the side of the screen you want it on. Even when the two are side-by-side you can't drag a photo from Microsoft Edge to Microsoft Word.
iOS 11, which launches this week, makes these tasks easy. If you want to multitask with another app, you swipe from the bottom of your screen and drag the app from the dock. If it's not there, you go back to the home screen and repeat the process. Apple's version of TaskView includes your recently opened apps and quick settings taken from its old Control Center. With iOS 11, moving something from one app to another is as simple as dragging it. Do you want to watch a video while working? Open Amazon Prime Video and then hit the home button. iOS 11 shrinks the video to a square, and that square moves as you open apps so as to not block controls for your web browser or other things.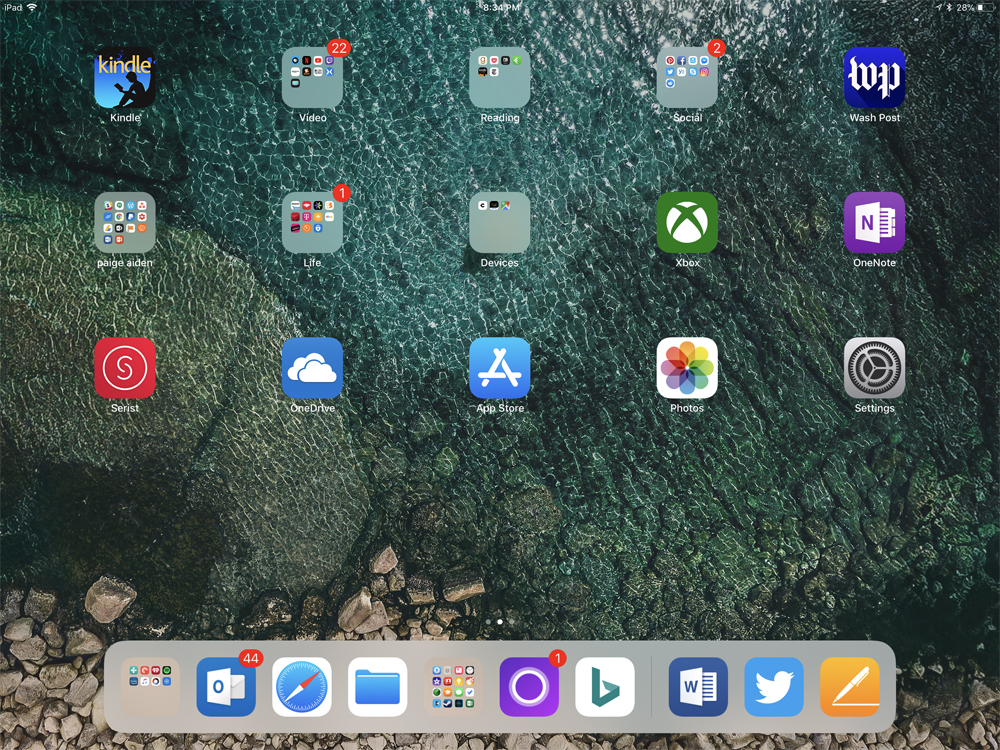 If I didn't have such a specific workflow, the 12.9-Inch iPad Pro would have been perfect. You can easily work with multiple apps, and the iTunes Store has a growing catalog of solid productivity applications. You know, like nearly every productivity app I use on Windows 10, Microsoft Word included. Some would argue, that it's doing better than the Windows Store is in that regard. I'm too much of a coward to declare that outright, but not afraid to nod an agreement with someone bold enough to take that stand. (Hey, I've got a reputation as a die-hard Windows user to protect.)
In short, iOS 11 makes Windows 10's Tablet Mode look janky. On top of that, it steals all of Microsoft's good ideas for multitasking. It's, and I can't believe I of all people am saying this, the best productivity experience you can get on a tablet.
12.9-Inch iPad Pro Review – The Costs of Doing Business
The Costs of Doing Business
My three weeks with the iPad Pro were some of the happiest I've had with tech in a long time.
That 12.9-inch display is simply gorgeous, and I couldn't help be drawn to it. I don't think anyone should buy the 12.9-Inch iPad Pro for the ProMotion display technology alone, but it definitely makes a difference in some apps. I knew that the tablet had four speakers, but I didn't know how good they were. Having now switched back to Surface Pro, I miss them a lot.
There's something to be said for Apple's battery life estimates too. When you buy a PC that gets 14 hours of battery life, you know that you're never going to reach that lofty estimate. PC makers game these figures by lowering brightness and other tricks. You have to account for Windows 10 suddenly turning it a battery hog too. Apple promises 10 hours of web browsing and productivity and that's exactly what you get.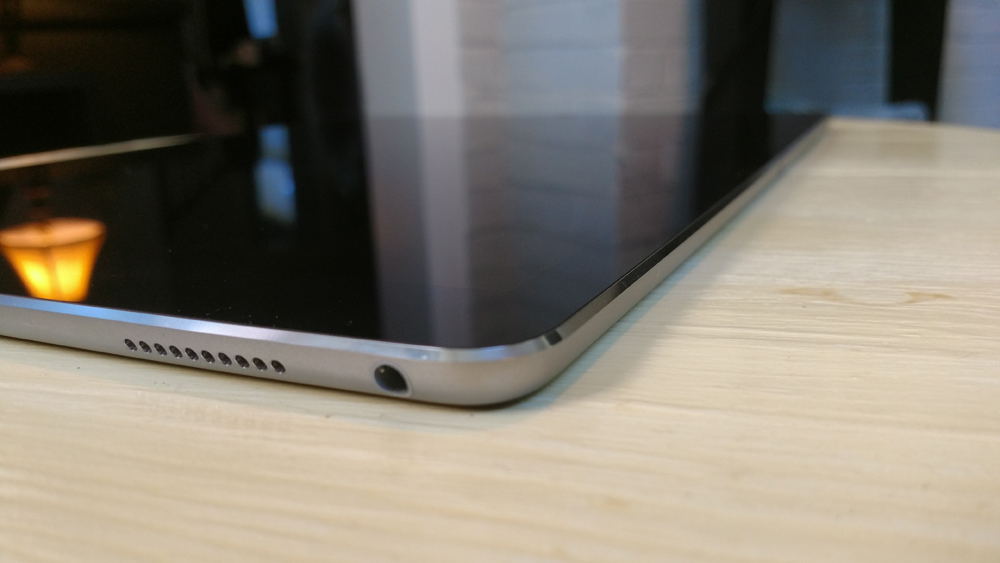 Now, Apple still has some issues of its own to deal with. Broken copy and paste with formatting torpedoed my 12.9-Inch iPad Pro experiment, ultimately. The new Files app is still no substitute for File Explorer since you need to share things with it from your apps to make those things available in other places. Also, I ran into a lot of trouble changing PNG images to JPGs, which are my image format of choice on The en. I purchased a ton of apps trying to get around this problem, but in the end, I decided that the cost of reworking my workflow wasn't worth having access to Kindle, Seriest and Amazon Video.
Also, you can't talk costs without mentioning the iPad Pro's costs. At $799, this is already the most expensive tablet you can buy. Worse, Apple and Microsoft are locked in some strange battle to see who can rip people off the most for accessories that you need to fully use their tablets.
The Smart Keyboard, which I also tried and returned before I sent the 12.9-Inch iPad Pro back, is not worth $169. It's too mushy, and Apple needs to find a way to do multiple viewing angles with the case's kickstand. The Apple Pencil is $99, and I didn't bother testing it because I wasn't prepared to hand Apple any more money after paying for the tablet and the keyboard.
12.9-Inch iPad Pro Review – The Verdict
The Verdict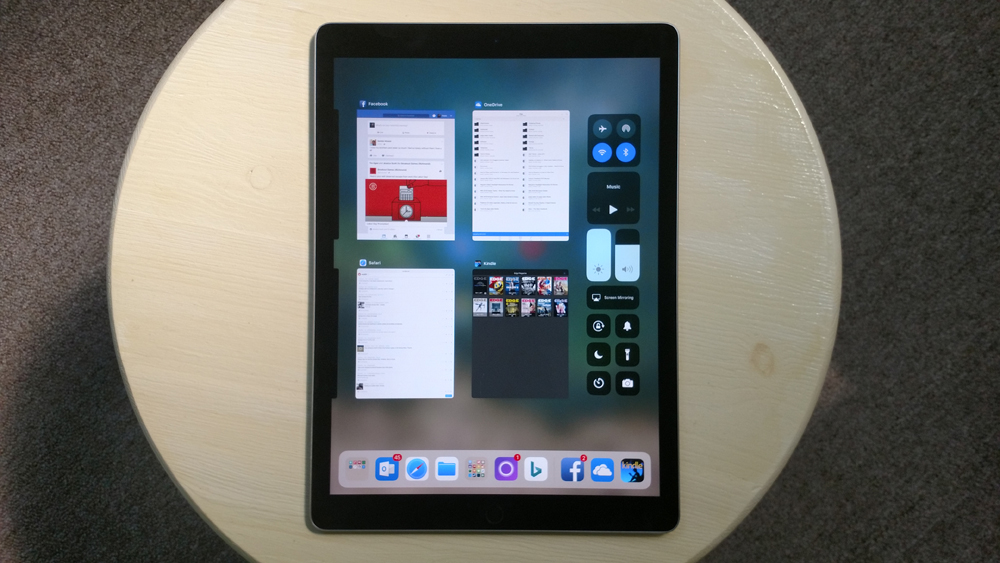 Aside from some pricing issues that will get better as Apple comes out with newer models, I see no reason why anyone with casual productivity and entertainment needs shouldn't give the 12.9-Inch iPad Pro a try.
Microsoft bet that the team building Surface could become Apple faster than the team building iOS 11 could take on Windows. That's not a bet that's paid off, and that's why Microsoft should be worried. Folders, the new Dock and reimagined multitasking prove that Apple is quickly learning and adapting to create an iOS that lets people be very productive. The company is doing this while still hanging on to its dominance in all things entertainment.
On top of a rapidly improving iOS, the 12.9-Inch iPad Pro also has a gorgeous screen, terrific cameras, a fingerprint reader that works instantly and consistent battery life that Windows PC makers can't match. Unless your smartphone runs Android or you have very specific workflows that require Windows, there's no reason I can think of to not get the 12.9-Inch iPad Pro to replace your laptop or tablet. And this is coming from the guy who called the original iPad Pro a lunch tray with a keyboard because of how unfriendly iOS was to multitasking.
---
| 12.9-inch iPad Pro review: It's Personal