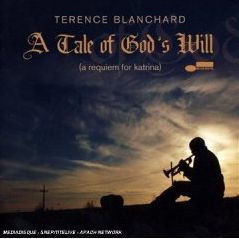 Hello to all. Today I am sharing an album that I discovered in a rather unique way. I was driving in the car and listening to NPR and this song came on and as it progressed I began to get chills and finally had to seriously pull over and stop because the piece was THAT powerful. Naturally, it was the part of the programming where they didn't announce the artist following the track, so I immediately called the local station and asked "What was that song that just played…the one with the horn…" then drove straight home and Amazoned that shit…
Ladies and gents it was "The Water" by Terence Blanchard. You can find it here at about the 16:30 mark…you will know it when you hear it.

He recorded this album accompanied by his quintet and the Northwest Sinfonia, a 40-member string orchestra (which he conducted and co-orchestrated) for the award-winning HBO documentary "When the Levees Broke: A Requiem in Four Acts". The work earned him a Grammy in 2008.
This is a great rainy kind of Sunday jazz work. Enjoy
(left-click to save)
RELIANT6 OUT>>>