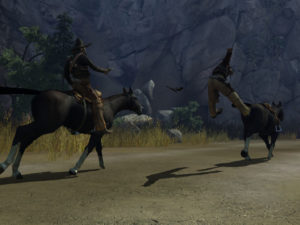 We are now firmly in that customary lull between the industry show and tell of E3 and the Fall blockbuster video game season. Usually it's a dead end time for anyone searching for new titles, but maybe, just maybe you can find a gem or two inside this gaming wasteland. This week we've got a new installment of "Call of Juarez: the Cartel", and "Captian America: Super Soldier" and a little DLC love for Bethesda's "Fallout: New Vegas" and the "Dead Air" addon for "Left 4 Dead 2".
Full Titles
Call of Juarez the Cartel is the third installment of the Western action shooter Call of Juarez franchise. Genre: First-Person Shooter
Captian AmericaL Super Soldier follows the story of America's msot famous super hero during World War 11. Genre: Action
Xbox LIVE Arcade
Bastion Releasing July 20, 2011
Last role-playing action game from Supergiant Games. Genre: Role Playing
DLC
In Old World Blues, to be released in July, you will discover how some of the Mojave's mutated monsters came to be when you unwittingly become a lab rat in a science experiment gone awry.
Have a good week in gaming everyone! And don't forget to tell us what you think of this week's new releases in the comments.