Microsoft is done talking up Xbox and Xbox Live as great ways for PC gamers to get their fix. Xbox Game Pass for PC is almost here.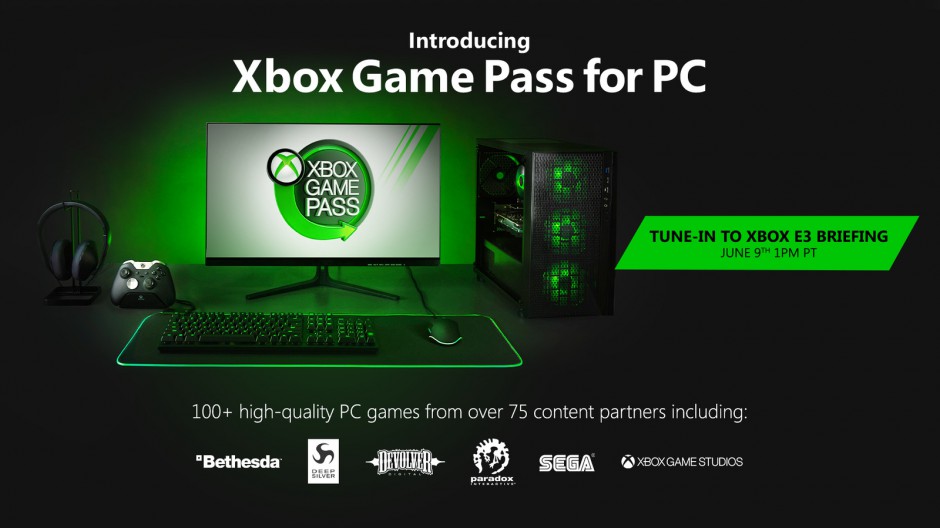 Microsoft announced Xbox Game Pass for PC earlier today, and it's exactly what it's name suggests: a gaming subscription service created specifically for folks who love to game with a mouse, keyboard and Windows instead of on an Xbox One. The company also announced support for new game types and other PC game stores.
Like the Microsoft's console subscription service, Xbox Game Pass for PC will let subscribers download any of its 100 games and play them. Microsoft says 75 publishers and developers are working on titles for the service. The press release name drops Bethesda, Deep Silver, Devolver Digital, Paradox Interactive and SEGA as developers planning to offer games on Xbox Game Pass for PC. Also, like Xbox Game Pass for Xbox, this new service's library will include Xbox-made games the day they arrive on store shelves. Think Halo, Gears of War, and other Microsoft-only titles. Finally, subscribers will also get the same discounts on games and add-ons in the Xbox Game Pass for PC library.
Not mentioned in today's announcement on Xbox Wire is how much Xbox Game Pass for PC will cost. It's also not clear how Microsoft will offer up the titles. The Xbox on Windows app seems like a logical place to have this service live, but you never know.
As for today's other announcements, they only reinforce my belief that Microsoft is finally turning a corner with Xbox on Windows.
We'll see more fo Xbox Game Pass for PC during Microsoft's Xbox E3 Briefing on June 9th.
"Our intent is to make our Xbox Game Studios PC games available in multiple stores, including our own Microsoft Store on Windows, at their launch," Phil Spencer, head of gaming for Microsoft, writes. Roughly translated, it sounds to me as if titles produced by Xbox Game Studios will launch on Steam the same day they arrive on Xbox One. That's huge news. To put that decision into perspective, this comes at the same time as Steam and Epic are in the middle of a battle royal over exclusive games they can use to lure and lock players into their stores. Microsoft's approach should, in theory, result in a bigger group of gamers to play with online.
And lastly, Microsoft will finally stop forcing developers to alter their traditional Windows games just to get them in the Microsoft Store. You developer types will soon be able to offer your Win32 creations to millions of people.
All told, I'm pretty proud of Microsoft for making these changes. I've wondered quietly and not so quietly about how Microsoft planned to truly make that vision of Xbox games anywhere and everywhere a reality. These are some pretty huge steps.